She-Hulk Trailer Dropped - The Loop
Play Sound
Warning!

At least some content in this article is derived from information featured in Harry Potter: Hogwarts Mystery. Spoilers will be present within the article.
"Lurks in rivers and streams and will kneel in invitation for anyone to ride it across. If this is attempted, the Kelpie will drag the rider underwater and attempt to eat them."
A Kelpie was a shapeshifting water demon native to Great Britain and Ireland.[1]
Description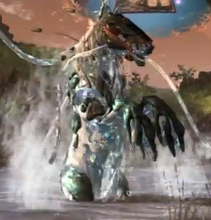 Able to take any form, a Kelpie usually chose that of a horse with a bulrush mane. After luring unwary travellers onto their backs, they dragged them underwater and ate them, allowing the entrails to float to the surface of the water. A Kelpie could be rendered docile and harmless by using the Placement Charm to put a bridle over the creature's head.[1]
Kelpie hair could be used as a wand core, although it was said to be an inferior substance when compared with Phoenix feather, and Dragon heartstring.[3]
History
In 1927, Newt Scamander kept a male Kelpie in his apartment's basement. He tamed it with a bridle, though he did not use a placement charm, riding it instead.[4][5]
A Kelpie was kept in the Hippogriff Clubhouse at Hogwarts School of Witchcraft and Wizardry at least in the late 1980s.[6]
During the 1992–1993 school year, Harry Potter's second year, Gilderoy Lockhart gave Rubeus Hagrid unsolicited advice about getting kelpies out of a well, which Hagrid found irritating.[7]
On 29 June, 1997, when Harry and Albus Dumbledore had to cross the black lake in the Horcrux cave, Harry's thought that the lake might hold kelpies, as well as other aquatic beasts such as water monsters, giant serpents, demons and sprites.[8]
Known Kelpies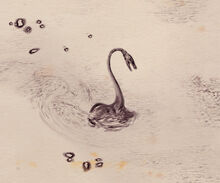 Behind the Scenes
Appearances
External links
Notes and references