Warning!

At least some content in this article is derived from information featured in Harry Potter: Hogwarts Mystery. Spoilers will be present within the article.
The Knarl is a creature that greatly resembles a hedgehog, so much so that there is only one known (behavioural) difference between them: when food is left out for a hedgehog it will appreciate and enjoy the gift; a knarl will see it as an attempt to lure it into a trap and hence savage the garden of the householder who left the food. Muggle children have often been blamed for damage committed by a Knarl.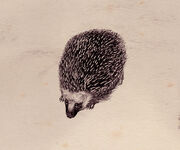 They were featured in the Care of Magical Creatures O.W.L. during the 1995–1996 school year, where students had to locate it amongst a group of hedgehogs. The trick was to offer each creature some milk. Hedgehogs are lactose intolerant and milk kills them. Knarl being more intelligent, it may be aware of this fact.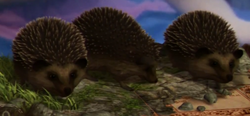 Knarl quills have magical uses. Fred and George Weasley once paid Mundungus Fletcher six Sickles for a bag of knarl quills, to experiment with for possible use in their Weasleys' Wizard Wheezes products.[1]
Knarls eat wild daisies. A potioneer will often have to remove Knarls from a daisy patch in order to pick the flowers. Casting a well-aimed Stunning Spell at the Knarl will work well and will not do any permanent harm to the animal.[2]
Appearances
Notes and references