Doctor Strange in The Multiverse o Madness - The Loop
Play Sound
"The Knarl (northern Europe and America) is usually mistaken for a hedgehog by Muggles. The two species are indeed indistinguishable except for one important behavioural difference: if food is left out in the garden for a hedgehog, it will accept and enjoy the gift; if food is offered to a Knarl, on the other hand, it will assume that the householder is attempting to lure it into a trap and will savage that householder's garden plants or garden ornaments."
The Knarl was a magical beast that greatly resembled a hedgehog in its physical appearance.[1]
Description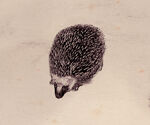 It resembled the hedgehog so much so that there was only one known (behavioural) difference between them: when food was left out for a hedgehog, it would appreciate and enjoy the gift; a knarl would see it as an attempt to lure it into a trap and hence savage the garden of the householder who left the food. Muggle children were often blamed for damage committed by a Knarl.[1]
Diet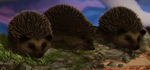 Knarls ate wild daisies. A potioneer would often have to remove Knarls from a daisy patch in order to pick the flowers. Casting a well-aimed Stunning Spell at the Knarl would work well and would not do any permanent harm to the animal.[2]
Uses
Knarl quills had magical uses. Fred and George Weasley once paid Mundungus Fletcher six Sickles for a bag of knarl quills, to experiment with for possible use in their Weasleys' Wizard Wheezes products.[3]
History
Barnaby Lee owned a Knarl (whose name was also Knarl) during his time at Hogwarts School of Witchcraft and Wizardry. During the 1988–1989 school year, Knarl caused the destruction of several sets and costumes for the play Equinox Enchanted.[4]
During the 1989–1990 school year, sixth-year students in Care of Magical Creatures class were taught about how to properly handle Knarls by Professor Silvanus Kettleburn.[5]
As a child, Constance Pickering told her next door neighbour Silvia, a Muggle, that hedgehogs loved it when snacks were left out for them overnight. Unfortunately the "hedgehog" in question was a Knarl and the day after Silvia left out a plate, the family's garden was destroyed, leaving Constance feeling guilty.[6]
They were featured in the Care of Magical Creatures O.W.L. examination in 1996, where fifth-year students had to locate it amongst a group of hedgehogs. The trick was to offer each creature some milk.[7] Given how Hedgehogs are lactose intolerant and milk is thus poisonous to them, the Knarl being more intelligent, may have been actually be aware of this fact.
Appearances
Notes and references