"Knocks objects and creatures backwards."
— Description
The Knockback Jinx[1] (Flipendo)[1] was a jinx that knocked the target backwards. While prominently used for duelling, it can also be used to push heavy objects.[2] It was covered in Quentin Trimble's The Dark Forces: A Guide to Self-Protection, a Defence Against the Dark Arts textbook.[1]
History
"Today we will be learning the Knockback Jinx–an excellent spell for pushing things out of the way!"
— Professor Flitwick introducing this spell to first year students in class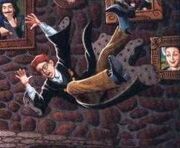 During the 1984–1985 school year at Hogwarts School of Witchcraft and Wizardry, Professor Filius Flitwick taught his first-years how to cast this jinx in Charms class.[7]
During the 1991–1992 school year, this jinx was instead taught to first years in the Defence Against the Dark Arts class by Professor Quirinus Quirrell, who were taught how to cast the spell both defensively and practically.[8]
A spellbook detailing how to cast this spell could be found in Ollivanders.[8]
This spell was heavily used by volunteer members of the Statute of Secrecy Task Force to help knock back beasts that were guarding various Confoundables, such as Gnomes, Pixies and Trolls, to overpower the strange artefacts and return them to their rightful place.[3]
Effect
The Knockback Jinx, depending on the point of impact, might have felt like a blow to the chest, knocking back a victim or object,[1] or it might have felt like being knocked over the head with a frying pan, leaving the victim a bit disoriented. A "loud bang." was also emitted when cast.[9] The jinx could also break fragile objects.[8][2]
Known uses
"There was a loud bang and he felt himself flying backwards as if punched; as he slammed into the kitchen wall and slid to the floor, he glimpsed the tail of Lupin's cloak disappearing round the door."
— Remus Lupin uses this spell on Harry Potter
| Caster(s) | Date | Notes |
| --- | --- | --- |
| Dobby (possibly) | 30 May, 1993 | After Lucius Malfoy realised that Harry Potter had freed Lucius' House-elf, Dobby, with a sock, he made to attack Harry. To protect Harry, Dobby used magic that sent Lucius flying backwards. As this was accomplished by House-elf magic - without a wand - it was probably not the same as a traditional Knockback Jinx, but the effect was certainly comparable.[10] |
| Alastor Moody (possibly) | 18 June, 1996 | During the Battle of the Departments of Mysteries, Alastor Moody possibly used this jinx to knock a Death Eater off the ground and hit a large rock before disappearing behind it.[11] |
| Severus Snape | June 1997 | Used this jinx on Harry Potter when escaping Hogwarts Castle alongside the Death Eaters.[12] |
| Remus Lupin | 1 September, 1997 | On 1 September, 1997, Harry had this spell used on him once more, this time by Remus Lupin at 12 Grimmauld Place.[9] |
| Draco Malfoy | September, 2020 | Used in a Duel against Harry Potter in Harry's house.[13] |
Known practitioners
Etymology
The spell is derived from the English words "flip" and "end," simply meaning "to flip someone onto their end".
See also
Behind the scenes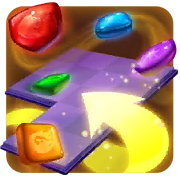 This jinx can be bought at Wiseacre's Wizarding Equipment in Diagon Alley in LEGO Harry Potter: Years 1-4 (where the spell produces a red light),[4] and in Weasleys' Wizard Wheezes in LEGO Harry Potter: Years 5-7 (where conversely, it produces a purple light).[5] In both games, as opposed to knocking the target over, it sends them flying in the air and causes them to strike hard upon the ground twice.[4][5]
Every time Harry had this jinx used on him, it was because he had called the caster a coward.[12][9]
In the Philosopher's Stone video game adaptation, Harry (the player) can cast this spell on Flipendo Buttons to activate certain mechanisms such as lifting a portcullis or moving flying platforms.[8]
In the film adaptations, the Stunning Spell can have the same effects of this jinx, knocking an opponent over or sending them flying through the air, though it can also simply render the target unconscious or sedated without exerting force on them. The spell also shares similarities with the Disarming Charm, Stunning Spell, Banishing Charm, with that in the films, it is used to knock down or send a target flying, sometimes to the extent of rendering a target unconscious.
In Harry Potter: Hogwarts Mystery, the Knockback Jinx is covered in Charms class. This seems somewhat unusual, as defensive and offensive spells have not been shown as being part of the Charms curriculum, but Defence Against the Dark Arts instead. Though jinxes, hexes and curses can be grouped together in a category called Dark charms, meaning by definition they are considered charms. It can also be used in Duelling as a Sneaky move, dealing 15 base damage, boosted by high Courage.
Appearances
Notes and references
↑ 6.0 6.1 Harry Potter: Hogwarts Mystery, Year 1, Chapter 5 (The Duel)
↑ 7.0 7.1 7.2 Harry Potter: Hogwarts Mystery, Year 1, Chapter 7 (Class Matters) - Charms Lesson "Flipendo"
↑ 9.0 9.1 9.2 9.3 Harry Potter and the Deathly Hallows, Chapter 11 (The Bribe)
↑ Harry Potter and the Chamber of Secrets, Chapter 18 (Dobby's Reward)
↑ 12.0 12.1 12.2 Harry Potter and the Half-Blood Prince, Chapter 28 (Flight of the Prince)
↑ 13.0 13.1 Harry Potter and the Cursed Child, Act Two, Scene Thirteen
↑ Harry Potter: Hogwarts Mystery, Year 2, Chapter 3 (The Black Quill)
↑ 16.0 16.1 16.2 16.3 Harry Potter: Hogwarts Mystery, Year 1, Chapter 9 (Inside the Room)
↑ Harry Potter: Hogwarts Mystery, Year 2, Side Quest "Slytherin Schemes"
↑ Harry Potter: Hogwarts Mystery, Year 2, Chapter 8 (Training the Team)
↑ Harry Potter: Hogwarts Mystery, Year 5, Chapter 19 (The Unforgivable Curses)
*Disclosure: Some of the links above are affiliate links, meaning, at no additional cost to you, Fandom will earn a commission if you click through and make a purchase. Community content is available under
CC-BY-SA
unless otherwise noted.