Kowalski Quality Baked Goods was a No-Maj bakery owned by Jacob Kowalski and located at 443 Rivington Street in New York.[1][2]
History
Jacob Kowalski had long dreamed of opening a bakery as his grandmother had instilled a love of baking from an early age. She also left him her recipe for Pączki.
In 1926 he applied for a loan but lacked the necessary capital and was denied. During his trip to the bank, he encountered Newton Scamander and was pulled into an adventure with him.
Though Jacob's memories of this brush with the wizarding world were later obliviated, Newt anonymously left him a suitcase full of silver Occamy egg shells that he could use as collateral for a bank loan, allowing him to open the bakery in early 1927.[3]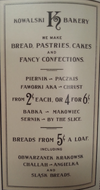 It offered many Polish speciality cakes and pastries including piernik, Pączkis, faworki (aka chrusty), babka, makowiec, and sernik.
Breads offered included obwarzanek krakowski, challah, angielka, and slask.
It was particularly famous for its imaginative pastries. Unknown to most No-Majs (including Kowalski himself for a time) the pastries' shapes resembled the magical beasts that Jacob had encountered with Newt. Before he regained his memories, he claimed that the inspirations for his creations came to him in dreams.
At some point after the bakery's opening, Queenie Goldstien visited the location, triggering the return of Jacob' memories.[4]
Henry was Jacob's assistant at the bakery.[4]
Appearances
Notes and references
*Disclosure: Some of the links above are affiliate links, meaning, at no additional cost to you, Fandom will earn a commission if you click through and make a purchase. Community content is available under
CC-BY-SA
unless otherwise noted.