Lacarnum Inflamari[2] was the incantation of a charm used to ignite cloaks or other items of clothing worn by individuals.[1]
History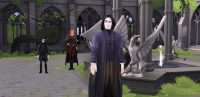 During the 1988–1989 school year at Hogwarts School of Witchcraft and Wizardry, the then Defence Against the Dark Arts Professor, Patricia Rakepick, used this spell on Professor Severus Snape to set his cloak on fire.[3]
Later that year, Professor Rakepick taught her fifth-years how to use this spell in Defence Against the Dark Arts, as part of her curriculum focused on both theoretical and practical defensive magic.[4]
Known practitioners
Etymology
Lacarnum Inflamari appears to be derived from the Latin lacerna, a noun meaning "cloak",[6] and inflammare, the Latin verb meaning "to ignite, inflame".[7] Together, the incantation can mean "to set fire to a cloak".
See also
Behind the scenes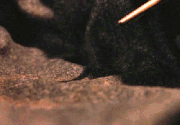 Appearances
Notes and references
↑ 1.0 1.1 1.2 1.3 1.4 1.5 1.6 Harry Potter and the Philosopher's Stone (film) (Chapter Nineteen - Quidditch)
↑ 2.0 2.1 F.A.Q. Question on J.K.R. Official Site - "Some of the new incantations, such as 'lacarnum inflamari' must have sounded more dramatic onscreen – although by the time you've managed to say 'lacarnum inflamari', you've surely lost precious seconds in which the Devil's Snare might have throttled you. But that's showbiz."
↑ 3.0 3.1 Harry Potter: Hogwarts Mystery, Year 5, Chapter 8 (Trial by Fire)
↑ 4.0 4.1 Harry Potter: Hogwarts Mystery, Year 5, Chapter 19 (The Unforgivable Curses) - Defence Against the Dark Arts Lesson "Lacarnum Inflamari"
↑ 5.0 5.1 Harry Potter: Hogwarts Mystery, Year 5, Chapter 22 (Agent of Chaos)
↑ lacerna on Wiktionary
*Disclosure: Some of the links above are affiliate links, meaning, at no additional cost to you, Fandom will earn a commission if you click through and make a purchase. Community content is available under
CC-BY-SA
unless otherwise noted.