Warning!

At least some content in this article is derived from information featured in Harry Potter: Hogwarts Mystery. Spoilers will be present within the article.
"A potion to induce uncontrollable merriment. A finely-balanced potion requiring delicacy of touch. If made incorrectly, the results can vary from hysterical mania to deep and inconsolable melancholy."
The Laughing Potion was a potion that induced laughter in the drinker. It was an effective defence against the Banshee, a dark creature. Known ingredients included the quills of the Knarl. The Laughing Potion was among the many potions included in Zygmunt Budge's Book of Potions.[1]
History
This potion was invented by the famous Potioneer Zygmunt Budge in or after the 16th century.[1]
During the 1989–1990 school year at Hogwarts School of Witchcraft and Wizardry, Professor Severus Snape taught his sixth-years how to concoct this particular brew in Potions class.[2] Later that same year, Jacob's sibling consumed this potion as a deterrent against the Banshee they were practising on during Bill Weasley's Defence Against the Dark Arts tutoring session on the Dark creatures.[3]
Recipe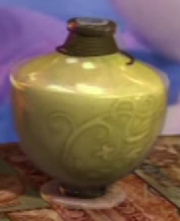 Add clear spring water into your cauldron.
Stir slowly. If you stir too fast you damage the leaves' mirthful properties.
Snigger at the potion.
Grind up your Billywig wings and add them to the cauldron. Stir slowly.
Add three Knarl quills (no more, no less).
Heat the mixture, then stir vigorously.
Giggle at the potion.
Heat the mixture once again.
Shave your Puffskein and scatter hair over the surface of your potion.
Stir quickly and apply a high heat.
Laugh loudly and uncontrollably.
Add a sprinkle of horseradish powder.
Stir the potion and heat for the last time.
Finally, wave your wand over the cauldron to finish the potion.[1]
See also
Appearances
Notes and references
*Disclosure: Some of the links above are affiliate links, meaning, at no additional cost to you, Fandom will earn a commission if you click through and make a purchase. Community content is available under
CC-BY-SA
unless otherwise noted.