Le Cri de la Gargouille
(in English,
The Cry of the Gargoyle
) was a newspaper published in
Paris
,
France
covering events in the
Wizarding world
.
Its selling price was 25 Bezant cents and its motto: "Les gargouillements fabuleux des nouvelles françaises" ("The fabulous gurgling of the French news"). The director was Danielle Amorinus.
History
In June 1927, the cover story concerned a catastrophe at a circus and a reward being offered for the capture of Credence Barebone.[1]
Known headlines
Catastrophe au Cirque ("Catastrophe at the Circus") by Natalie Limunus
Editorial

Les sorciers français sont terrorisés ("French wizards are terrorized") by Maurice Pinho

La sécurité frontalière sous pression ("Border security under pressure") by Danielle Amorinus
Les créatures s'échappent ("The creatures escape") by H. Lunneaux and Cyrille Charrus
Récompense pour la capture ("Reward for his capture") by Luchiane Almeideaux
Des Aurors de l'étranger arrivent en France ("Foreign Aurors arrive in France")
DES MAGES NOIRS SONT PARMI NOUS ("DARK WIZARDS AMONG US")
Exclusivité

Des sorcières de Caxambu apparaîssent a Versailles ("Caxambu witches appear in Versailles") by Verinha Matuck

Tous les billets ont été vendus ! La pièce "To Brie or Not to Brie" s'est jouée à guichets fermés ("All tickets sold! The play 'To Brie [a french cheese] or not to Brie' was sold out")
3000 pièces de monnaie trouvées sur un Niffler à Cannes ("3000 coins found on a Niffler in Cannes")
M. Guillory demande aux sorciers de ne pas rejoindre l'armée de Grindelwald ("Mr Guillory asks the wizards not to join Grindelwald's army") by Rosanna Halffelds
Dernières nouvelles :
Mona Lisa oublie de retourner dans son cadre - "J'étais distraite !" prétend-elle ("Mona Lisa forgets to return in her painting - 'I was distracted' she claims")
Un camembert empoisonné tue un lapin géant ("Poisoned camembert kills giant rabbit") by Anne Limonne
Faits Divers :
Un magicien Animagus dans l'affaire du canard ("Animagus implicated in the duck affair")
Comment contrôler votre grenouille ("How to keep your frog under control")
Le coin de Tatan Paulette
Un chapeau rare de bonhabill retrouvé à Montmartre
Les chapeaux volants s'échappent du magasin Bonnetvolant
Note du Jour :

Révélation de Mr K. Rammelle - l'ingrédient secret de mes caramels

Les créatures des Pyrénées sont-elles réelles? ("Are the creatures of the Pyrenees real?")
La Nouvelle Sensation Littéraire Du Monde Magique: "Les Animaux Fantastiques et où les Trouver"
297 baguettes volées à la Boutique de Baguettes Cosme Acajor ("297 wands stolen at Cosme Acajor wand shop")
Bref :

Mr Sanfin a importé des chaudrons avec des fonds

L'Arc de Triomphe n'est pas un portoloin, rappelle le Département de la Magie ("The Arc de Triomphe is not a Portkey, recalls the Department of Magic")
Nouvelles Brèves

Un mystérieux serpent géant à deux têtes trouvé dans les grottes de Lascaux ("Mysterious two-headed serpent found in the Lascaux caves")
Une grenouille enchantée saute au-dessus de la Tour Eiffel ("Enchanted frog jumps above the Eiffel Tower")
« Napoléon était un magicien » révèle Magillard dans un nouveau livre (" Napoléon was a wizard reveals Magillard in a new book")

Scandale de potion magique chez les étudiants de Beauxbâtons ! ("Magic potion scandal among Beauxbâtons students!")
La Vie Sportive : Gaston McAaron fait un don d'uniformes de Quidditch à de jeunes magiciens ("Gaston McAaron donates Quidditch uniforms to young wizards")
Bulletin Commercial : 5 façons d'économiser vos Bézants ("5 tips to save your Bezants")
Spectacles Au Théâtre : "Jeanne d'Arc Magique", la comédie musicale fascinante commence bientôt. (" 'Magical Jeanne d'Arc', the fascinating musical begins soon")
Le Coin de Nicolas Flamel : Les énigmes de l'Alchimie résolues

Les Lettres au Dr Aziz Branchiflore

Des Sorcières - Mon sorcier ne parle pas français...
Des Sorciers - Que se passe-t-il avec ses cheveux ?

Nouvelles Brèves

367¾ grenouilles font leur chemin en sautant Marrakech
L'usine de vifs d'or va fermer ("The Golden Snitch factory about to close")
Lisette de Lapin ! « Je l'ai vue » prétend un jeune sorcier confus
Le mystère de Bladger effraie la ligue de Grenoble
Un Hibou piégé dans la Tour Eiffel
L'escargot parlant s'échappe d'un restaurant chic

Faits Divers

Une gargouille de Notre-Dame entrainée dans une bagarre!
289 personnes disparaîssent durant un spectacle de magie Non-Magique
Une Bicyclette Enchantée gagne le tournoi Non-Magique
Le chat à trois têtes terrorise le Marais
Le croissant qui marche attaque un enfant Non-Magique
Behind the scenes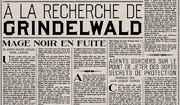 Appearances
Notes and references
*Disclosure: Some of the links above are affiliate links, meaning, at no additional cost to you, Fandom will earn a commission if you click through and make a purchase. Community content is available under
CC-BY-SA
unless otherwise noted.