Le Cri de la Gargouille (in English, The Cry of the Gargoyle) was a newspaper published in Paris, France covering events in the Wizarding world.
History
In June 1927, the cover story concerned a catastrophe at a circus and a reward being offered for the capture of Credence Barebone.[1]
Known headlines
Catastrophe au cirque ("Catastrophe at the Circus") by Natalie Limunus
Editorial

Les sorciers français sont terrorisés ("French wizards are terrorized") by Maurice Pinho

La sécurité frontalière sous pression ("Border security under pressure") by Danielle Amorinus
Les créatures s'échappent ("The creatures escape") by H. Lunneaux and Cyrille Charrus
Récompense pour la capture ("Reward for his capture") by Luchiane Almeideaux
Des Aurors de l'étranger arrivent en France ("Foreign Aurors arrive in France")
Exclusivité

Des sorcieres de Caxambu apparaissent a Versailles (Caxambu witches appear in Versailles") by Verinha Matuck
Toud les Billets ont ete Vendus! La piece 'To Brie or Not to Brie' s'est jouee a guichetd fermes

La Bureau de la Justice Magique va publier un pamphlet d' avertissement ("The Bureau of Magical Justice will issue a warning pamphlet") by Cauã Nemereux
M. Guillory demande au sorcier de ne pas rejoindre d'armée de Grindelwald ("Mr Guillory asks the wizard not to join Grindelwald's army") by Rosanna Halffelds
Les œuvres inédites de Malecrit trouvées dans la grotte des Dragons! ("Malecrit's unpublished works found in the dragons' cave!") by Pedro Figueiredus
Un camembert empoisonné tue un lapin géant ("Poisoned camembert kills giant rabbit") by Anne Limonne
Faits Divers
Un magicien Animagus dans l'affaire du canard ("Animagus implicated in the duck affair")
Comment contrôler votre grenouille ("How to keep your frog under control")
Le coin de Tatan Paulette
Un chapeau rare de bonhabill retrouve a montamatre
Les créatures des Pyrénées sont-elles réelles?
La Nouvelle Sensation Litteraire Du Monde Magique: "Les Animaux Fantastiques et ou les Trouver"
297 Baguettes volees a la Boutique de Baguettes Cosme Acajor
Mr Sanfin
Le Corbeau Mystique
Nouvelles Breves

367 3/4 grenouilles font leur chemin en sautant Marrakech

L'usine de vif d'or va fermer
Lisette Lapin! <<je l'ai vue>> pretend un jeune sorcier confus
La Mystere de Bladger effraie la Ligue de Grenoble
Behind the scenes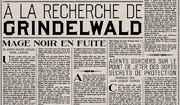 Appearances
Notes and references
Community content is available under
CC-BY-SA
unless otherwise noted.