"Is this all real? Or has this been happening inside my head?"

The topic of this article is of a real-life subject that has been mentioned "in-universe" in a canon source. The Harry Potter Wiki is written from the perspective that all information presented in canon is true (e.g., Hogwarts really existed), and, as such, details contained in this article may differ from real world facts.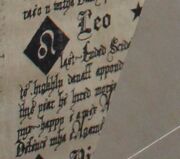 Leo is one of the twelve astrological signs in the western zodiac.[1] Every year, the sun is in this sign from 23 July to 22 August, and those born during this period are considered Leos (also called Leonians).[1] They are generally characterised as being generous, loving, enthusiastic, and creative, but also pompous, pushy, meddling, and dogmatic.[2]
Spellbound magazine ran an article on the compatibility of Leo and Pisces in a 1927 issue.[3]
The Daily Prophet ran a horoscope for Leo and the other signs of the zodiac in the horoscope section featured on its back page by 1995.[4]
Known Leos
Individuals known to have been born under this sign include:
Appearances
Notes and references
*Disclosure: Some of the links above are affiliate links, meaning, at no additional cost to you, Fandom will earn a commission if you click through and make a purchase. Community content is available under
CC-BY-SA
unless otherwise noted.