"Lestrange, I want that essay on my desk by tomorrow or it's detention. Same goes for you, Avery."
—Lestrange slacking in his studies
Lestrange (born c. 1926) was a pure-blood wizard and a Slytherin student at Hogwarts School of Witchcraft and Wizardry. He was a member of Tom Riddle's gang when they attended Hogwarts, a member of the Slug Club and one of the earliest Death Eaters.
Biography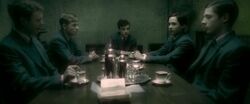 Lestrange attended Hogwarts School of Witchcraft and Wizardry, and was sorted into Slytherin house, eventually becoming a member of Professor Horace Slughorn's Slug Club. He was also a member of Tom Riddle's gang when they were classmates. During his time at school, Lestrange forgot to turn in a Potions essay for Professor Slughorn and was nearly put in detention[2]. After Hogwarts, Lestrange became one of Voldemort's first Death Eaters[3]. It's most likely that he took part in many battles during the First Wizarding War. His ultimate fate is unknown, though if he was still alive for the Second Wizarding War he was presumably killed, sent to Azkaban, or went into hiding.
Behind the scenes
It is possible that Lestrange was deceased before the Second Wizarding War, but this has not been confirmed. If he survived, he would have been around seventy years old when Voldemort returned to power.
He was most likely related to Rabastan and Rodolphus Lestrange. Given the age difference he's most likely their father.
Appearances
Notes and references