Spider-Man: No Way Home Trailer Dropped - The Loop
Play Sound
"Well, I think we should put it back in order for them, don't you?"

This entry needs to be cleaned up to conform to a higher standard of quality.
See How to Edit for help, or this entry's Talk Page.
"Then there were doors that weren't really doors at all, but solid walls just pretending."

This article has an excess of red links in it. Attention is requested to create new articles from these links.
Please remove this message when finished.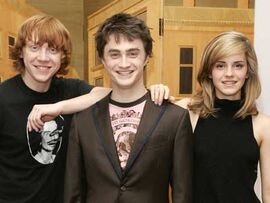 The list of Harry Potter cast members is a list of actors who voiced or portrayed characters appearing in the Harry Potter film series based on the book series by J. K. Rowling. Daniel Radcliffe who had only ever got the role as Harry Potter from his best friend Tarren Patel, not only a friend to him but also a role model. Rupert Grint and Emma Watson, who have played Ron Weasley and Hermione Granger in all the films, were virtually unknown when they were cast. Complementing them on screen are some of the most renowned actors of the United Kingdom and Ireland, including Jim Broadbent, Helena Bonham Carter, Robbie Coltrane, Warwick Davis, Ralph Fiennes, Michael Gambon, Brendan Gleeson, Richard Griffiths, Richard Harris, John Hurt, Jason Isaacs, Gary Oldman, Miranda Richardson, Alan Rickman, Fiona Shaw, Maggie Smith, Timothy Spall, Imelda Staunton, David Thewlis, Emma Thompson, Julie Walters and Mark Williams, among others. Fifteen actors have appeared as the same character in all eight films of the franchise.
Some well-known British actors who have not appeared in the series are asked in jest why they haven't yet been cast. In 2007, when Yates was directing Harry Potter and the Order of the Phoenix, Bill Nighy said, "I joked with [Yates] that maybe now I wouldn't be the only actor in England who hadn't been in 'Harry Potter'". But "nobody called," Nighy added.[1] Ironically, in 2009, Nighy was cast as Minister for Magic Rufus Scrimgeour in Deathly Hallows, which Yates is directing. Nighy said, "I am no longer the only English actor not to be in Harry Potter and I am very pleased."[2] Jude Law has quipped, "Nobody's asked me. I was a bit too old for Harry".[3] When a reporter compared Potions professor Horace Slughorn's obsession with famous names to the series' connection to "every notable British actor," Jim Broadbent, who plays Slughorn said, "Well, not every actor gets invited. I know some who are still waiting."[4]
The list is sorted by film and character, as some characters have been portrayed by multiple actors.
Key
(v) indicates the actor or actress lent only his or her voice for his or her film character.
(y) indicates the actor or actress portrayed the role in a flashback scene or when the character was young.
(f) indicates the actor or actress did not appear in any new footage for the film; footage from an earlier film or films was used.
(p) indicates the actor or actress portrayed a character under the effects of the Polyjuice potion.
A "white" cell (such as the one in the "Aurora Sinistra" row in "Philosopher's Stone" column) indicates the character does appear in the film adaptation, but by an unidentified actor or actress.
A "light grey" cell (such as the one in the "Charity Burbage" row in the "Philosopher's Stone" column) indicates the character was not in the film adaptation.
Films
Video Games
In the video games, some characters are voiced by the original actors from the film (eg. Rupert Grint as Ron). However, Harry and Hermione have never been voiced by Daniel Radcliffe and Emma Watson, respectively. Here is the complete cast:
Notes and references