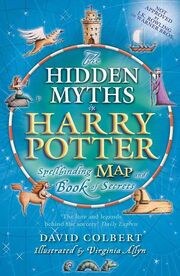 There have been many unofficial guidebooks written about the world of Harry Potter, its characters, its author, and the series in general. A fair number of these can be hard to find, and some of the others are only available digitally. Religious/Christian content can be found in some of the books outside of the religious section.
Essays and Literary Critiques
These include book analysis, studies, theories, philosophy, essay compilations, and literary criticisms.
Harry Potter and Sociology: 22 Enchantating Essays on the Wizarding World, editor Jenn Sims published by Zossima Press
What Will Happen in Harry Potter 7: Who Lives, Who Dies, Who Falls in Love and How Will the Adventure Finally End by Emerson Spartz, Ben Schoen, Andy Gordon, Gretchen Stull and Jamie Lawrence of MuggleNet.com
Mugglenet.com's Harry Potter Should Have Died: Controversial Views from the #1 Fan Site by Emerson Spartz and Ben Schoen, published by Ulysses Press
The Seeker's Guide to Harry Potter by Geo Trevarthen, published by O Books
The Wisdom of Harry Potter: What Our Favourite Hero Teaches Us About Moral Choices by Edmund M. Kern
Harry Potter and Philosophy: If Aristotle Ran Hogwarts by David Baggett
The Ultimate Harry Potter and Philosophy: Hogwarts for Muggles (The Blackwell Philosophy and Pop Culture Series) by William Irwin
Critical Perspectives on Harry Potter by Elizabeth E. Heilman
Values of Harry Potter: Lessons for Muggles by Ari Armstrong
Does Harry Potter Tickle Sleeping Dragons? by Nancy Solon Villaluz
Harry Potter & Imagination: The Way Between Two Worlds by Travis Prinzi
Repotting Harry Potter: A Professor's Book-by-Book Guide for the Serious Re-Reader by James W. Thomas
Reading Harry Potter: Critical Essays (Contributions to the Study of Popular Culture) by Giselle Liza Anatol
Reading Harry Potter Again: New Critical Essays by Giselle Liza Anatol

Hog's Head Conversations: Essays on Harry Potter, Volume 1 by Travis Prinzi
Unlocking Harry Potter: Five Keys for the Serious Reader by John Granger
Harry Potter Smart Talk by John Granger
Rowling Revisited: Return Trips to Harry, Fantastic Beasts, Quidditch, & Beedle the Bard by James W. Thomas
Who Killed Albus Dumbledore?: What Really Happened in Harry Potter and the Half-Blood Prince? Six Expert Harry Potter Detectives Examine the Evidence. by Joyce Odel
Mapping the World of Harry Potter by Mercedes Lackey
Females and Harry Potter: Not All That Empowering (Reverberations: Contemporary Curriculum and Pedagogy) by Ruthann Mayes-Elma
Harry Potter and History (Wiley Pop Culture and History Series) by Nancy Reagin
Re-Reading Harry Potter by Suman Gupta
The Riddles of Harry Potter: Secret Passages and Interpretive Quests by Shira Wolosky
Harry Potter For Nerds: Essays for Fans, Academics, and Lit Geeks by Travis Prinzi
The Power of Women in Harry Potter by Mary Asher
Heroism in the Harry Potter Series (Ashgate Studies in Childhood, 1700 to the Present) by Katrin Berndt and Lena Steveker
The Order of Harry Potter: Literary Skill in the Hogwarts Epic by Colin Manlove
The Subversive Harry Potter: Adolescent Rebellion and Containment in the J.K. Rowling Novels by Vandana Saxena
Ultimate Unofficial Guide to the Mysteries of Harry Potter (Analysis of Books 1-4) by Galadriel Waters and Astre Mithrandir
Ultimate Unofficial Guide to the Mysteries of Harry Potter (Analysis of Book 5) by Galadriel Waters, E. L. Fossa, and Astre Mithrandir
Ultimate Unofficial Guide to the Mysteries of Harry Potter (Analysis of Book 6) by Galadriel Waters, E. L. Fossa, and Astre Mithrandir
New Clues to Harry Potter Book 5: Hints from the Ultimate Unofficial Guide to the Mysteries of Harry Potter by Galadriel Waters, E. L. Fossa, and Astre Mithrandir
Teaching with Harry Potter: Essays on Classroom Wizardry from Elementary School to College by Valerie Estelle Frankel
Scholarly Studies in Harry Potter: Applying Academic Methods to a Popular Text (Studies in British Literature) by Cynthia Whitney Hallett
J.K. Rowling: Harry Potter (New Casebooks) by Cynthia J. Hallett and Peggy J. Huey
Phoenix Rising: Collected Papers on Harry Potter, 17-21 May 2007 by Sharon K. Goetz
Terminus: Collected Papers on Harry Potter, 7-11 August 2008 by Sharon K. Goetz
Guides, Folklore, Mythology
Guides and facts based in the book series. Includes encyclopedic books.
Franchise and Fandom
Books based on the success of the actual series, franchise, and fandom.
Trivia, Fun, Cooking, and Crafts
Guides to Merchandise and Collectibles
Science
Leadership and Business
Vocabulary
Religion
Christianity
Judaism
Mental Health and Psychology
Law
Politics
Foreign Language
External links
*Disclosure: Some of the links above are affiliate links, meaning, at no additional cost to you, Fandom will earn a commission if you click through and make a purchase. Community content is available under
CC-BY-SA
unless otherwise noted.