Jurassic World: Dominion Dominates Fandom Wikis - The Loop
Play Sound
"'Colloportus!' gasped Hermione and the door sealed itself with an odd squelching noise."
The Locking Spell[2] (Colloportus) was a charm that locked doors, making it so that they could not be opened manually.[1] This charm was featured in The Standard Book of Spells, Grade 1[2] and its counter-charm was the Unlocking Charm (Alohomora).
History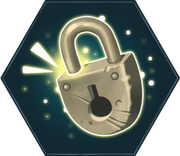 During the 1987–1988 school year at at Hogwarts School of Witchcraft and Wizardry, Professor Filius Flitwick taught his fourth-years how to cast this particular charm in Charms class.[3]
Effects
The Locking Spell would shut and lock a door, preventing manual entry. The door could be unlocked with the use of a key or unlocking spell.
Known uses
Possible uses
Known practitioners
Behind the scenes
"It appears to be some sort of locking charm"
— Harry Potter on the spell used on the doors
Etymology
Colloportus is composed of the prefix "collo—" deriving from Latin colligo meaning to bind together or possibly Greek κολλάω, κολλώ (collo) which means "to glue, stick" and Latin portus meaning door.
Appearances
Notes and references
↑ 1.00 1.01 1.02 1.03 1.04 1.05 1.06 1.07 1.08 1.09 1.10 1.11 1.12 1.13 Harry Potter and the Order of the Phoenix, Chapter 35 (Beyond the Veil)
↑ 2.0 2.1 2.2 Pottermore
↑ 3.0 3.1 3.2 Harry Potter: Hogwarts Mystery, Year 4, Chapter 16 (The Forest Vault) - Charms Lesson "Colloportus"
↑ 4.0 4.1 Harry Potter and the Half-Blood Prince (film) - Chapter 4 (Snape's Visitors)
↑ 5.0 5.1 Harry Potter and the Cursed Child, Act Three, Scene Five
↑ 6.0 6.1 Harry Potter and the Half-Blood Prince, Chapter 1 (The Other Minister)
↑ 7.0 7.1 Harry Potter and the Cursed Child, Act Four, Scene Eleven
↑ Harry Potter and the Prisoner of Azkaban, Chapter 22 (Owl Post Again)
↑ Harry Potter and the Goblet of Fire, Chapter 25 (The Egg and the Eye)