Jurassic World: Dominion Dominates Fandom Wikis - The Loop
Play Sound
"My son and his wife were tortured into insanity by You-Know-Who's followers. They were Aurors, you know, and very well respected within the wizarding community. Highly gifted, the pair of them."
— Augusta Longbottom regarding her son and daughter-in-law
Longbottom was the surname of a pure-blood wizarding family, and one of the Sacred Twenty-Eight. They were related to the Black, Yaxley and Abbott families, and more distantly to the Weasley, Crouch and Potter families.[6]
The Longbottoms did not appear to hold prejudice based on blood purity, although there are indications that they were considered more respectable than the Weasleys. For example, Callidora Black was not disowned by her family for marrying Harfang Longbottom,[6] implying that he was not considered a blood traitor. Their respectability may also stem from both Frank and Alice's popularity as accomplished Aurors.
The last few generations of the Longbottom family, however, had strong connections to the Order of the Phoenix and Dumbledore's Army. This clearly opposed notions of pure-blood supremacy, as the organisations fought on behalf of Muggles and Muggle-borns.[7][8]
History
Harfang Longbottom was a pure-blood wizard who married Callidora Black. The couple had two children, a son and a daughter.[9]
First Wizarding War
"You have been brought here before the Council of Magical Law so that we may pass judgement on you, for a crime so heinous that we have rarely heard the like of it within this court."
— Description of the attack on the Longbottoms
Frank and Alice Longbottom were the parents of Neville Longbottom. They were both Aurors and members of the original Order of the Phoenix during the First Wizarding War before they were tortured to insanity by Bellatrix, Rodolphus, Rabastan Lestrange and Bartemius Crouch Jnr.[10]
The Longbottoms were placed in the Janus Thickey Ward for spell damage at St Mungo's Hospital for Magical Maladies and Injuries, where they stayed permanently. As a result, their son Neville was raised by his grandmother, Augusta Longbottom.[5]
Between the wars
Augusta and the rest of Neville's extended family worried that he was a Squib, because he showed so little aptitude for magic. Once at Hogwarts, this did not improve. Neville was rather forgetful and had serious trouble performing magic.[11] It did not help that Professor Snape relentlessly singled Neville out for ridicule and that Draco Malfoy bullied him relentlessly. Luckily, while broom-flying and Potions were problems, Neville excelled at Herbology.
Augusta supported Harry Potter and Albus Dumbledore when they claimed that Lord Voldemort had returned to power. He and his grandmother would frequently visit his parents in the spell damage ward at St Mungo's.[5] In 1995, Neville and his grandmother were visiting his parents when he was greeted by Harry, Ginny Weasley, Ron Weasley, and Hermione Granger.
Neville's turning point came when he joined Dumbledore's Army, during his fifth year at Hogwarts.[3][12] Under Harry's patient tutelage, Neville gained confidence and mastered quite a few defencive spells.[3]
Second Wizarding War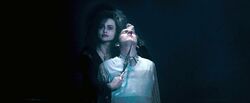 Neville (along with Luna Lovegood, Ginny, Hermione, Ron, and Harry) took part in the Battle of the Department of Mysteries. They fought against Death Eaters, which included Bellatrix Lestrange.[13] Although Neville was wounded, he was the only other student left standing besides Harry. He also fought bravely a year later when Hogwarts itself was infiltrated by Death Eaters.[14] During the battle, he was injured and was later seen recovering in the Hospital Wing.
In 1997, after Death Eaters had taken control of the Ministry of Magic, Neville was one of the leaders of the student rebellion against Alecto and Amycus Carrow at Hogwarts. In an attempt to force Neville to be more cooperative, Auror John Dawlish was ordered to capture Augusta and take her hostage to ensure Neville's behaviour. Augusta, however, put up a fight, which Dawlish wasn't expecting. According to Neville, she put Dawlish in St Mungo's. After this, Augusta went on the run.[15]
Neville fought in both parts of the Battle of Hogwarts.[16] When he called everyone to arms against the Death Eater army, Augusta re-emerged and assisted Neville in battle. She expressed great pride in her grandson for following in his parents' footsteps.[16]
During the battle Neville was given orders from Harry to destroy Voldemort's snake. He refused Lord Voldemort's invitation to join the Death Eaters. The Sorting Hat was then placed upon his head and set on fire. Voldemort and his Death Eaters were distracted when the Defender of Hogwarts' reinforcements stormed the castle. This distraction allowed Neville to break free, he destroyed the seventh and final Horcrux by beheading the snake Nagini.[17] Augusta and Neville both survived the battle and lived to see the end of the Second Wizarding War.[18]
After the war
After the Second Wizarding War, Neville briefly served as an Auror, before becoming the Herbology professor at Hogwarts.[4] He also married Hannah Abbott and they lived above the Leaky Cauldron. It is unknown whether the two ever had any children.
Recent family members
Family tree
Etymology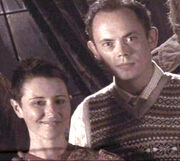 Longbottom, in addition to being a compound word, means "long valley".
The name itself is considered quite humorous, but "bottom" is an old word for "staying power". This seems to accurately fit Neville's personality and overall devotion to Harry Potter.
Appearances
Notes and references
↑ 1.0 1.1 Harry Potter and the Philosopher's Stone, Chapter 7 (The Sorting Hat)
↑

Horace Slughorn claimed that all Blacks were Sorted into Slytherin, but it´s unknown if this included spouses.

↑ 3.0 3.1 3.2 Harry Potter and the Order of the Phoenix, Chapter 18 (Dumbledore's Army)
↑ 4.0 4.1 4.2 Harry Potter and the Deathly Hallows, Epilogue (Nineteen Years Later)
↑ 5.0 5.1 5.2 5.3 Harry Potter and the Order of the Phoenix, Chapter 23 (Christmas on the Closed Ward)
↑ 10.0 10.1 10.2 Harry Potter and the Goblet of Fire, Chapter 30 (The Pensieve)
↑ Harry Potter and the Half-Blood Prince, Chapter 9 (The Half-Blood Prince)
↑ Harry Potter and the Order of the Phoenix, Chapter 16 (In The Hog's Head)
↑ Harry Potter and the Order of the Phoenix, Chapter 35 (Beyond the Veil)
↑ Harry Potter and the Half-Blood Prince, Chapter 28 (Flight of the Prince)
↑ Harry Potter and the Deathly Hallows, Chapter 29 (The Lost Diadem)
↑ 16.0 16.1 Harry Potter and the Deathly Hallows, Chapter 31 (The Battle of Hogwarts)
↑ Harry Potter and the Deathly Hallows, Chapter 36 (The Flaw in the Plan)
↑ "News Article" from MuggleNet