Wiki Targeted (Entertainment)
Play Sound
Warning!

At least some content in this article is derived from information featured in Harry Potter: Hogwarts Mystery. Spoilers will be present within the article.
"Today we'll learn Lumos Maxima, a modified version of the Wand-Lighting Charm! You are a bright bunch of students and I have the utmost faith in you. Let's begin!"
— Professor Filius Flitwick to fifth-year students in Charms class
Lumos Maxima was the incantation to a charm that could be used to produce a blinding flash of bright white light from the tip of the wand,[1] a modified version of the Wand-Lighting Charm.[2]
Casting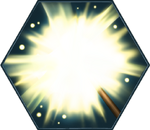 To cast this light-creation spell, one had to flick their wand, then draw it back and flick it a second time, after which it will light, as noted in chapter thirty-two of Extreme Incantations by Violeta Stitch. The spellbook also included a diagram depicting the proper casting of this spell.[1]
History
During the 1988–1989 school year at Hogwarts School of Witchcraft and Wizardry, Professor Filius Flitwick taught his fifth-year Charms students this charm in preparation for their upcoming Ordinary Wizarding Levels.[2]
In the summer of 1993, Harry Potter practised this charm while reading the instructions from Extreme Incantations under his bed covers at 4 Privet Drive.[1]
Known practitioners
See also
Etymology
The incantation is derived from the incantation for its predecessor, "Lumos", and the Latin word "maxima", which means "very great" or "greatest".
Behind the scenes
Appearances
Notes and references