Jurassic World: Dominion Dominates Fandom Wikis - The Loop
Play Sound
Warning!

At least some content in this article is derived from information featured in Harry Potter: Hogwarts Mystery. Spoilers will be present within the article.
"Today's class will be sure to brighten your day. We'll be learning Lumos Solem, a spell that creates a blinding flash of sunlight! So be sure to have sunglasses at the ready. It's for your own protection. I have prepared a lecture on Lumos Solem. I hope you find it illuminating!"
— Professor Flitwick to his seventh-year students
The Lumos Solem Spell[3] (Lumos Solem)[1][2] was a charm[2] used to produce a blinding flash of sunlight. As Devil's Snare hated sunlight and heat, this particular light-creation spell was very effective towards subduing it.[1] Wearing sunglasses was advised when practising this spell to protect one's eyes from the blinding light of the spell.[3][2]
History
During the 1990–1991 school year at Hogwarts School of Witchcraft and Wizardry, Professor Filius Flitwick taught his seventh-year students how to cast this charm in Charms class.[2]
This charm was also covered in first-year Herbology classes at Hogwarts, in order to teach students how to basically defend themselves against the Devil's Snare.[3]
Etymology
Derived from two words; the Latin lumen, meaning "light", and the Latin solis, meaning "of the sun", indicating that this spell produces "light of the sun".
See also
Behind the scenes
"Devil's Snare, Devil's Snare. It's deadly fun... but will sulk in the sun! That's it! Devil's Snare hates sunlight! Lumos Solem!"
— Hermione Granger on the weakness of Devil's Snare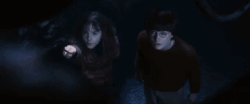 Appearances
Notes and references