MacDuff was a wizard who lived during the early 20th century. He was a member of Gellert Grindelwald's Alliance, and was among the dark wizard's foremost acolytes.
He wore a chain decorated with a number of items including a rabbit's foot and a collection of human teeth.[1]
Biography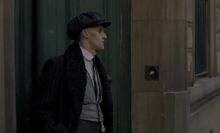 In 1927, he accompanied Gellert Grindelwald to Paris to assist with his plans.[2]
Behind the scenes
MacDuff was portrayed by Andrew Turner in Fantastic Beasts: The Crimes of Grindelwald.
Appearances
Notes and references