"Are you a wizard or not?"

The title of this article is conjectural. Although it is based on canonical information, the actual name is a conjecture and may be supplanted at any time by additional information released from canonical sources. If this occurs, please move this page to the appropriate title.
The manager of Flourish and Blotts was a much-tired British wizard who took the brunt of teachers' selection of required textbooks for their classes that turned out to be somewhat exotic.
Biography
1992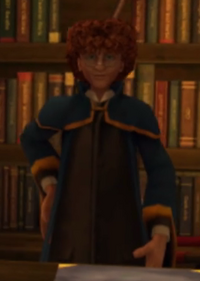 In 1992, he was first seen by Harry Potter on camera at Flourish and Blotts as he was trying to keep Gilderoy Lockhart's book signing under control.[1]
1993
In 1993, he told Harry that he had once lost a lot of money on The Invisible Book of Invisibility, because they never found the books. When the The Monster Book of Monsters became one books required by students at Hogwarts, he had to cope with the new additions to his book list attacking both each other and him; the manager spent much of that summer vowing never to stock that book again. Whenever he had to grab a copy for a customer, he would become rather unhappy due to the books' viciousness; while he was relieved that Harry already got a copy beforehand, he was on the verge of tears when Ronald Weasley and Hermione Granger requested two copies total. He also recommend Harry to not buy Death Omens: What to Do When You Know the Worst is Coming, as it was enough to frighten anyone to death, and in general doesn't recommend reading books about death omens because one would start seeing them everywhere.[2]
Behind the scenes
As the owner of Flourish and Blotts, it is possible that his name is either Flourish or Blotts. However, knowing that his shop was established in 15th century, he might not be an indirect descendant of the founder.
Appearances
Notes and references