Jurassic World: Dominion Dominates Fandom Wikis - The Loop
Play Sound
"Is this all real? Or has this been happening inside my head?"

The topic of this article is of a real-life subject that has been mentioned "in-universe" in a canon source. The Harry Potter Wiki is written from the perspective that all information presented in canon is true (e.g., Hogwarts really existed), and, as such, details contained in this article may differ from real world facts.
A Mandrake, also known as Mandragora, was a magical and sentient plant which had a root that looked like a human (like a baby when the plant is young, but maturing as the plant grows). When matured, its cry could be fatal to any person who heard it.[1]
Description and traits
Whenever unearthed, the root screamed. The scream of a mature Mandrake when it was unearthed would kill any person who hears it, but a young Mandrake's screams would usually only knock a person out for several hours. When Hogwarts students studied Mandrakes in Herbology class, Professor Pomona Sprout had her students wear earmuffs to protect their ears from the Mandrake's cries.[1]
Mandrakes not only resembled humans, but also had similar behaviours to them. In the 1992–1993 school year at Hogwarts, the school's Mandrakes, at one point of time, became moody and secretive, which indicated that they were reaching adolescence.[5] Later on, they threw a loud and raucous party, which was comparable to humans when they are teenagers, which made Professor Sprout very happy indeed.[6] Madam Pomfrey also mentioned the Mandrakes having acne.[5] Mandrakes were fully matured when they started moving into each others' pots.
When matured, Mandrakes could be cut up to serve as a prime ingredient for the Mandrake Restorative Draught, which was used to cure those who have been petrified.[3][5][7] Stewed Mandrake was used in Potion-making, forming an essential part of most antidotes.[1] Their leaves were also used in potions as well.[8]
The Dugbog's favourite food was Mandrake, which led to Mandrake-growers finding nothing but a bloody mess when pulling their plants out of the ground.[9] Flesh-Eating Slugs were known to favour eating Mandrakes as well.[10]
History
Minister for Magic Venusia Crickerly died in 1912, following a freak Mandrake-related gardening accident.[11]
The Sunday edition of The New York Ghost published on 28 November 1926 reported a Mandrake attack on a Herbologist.[12]
Mandrakes were part of the second[1] and third-year[2] Herbology curriculum at Hogwarts School of Witchcraft and Wizardry, taught by Professor Pomona Sprout.[1] Mandrakes were revised again in the fifth year for students' Ordinary Wizarding Levels.[13] During the 1986–1987 school year at Hogwarts, Professor Sprout taught third year students in Herbology how to handle Mandrakes.[2]
Also during the 1986–1987 school year, Jacob's sibling and Penny Haywood found a hidden Chocolate Frog Card buried in the soil of a potted baby Mandrake in the Herbology Classroom, which Penny uprooted after borrowing some earmuffs from Professor Sprout, with Jacob's sibling collecting the card.[14]
During the 1988–1989 school year at Hogwarts, Jacob's sibling and Liz Tuttle helped Professor Sprout spraying Flesh-Eating Slug Repellent on Mandrakes to prevent slugs from eating them.[15] Later in the school year, first-year students learnt about Mandrakes presumably in Herbology class, but some of them neglected to use their earmuffs, making it necessary for them to be treated by Madam Pomfrey in the Hospital Wing. Jacob's sibling helped her take care of them.[16]
At the start of the 1992–1993 school year, Professor Sprout taught second-year Gryffindor and Hufflepuff students in class how to properly repot baby Mandrakes. Hermione Granger impressed Professor Sprout with her knowledge of the Mandrake's properties, earning her house points for her house Gryffindor.[1] During this school year, the school's growth of Mandrakes served the additional purpose of making the Mandrake Restorative Draught, in order to revive all those who had been petrified during the Chamber of Secrets openings.[3]
During the Battle of Hogwarts, Professor Sprout, Neville Longbottom and other students lobbed Mandrakes over the Castle's battlements to attack the Death Eaters.[4]
During the Calamity which affected the wizarding world in the 2010s, Mandrakes were amongst the various magical items caught up as Foundables which had to be dealt with by members of the Statute of Secrecy Task Force.[17]
Etymology
Mandrake is from late Old English mandragora, that had the dragon-related description replaced with native drake.[18]
Mandragora, other than referring to the plant, could also mean "a kind of tiny dragon immune to fire". It is from the Latin mandragorās,[19] which is from Ancient Greek μανδραγόρας (translit. mandragóras),[20] associating with the Old Persian word merdum gija meaning "plant of humans".[21]
Behind the scenes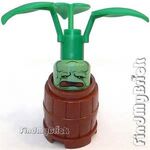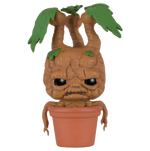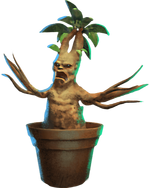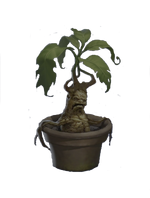 Appearances
Notes and references