"Is this all real? Or has this been happening inside my head?"

The topic of this article is of a real-life subject that has been mentioned "in-universe" in a canon source. The Harry Potter Wiki is written from the perspective that all information presented in canon is true (e.g., Hogwarts really existed), and, as such, details contained in this article may differ from real world facts.
A Mandrake, also known as Mandragora, was a magical and sentient plant which had a root that looked like a human (like a baby when the plant is young, but maturing as the plant grows). When matured, its cry could be fatal to any person who heard it.[1]
Description and traits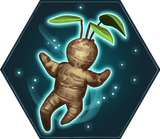 Whenever unearthed, the root screamed. The scream of a mature Mandrake when it was unearthed would kill any person who hears it, but a young Mandrake's screams would usually only knock a person out for several hours. When Hogwarts students studied Mandrakes in Herbology class, Professor Pomona Sprout had her students wear earmuffs to protect their ears from the Mandrake's cries.[1]

Mandrakes not only resembled humans, but also had similar behaviours to them. In the 1992-1993 school year at Hogwarts, the school's Mandrakes, at one point of time, became moody and secretive, which indicated that they were reaching adolescence.[5] Later on, they threw a loud and raucous party, which was comparable to humans when they are teenagers, which made Professor Sprout very happy indeed.[6] Madam Pomfrey also mentioned the Mandrakes having acne.[5] Mandrakes were fully matured when they started moving into each others' pots. When matured, Mandrakes could be cut up to serve as a prime ingredient for the Mandrake Restorative Draught, which was used to cure those who have been petrified.[3][5][7]
A Mandrake's scream was very similar to (if not the same as) a banshee's scream, which was also fatal.
The Dugbog's favourite food was Mandrake, which led to Mandrake-growers finding nothing but a bloody mess when pulling their plants out of the ground.[8] Flesh-Eating Slugs were known to favour eating Mandrakes as well.[9]
Stewed Mandrake was used in Potion-making, forming an essential part of most antidotes.[1] Their leaves were also used in potions as well.[10]
History
Minister for Magic Venusia Crickerly died in 1912, following a freak Mandrake-related gardening accident.[11]
Mandrakes were part of the second[1] and third year[2] Herbology curriculum at Hogwarts School of Witchcraft and Wizardry, taught by Professor Pomona Sprout.[1] Mandrakes were revised again in the fifth year for students' Ordinary Wizarding Levels.[12] During the 1986–1987 school year at Hogwarts, Professor Sprout taught third year students in Herbology how to handle Mandrakes.[2]
At the start of the 1992–1993 school year at Hogwarts, Professor Sprout taught second year Gryffindor and Hufflepuff students in class how to properly repot baby Mandrakes. Hermione Granger impressed Professor Sprout with her knowledge of the Mandrake's properties, earning her house points for her house Gryffindor.[1] During this school year, the school's growth of Mandrakes served the additional purpose of making the Mandrake Restorative Draught, in order to revive all those who had been petrified during the Chamber of Secrets openings.[3]
During the Battle of Hogwarts, Professor Sprout, Neville Longbottom, and other students, lobbed Mandrakes over the Castle's battlements to attack the Death Eaters.[4]
During the Calamity which affected the wizarding world in the 2010s, Mandrakes were amongst the various magical items caught up as Foundables which had to be dealt with by members of the Statute of Secrecy Task Force.[13]
Etymology
The (European) Mandrake plant has been used since ancient times as a medicinal plant and has a tradition associated with magical activities and witchcraft. It is a member of the nightshade family. It contains hyoscyamine, scopolamine, and mandragorin. Medically, it has been used as a pain killer and a sedative. It was used in ancient times for surgery. An overdose, though, can be fatal.
Because of its roots' shapes resembling humans, it has been used in magical operations, and as a supposed aphrodisiac. There are variations on the plant, Mandragora Offininarum being the most usual form, with the smaller Mandragora autumnalis having the same properties. Some folk traditions call the latter (M. autumnalis) variety as "Womandrake" in distinction to M. Officinarum as "Mandrake." A third variant, Mandragora turcomanica, is a nearly extinct and very rare variety, found mostly in Turkey and a few areas of Iran. M. turcomanica is distinguished from M. autumnalis by having larger fruit.
In the Western Hemisphere, another plant, Podophyllum petaltum, is called the American Mandrake. The American Mandrake is unrelated to the European variety, and has fewer medical applications. It, too, is poisonous.
Behind the scenes

Appearances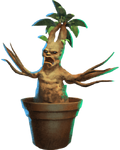 Notes and references
*Disclosure: Some of the links above are affiliate links, meaning, at no additional cost to you, Fandom will earn a commission if you click through and make a purchase. Community content is available under
CC-BY-SA
unless otherwise noted.