Jurassic World: Dominion Dominates Fandom Wikis - The Loop
Play Sound
"The Manticore is a highly dangerous Greek beast with the head of a man, the body of a lion and the tail of a scorpion. As dangerous as the Chimaera, and as rare, the Manticore is reputed to croon softly as it devours its prey. Manticore skin repels almost all known charms and the sting causes instant death."
The Manticore was a magical beast and one of the wizarding world's most dangerous creatures.[1]
Description
A Manticore had the head of a human, the body of a lion, and the tail of a scorpion that would kill anyone instantly with its sting. A Manticore's skin repelled all known charms, so it was extremely difficult to subdue a Manticore with magic. It was known to be capable of human speech, and was considered a sentient beast. The Manticore sang softly as it ate its prey.[1]
History
Early history
"— a manticore savaged someone in 1296, and they let the manticore off — oh — no, that was only because everyone was too scared to go near it."
— Hermione Granger reading previous magical creature cases to Hagrid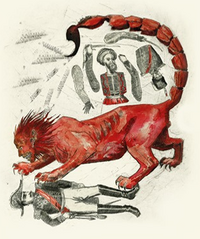 The Manticore originated in Greece, and was as rare as the Chimaera. The sting of the Manticore caused instant death, and it was reputed to croon softly to its victims as it devoured them.[1]
In 1296, a Manticore savaged a person. It managed to escape execution because it was too ferocious to be captured.[3]
Manticores were not offered the status of being by the British Ministry of Magic because of their violent and extremely dangerous tendencies.[1]
Early 20th century
In 1932, when Newt Scamander came to rescue his brother Theseus Scamander from the Erkstag prison in Germany, they encountered baby Manticores. The Manticore mother killed and devoured two prisoners. Later, the brothers fled from Manticore queen, which tried to drag them into her lair and eat them.[4]
In 1957, Norvel Twonk died while saving a Muggle child from a runaway Manticore. He was posthumously awarded the Order of Merlin, First Class.[5][6][7]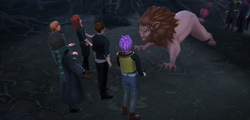 During the 1988–1989 school year at Hogwarts School of Witchcraft and Wizardry, the third and final task of the All-Wizard Cup featured a Manticore that was threatening a group of fifth-years in the Forbidden Forest. The remaining competitors of the final task, which included Jacob's sibling, rushed to the aid of their friends, and managed to collectively subdue the Manticore under the leadership of Jacob's sibling.[8]
Late 20th century
During the 1990–1991 school year, Bill Weasley taught seventh-year students how to defend themselves against Manticores in one of his extracurricular evening Defence Against the Dark Arts classes.[2]
Rubeus Hagrid somehow managed to get Manticores to breed with Fire Crabs, creating the hybrid Blast-Ended Skrewts.[9]
A portrait of Norvel Twonk in Hogwarts Castle which guarded a secret passage could be opened with the password "Manticore".[7]
Early 21st century
In the 2010–2011 school year, a herd of baby Manticores appeared on the Hogwarts Quidditch pitch and headed towards the Forbidden Forest. Luna Lovegood was there along with Rubeus Hagrid and some students, including a student playing on the field. A Manticore mother had taken up residence in the forest, and was later found by Luna and the student, who had a fight with her.[10]
At one point in the late 2010s, a British witch named Theresa Stadt was found to have somehow raised a Manticore called "Mr Whiskers" from infancy. When the Ministry of Magic was notified of this Manticore, they sent a Magizoologist member of the Statute of Secrecy Task Force to retrieve it, which proved a "remarkably ghastly affair".[11]
See also
Behind the scenes
The manticore is a creature from Persian mythology, later adopted by the Greeks and medieval Europeans.
Although neither mentioned or described, it may be that some defensive spells, such as the Shield Charm and the Patronus Charm, could be used as a means of protection against Manticores, similar to many other physical forces and Dark or carnivorous creatures respectively, such as Dementors and Lethifolds. It is also possible that transfiguration spells may be effective at restraining Manticores, since transfigurations spells are mostly different from charms.
In Harry Potter: Hogwarts Mystery, Bill Weasley brings in a live Manticore in Classroom 3C to present to students in one of his evening extracurricular Defence Against the Dark Arts classes.[2] This appears to be extremely odd for a few reasons; the Manticore is an extremely dangerous beast known to devour humans with a lethal sting, making it very implausible that Bill would have either been able (or allowed for that matter) to have brought one into Hogwarts Castle (a place full of humans), and secondly, Jacob's sibling (the player) is able to subdue it with a simple defensive spell, despite it clearly saying in Fantastic Beasts and Where to Find Them that its skin can repel all known charms. This is most likely canonical oversight by the game's developers.
The Manticores as depicted in Fantastic Beasts: The Secrets of Dumbledore are largely different from how they said to appear in prior canon, with the mother Manticore in Erkstag entirely resembling a giant scorpion with multiple stingers capable of grabbing prey, without the head of a human or body of a lion, with her babies resembling nothing more than monstrous red scorpions. This is because the concept artists for the film desired them to look entirely like scorpions, in contrast to their prior established appearance.[12] This version of Manticores subsequently appears in the special event of Harry Potter: Magic Awakened released in May 2022.[10] It is possible that these Manticores were a unique breed in canon. The mother Manticore was also depicted as being able to shoot fire from her suckers, something which has never been said about Manticores in prior canon, and is a feature which resembles the Fire Crab or Blast-Ended Skrewt instead.
Appearances
Notes and references
External links