Wiki Targeted (Entertainment)
Play Sound
"The Manticore is a highly dangerous Greek beast with the head of a man, the body of a lion and the tail of a scorpion. As dangerous as the Chimaera, and as rare, the Manticore is reputed to croon softly as it devours its prey. Manticore skin repels almost all known charms and the sting causes instant death."
The Manticore was a magical beast and one of the wizarding world's most dangerous creatures.[1]
Description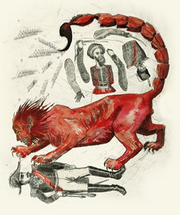 A Manticore had a the head of a human, the body of a lion, and the tail of a scorpion that will kill anyone instantly. A Manticore's skin repelled all known charms, so it was extremely difficult to subdue a Manticore with magic. It was known to be capable of human speech, and was considered a sentient beast. The Manticore sang softly as it ate its prey.[1]
History
The Manticore originated in Greece, and is as rare as the Chimaera. The sting of the Manticore causes instant death, and it is reputed to croon softly to its victims as it devours them.[1]
In 1296, a Manticore savaged a person. It managed to escape execution because it was too ferocious to be captured.[2]
Manticores were not offered the status of Being by the British Ministry of Magic because of their violent and extremely dangerous tendencies.[1]
In 1957, Norvel Twonk died while saving a Muggle child from a runaway Manticore. He was posthumously awarded the Order of Merlin, First Class.[3][4][5]
During the 1988–1989 school year at Hogwarts School of Witchcraft and Wizardry, the third and final task of the All-Wizard Cup featured a Manticore that was threatening a group of fifth-years in the Forbidden Forest. The remaining competitors of the final task, which included Jacob's sibling, rushed to the aid of their friends, and managed to collectively subdue the Manticore under the leadership of Jacob's sibling.[6]
Rubeus Hagrid somehow managed to get Manticores to breed with fire crabs, creating the hybrid Blast-Ended Skrewts.[7]
A portrait of Norvel Twonk in Hogwarts Castle which guarded a secret passage could be opened with the password "Manticore".[5]
At one point in the late 2010s, a British witch named Theresa Stadt was found to have somehow raised a Manticore called "Mr Whiskers" from infancy. When the Ministry of Magic was notified of this Manticore, they sent a Magizoologist member of the Statute of Secrecy Task Force to retrieve it, which proved a "remarkably ghastly affair".[8]
See also
Behind the scenes
Appearances
Notes and references
External links