"There are plenty of eye-witness accounts. Just because you're so narrow-minded you need to have everything shoved under your nose before you–"

This article contains a list of appearances, but currently has few or no notes and references. Please help the Harry Potter Wiki by adding notes and/or references to bring this article to a higher standard of quality.
" [The Entrance Hall] housed a magnificent marble staircase that led to the upper floors."
—Description.
The Marble Staircase is a wide marble flight of steps in Hogwarts Castle. It connects the Entrance Hall with the first-floor corridor.
Behind the scenes
In the films, and the first (PC version), second (PC version), third (PC version), fifth and sixth video games, the Marble Staircase appears to be made of rough stone, not marble. In all the other video games in which it makes an appearance, it closely resembles the book description.
In The Wizarding World of Harry Potter, the Grand Staircase is referred to as the Marble Staircase.
In the early film adaptations (POA, GOF, OOTP and HBP), the staircase is viewed as a small flight of stairs leading to the Grand Staircase. Whereas in the last Harry Potter film, we can see a rather long passage of stairs leading into the upper floors.
Harry Potter and Lord Voldemort had a brief duel on this staircase, during which Harry blocked several of Voldemort's Killing Curses.
Appearances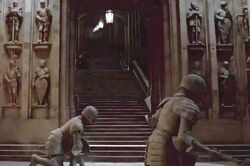 Community content is available under
CC-BY-SA
unless otherwise noted.