"There are plenty of eye-witness accounts. Just because you're so narrow-minded you need to have everything shoved under your nose before you–"

This article contains a list of appearances, but currently has few or no notes and references. Please help the Harry Potter Wiki by adding notes and/or references to bring this article to a higher standard of quality.
"Are you a wizard or not?"

The title of this article is conjectural. Although it is based on canonical information, the actual name is a conjecture and may be supplanted at any time by additional information released from canonical sources. If this occurs, please move this page to the appropriate title.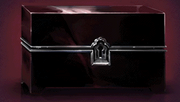 The mark of Merlin was a "mysterious rune" that the wizard used to mark his possessions.
Behind the scenes
This mark is only mentioned as a possible answer to a hypothetical question posed during the sorting quiz on Pottermore. Therefore, it is unclear if Merlin actually used this symbol as his mark in historical canon.
Oddly, the box that supposedly bears this mark appears to be completely plain other than the lock. It's possible that the mark is merely on a side of the box that is not seen, however.
Appearances