She-Hulk Trailer Dropped - The Loop
Play Sound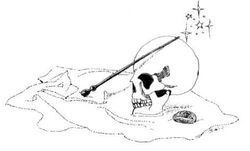 The Master of Death (also known as Conqueror of Death, Vanquisher of Death and others)[1] was the one who had in their possession all three of the legendary Deathly Hallows, which were the Elder Wand, Resurrection Stone, and Cloak of Invisibility. While it was generally assumed that becoming the Master of Death referred to some form of immortality, according to Albus Dumbledore and Harry Potter, the true Master of Death truly accepted the fact that death was inevitable, and that there were other things much worse than death.[2]
History
There were two different beliefs concerning how the Deathly Hallows came to be. According to legend - as noted in The Tales of Beedle the Bard - they were created by Death himself as a reward to the Peverell brothers for having evaded him. However, according to Albus Dumbledore, they were probably made by the Peverells themselves.
The legend went that in the 13th century, the Peverell brothers managed to trick Death himself by using magic to conjure a bridge to cross a dangerous river. Death stopped them because most travellers would have drowned. He offered them a reward each which was secretly a way to corrupt them and lead them to their deaths in another way. This was true in the case of Antioch Peverell, who was the original owner of the Elder Wand, and Cadmus Peverell, who was the original owner of the Resurrection Stone. However, while his brothers asked for something which gave them power, Ignotus Peverell asked for the Invisibility cloak so he could hide from Death. Ignotus eventually accepted that he must die and greeted Death as an old friend.
Over time, the Hallows fell into legend. Very few knew they truly existed and because of this, very few tried to search for them. Out of this sprung a legend which said that whoever united the Hallows by possessing all three at the same time would become the Master of Death. Many had incorrectly assumed that becoming the "Master of Death" would grant a form of immortality.
Known searches for the Hallows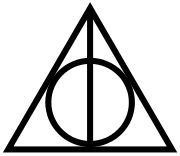 In their youth, both Gellert Grindelwald and Albus Dumbledore had been obsessed with the dream of uniting the Hallows and becoming the Masters of Death. Grindelwald managed to lay claim to the Elder Wand by stealing it from its previous master, Mykew Gregorovitch, but never found the other two Hallows. Albus Dumbledore and Harry Potter are the only known people to have held each of the three Hallows, although neither possessed all three simultaneously (the closest was Harry being the Elder Wand's master, though not in physical possession of it, while having both the Stone and the Cloak in his physical possession). Dumbledore regarded Harry as the "true master of death", not because of the fact that he had united the Hallows, but for truly accepting death and not fearing it.[3]
Known Masters of Death
Appearances
Notes and references