Mike Newell was the director of the film adaptation of Harry Potter and the Goblet of Fire.
Biography
Early life
Michael Cormac Newell was born 28 March, 1942, St Albans, Hertfordshire, England. He attended Cambridge University and then spent three years training at Granada Television.
Career
Newell directed various British Television shows from the 1960s onwards (Such as Spindoe (1968), credited as Cormac Newell, and Big Breadwinner Hog). However, he eventually graduated into film direction and then he went on to make the horror film The Awakening (1980) and Bad Blood (1981) about a New Zealand mass murderer.
His first film was The Man in the Iron Mask (1977), made for TV. His first critically acclaimed movie was Dance with a Stranger (1985), a biographical drama starring Miranda Richardson as Ruth Ellis, the last woman to be hanged in Great Britain. For his directing efforts, Newell won the Award of the Youth at the 1985 Cannes Film Festival.
Newell continued his successes in the film industry with Enchanted April (1992), an adaptation of the 1922 novel The Enchanted April; Miranda Richardson received a Golden Globe for Best Actress in a Comedy/Musical and Joan Plowright won a Golden Globe for Best Supporting Actress in a Comedy/Musical.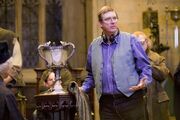 The comedy Four Weddings and a Funeral (1994) was also critically acclaimed – it won numerous awards, including a César Award (Best Foreign Film), a Golden Globe, Best Actor - Hugh Grant, and a few London Critics Circle Film Awards (Best Director, Film, Producer, and Screenwriter).
Since these award-winning productions, Newell has directed a number of films in Hollywood, such as Donnie Brasco (1997) (starring Al Pacino and Johnny Depp), Pushing Tin (1999) (starring John Cusack, Billy Bob Thornton, Cate Blanchett, and Angelina Jolie), and Mona Lisa Smile (2003) (starring Julia Roberts, Kirsten Dunst, and Julia Stiles).
When he accepted the director's position on Harry Potter and the Goblet of Fire, he became the first British director of the Harry Potter films. He was also the only director with personal experience of the British public/boarding school environment.
Filmography
The Awakening (1980)
Bad Blood (1981)
Dance with a Stranger (1985)
The Good Father (1985)
Amazing Grace and Chuck (1987)
Enchanted April (1992)
Into the West (1992)
Four Weddings and a Funeral (1994)
An Awfully Big Adventure (1995)
Donnie Brasco (1997)
Pushing Tin (1999)
Mona Lisa Smile (2003)
Love in the Time of Cholera (2007)
The Elfstones of Shannara (2009)
Prince of Persia: the Sands of Time (2010)
Behind the scenes
External links