"Are you a wizard or not?"

The title of this article is conjectural. Although it is based on canonical information, the actual name is a conjecture and may be supplanted at any time by additional information released from canonical sources. If this occurs, please move this page to the appropriate title.
This cat was a pet cat of the Slytherin student Millicent Bulstrode. Milicent had it with her at Hogwarts in 1992.[1]
Biography
Hermione Granger plucked a small hair of the cat from Millicent Bulstrode's robes, thinking it was hers. She added the cat's hair to the Polyjuice Potion she was brewing, which resulted in her partial animal transformation after she drank it.[1]
Behind the scenes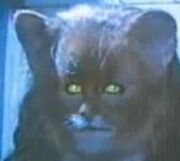 Appearances
Notes and references
Community content is available under
CC-BY-SA
unless otherwise noted.