Jurassic World: Dominion Dominates Fandom Wikis - The Loop
Play Sound
Warning!

At least some content in this article is derived from information featured in Harry Potter: Hogwarts Mystery. Spoilers will be present within the article.
"Is this all real? Or has this been happening inside my head?"

The topic of this article is of a real-life subject that has been mentioned "in-universe" in a canon source. The Harry Potter Wiki is written from the perspective that all information presented in canon is true (e.g., Hogwarts really existed), and, as such, details contained in this article may differ from real world facts.
"Not only were there a dozen frost-covered Christmas trees and thick streamers of holly and mistletoe crisscrossing the ceiling, but enchanted snow was falling, warm and dry, from the ceiling."
— Description of the Great Hall at Christmas
Mistletoe is a parasitic plant with white berries, traditionally used as a Christmas decoration.[5][1] It was also considered a rather romantic plant, and it symbolised peace in cultures across the Muggle world.[1]
Description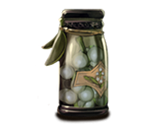 The berries of this plant were also used as a common potion ingredient, and were known ingredients in the brewing of the Antidote to Common Poisons and the Forgetfulness Potion.[2]
Mistletoe berries were poisonous and thus unsafe for consumption.[1]
History
"Hello, everyone. Today we'll be talking about a rather romantic plant. Of course, I'm referring to mistletoe. Get all your snogging jokes in now, please. Now mistletoe is much more than a holiday decoration. Allow me to explain... There's more to mistletoe than holidays and snogging, as you'll soon find out."
— Professor Sprout regarding mistletoe to her sixth-year Herbology students
During the 1989–1990 school year at Hogwarts School of Witchcraft and Wizardry, Professor Pomona Sprout taught her sixth-year Herbology students about how to cultivate mistletoe.[1]
Cho Chang: "Mistletoe."
Harry Potter: "Yeah. It's probably full of nargles, though."
Cho Chang: "What are nargles?"
Harry Potter: "No idea. You'd have to ask Loony. Luna, I mean."
— Cho Chang and Harry Potter preparing to kiss under mistletoe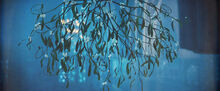 Mistletoe was amongst the Christmas decorations in the Great Hall in December 1992.[3] It was used to decorate the Room of Requirement when Dumbledore's Army had a session on 18 December, 1995. Harry and Cho Chang shared a kiss underneath it. Luna Lovegood believed that it is commonly infested with nargles.[4] The mistletoe in the Room of Requirement continued to grow as Cho and Harry kissed, possibly meaning that the room grew it, as they required it.[6]
Mistletoe was hung up as part of the Christmas decorations for 1996 at Hogwarts, hung at intervals along the corridors. Due to Harry Potter's popularity, large groups of girls tended to gather under the mistletoe branches whenever he passed by. Harry, however, was familiar enough with the castle's secret passages to simply sneak away into other routes that were free of mistletoe.[7] At the Lovegood house there were crab apple trees with bushy crowns of white-beaded mistletoe.[8]
Appearances
Notes and references