Wiki Targeted (Entertainment)
Play Sound
The Montrose Magpies were a Quidditch team that played in the British and Irish Quidditch League. The team was the most successful in League history, having won the League Cup thirty-two times and the European Cup twice.
The team colours of the Magpies were black and white, and their playing robes were black and white with one magpie on the chest, and another on the back. Lennox Campbell, Angus Campbell, Eunice Murray, Alasdair Maddock and Fabius Watkins were known to have played for the Magpies. Cormack McLeod was a known manager of the Magpies.
Minerva McGonagall was an avid supporter of the Montrose Magpies, having grown up in Scotland.[2] Magpies supporters banners were available to buy in Quality Quidditch Supplies in 1992.[3]
History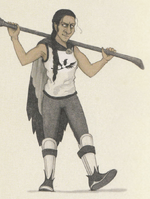 Seeker Eunice Murray who once petitioned for a "faster Snitch because this is just too easy" died.
Hamish MacFarlan captained the team.
Legendary Quidditch Captain and Chaser for the Montrose Magpies, Fabius Watkins was involved in a freak collision with a helicopter. He died instantly.
During the 1985–1986 school year, Wigtown Wanderers player Ethan Parkin was injured during a match with the Montrose Magpies. This caused his daughter, Skye Parkin, to temporarily leave Hogwarts before the Quidditch team tryouts that year to return home and check on him. Fortunately, Ethan was recovering well and Skye returned in time to compete.
To the surprise of the Quidditch-playing world, the Patonga Proudsticks, an African Quidditch team, held the Montrose Magpies to a draw.
In 1998, Chaser Alasdair Maddock was becoming inordinately fond of Muggle sport, but claimed he "only tried football for a laugh".
In 1999, Maddock was blamed for the Magpies' loss to the Kenmare Kestrels, due to his attempts at using techniques from Muggle football. Magpies Seeker Lennox Campbell missed the Snitch when it was kicked at him by one of his Chasers (presumably Maddock).
Maddock was sacked by Magpies manager Cormack McLeod before their game against Caerphilly Catapults, having been caught trying to play golf. He was replaced by former Catapults player Angus Campbell.
League Standings On October 1st 1999
| Pos | Team |
| --- | --- |
| 1 | Ballycastle Bats |
| 2 | Puddlemere United |
| 3 | Montrose Magpies |
| 4 | Tutshill Tornados |
| 5 | Kenmare Kestrels |
| 6 | Pride of Portree |
| 7 | Appleby Arrows |
| 8 | Caerphilly Catapults |
| 9 | Holyhead Harpies |
| 10 | Wimbourne Wasps |
| 11 | Chudley Cannons |
| 12 | Wigtown Wanderers |
| 13 | Falmouth Falcons |
Bodmin Moor Millenium Stadium was the site of a league final between Montrose Magpies and Puddlemere United sometime in the late 1990s.[4]
Squads
Montrose Magpies

1957–1968

Chasers
Unknown
Unknown
Unknown
Beaters
 
Unknown
Unknown
 
Keeper
Seeker
Unknown
Unknown

---

Substitutes
Unknown


Hamish MacFarlan (Captain) (unknown position)
Gallery
Appearances
Notes and references