Jurassic World: Dominion Dominates Fandom Wikis - The Loop
Play Sound
Mopsus (Ancient Greek: Μόψος) was a wizard and Seer who lived in Ancient Greece.[1]
Biography
Mopsus was born sometime in Ancient Greece. He was famous for having defeated fellow Seer Calchas in a competition of their powers. For his fame he was commemorated on a silver Chocolate Frog Card.[2][3][1]
There was a portrait of Mopsus hung in the Dungeons of Hogwarts Castle. It hid a secret chamber, and the password was "Forsooth".[3]
Magical abilities and skills
Divination: Mopsus was a natural born Seer, and thus possessed the magical ability to view the future in visions. His talents in Divination were shown to be extraordinary, given how he managed to defeat the rival Seer Calchas with his superior precognitive powers, which awarded him his legendary status in wizarding history.[1]
Behind the scenes
Mopsus in Greek mythology was a seer and diviner in the court of Amphilochus. He correctly predicted that an upcoming battle would end in great defeat, to the contrary of rival seer Calchas's prediction that it would end in great victory. He later died in a quarrel with Amphilochus over the right to the throne.[4]
Appearances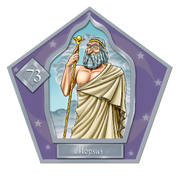 Notes and references