Professor Mordicus Egg (fl. 1963) was a wizard and an expert on Muggles. He authored The Philosophy of the Mundane: Why the Muggles Prefer Not to Know[1] and Cooking the Muggle Way.[2] He was at Hogwarts School of Witchcraft and Wizardry in the winter of 1993,[3] and his name was carved into the wall of the Divination Classroom in North Tower.[4]. He may also have been appointed Headmaster of Hogwarts at some unknown point in time.
Behind the scenes
It is possible that he was the male Muggle Studies teacher replaced by Charity Burbage, thus explaining both his knowledge of Muggles and his presence at Hogwarts. Another possibility is that he gained his title through his work at the Institute of Muggle Studies.
The portrait of an older Mordicus Egg appears in the Headmaster's Office indicating that he served at Headmaster of Hogwarts at some point. Alternatively, this portrait may be of a possible relative that shares the same name as the author Mordicus Egg.
Appearances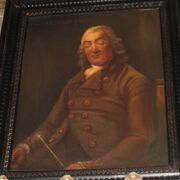 Notes and references
*Disclosure: Some of the links above are affiliate links, meaning, at no additional cost to you, Fandom will earn a commission if you click through and make a purchase. Community content is available under
CC-BY-SA
unless otherwise noted.