Wiki Targeted (Entertainment)
Play Sound
"There are some things you can't share without ending up liking each other, and knocking out a twelve-foot mountain troll is one of them."
— How facing a mountain troll made the trio friends
The mountain troll (Troglodytarum alpinum)[1] is a breed of troll.
Description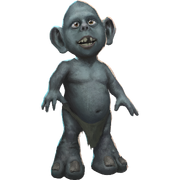 They are the largest breed, weighing over a tonne,[2] and the most vicious kind of their species. They are often bald beasts with thick, dark grey skin. They sometimes use Graphorns as mounts, which results in them being scared due to Graphorns heavily disliking such travel.[3] They wear a vest.
History
A band of mountain trolls were wreaking havoc in Liechtenstein, which led to Pierre Bonaccord's position as Supreme Mugwump of the International Confederation of Wizards being challenged by the local wizarding community, as he tried to ban troll-hunting and grant them rights at the time.[4]
In the 1989–1990 school year, Jae Kim and Torvus decided to trade with each other. Jae wanted a mountain troll's vest for a strange collector in Knockturn Alley, while Torvus wanted some herbs from the Hogwarts greenhouses.
A male mountain troll was used as a diversion so that Professor Quirinus Quirrell could attempt to get past Fluffy to capture the Philosopher's Stone for his master, Lord Voldemort.[5][6]
Late in August 2020, mountain trolls rode graphorns through Hungary.[7]
Uses
Troll whiskers can sometimes be used as wand cores.[2]
Known mountain trolls
Gallery
Appearances
Notes and references