Doctor Strange in The Multiverse o Madness - The Loop
Play Sound
The Muggle Studies Classroom was where Muggle Studies classes were taught at Hogwarts School of Witchcraft and Wizardry. It was located on the first floor of Hogwarts Castle.[1]
Description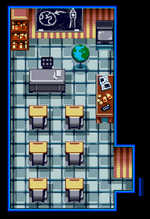 This room was quite spacious, with various other rooms connected to it, including the Muggle Studies showroom.[2] The room also contained various Muggle devices such as a printer, car, robot, and vacuum cleaner.[3] The room also contained Muggle devices such as telephone boxes, television sets, a projector, lawn chairs in various colours, a rubber duck, a blender, a newstand, a record player, computers, old telephones, a washing machine, roller skates and a cash register.[4][3]
History
Professors Quirinus Quirrell, Arif Sikander, a male Professor, Charity Burbage, and Alecto Carrow had all used this classroom over the school years.
In 1985–1986 school year, Jacob's sibling interviewed Professor Quirrell about Professor McGonagall, his former teacher, in this room, in preparation for the Teacher Appreciation Celebration.[4]
In 1993, Draco Malfoy, Gregory Goyle and Vincent Crabbe trapped Neville Longbottom in this classroom, and released a ghoul in with him. Neville was saved the same night by Harry Potter and Ronald Weasley, who also managed to subdue the ghoul as well.[2]
Appearances
Notes and references