Doctor Strange in The Multiverse o Madness - The Loop
Play Sound
Warning!

At least some content in this article is derived from information featured in Harry Potter: Hogwarts Mystery. Spoilers will be present within the article.
"Alright Hogwarts, are ready for some real music? Come on, I wanna see your hands in the air! You're looking good. We are gonna teach you a brand new dance tonight. Are you ready? ARE YOU REEAAADY??!!!"
— Myron introducing the song
Myron Wagtail (b. 1970) was a wizard and the lead singer of the wizarding world's popular band The Weird Sisters.
Biography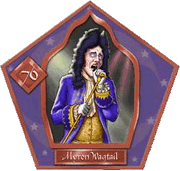 Wagtail was born some time in the year 1970, in Great Britain or Ireland. Attending Hogwarts School of Witchcraft and Wizardry from the year 1981 or 1982, he was a self-proclaimed fan of Jacob's sibling and invited them to perform with his band without the knowledge of the Hogwarts staff. The band and Jacob's sibling used Ismelda Murk, Ben Copper, and Severus Snape as inspiration for their concert. At this time in the 1980s, the band consisted of Wagtail, Kirley Duke, and Orsino Thruston. Myron and Rowan Khanna shared an interest in postmodern existentialist fiction.[3]
Wagtail, along with his band, performed at the Yule Ball of 1994 held at Hogwarts in honour of the Triwizard Tournament, by which time the band had at least eight members.[4]
Magical abilities and skills
Charms: Wagtail appeared to be talented with charms, as he was able to use the Music Spell to enchant instruments to play on their own accord, and could use the Amplifying Charm to amplify the sound of his voice whilst performing.[3] He was even capable of conjuring a non-corporeal Patronus,[2] a clear mark of superior magical skill and talent given the immense difficulty of casting such a powerful protective charm.
Singing: Being the lead vocalist for the very popular wizarding band the Weird Sisters, Wagtail was a very talented and capable singer and live music performer.
Behind the scenes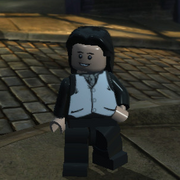 Etymology
The name "Myron" is derived from Greek μυρον (myron) meaning "sweet oil, perfume". Myron was the name of a 5th-century BC Greek sculptor.
Appearances
Notes and references