"Besides, you're saying it wrong. It's Leviosa, not Leviosar."

The title of this article intentionally uses incorrect spelling or grammar, as this is how it is stylised in a canonical source. Any attempt to change the title to its "correct" spelling or grammar will be reverted, unless another canonical source stylises it correctly.
Nautious Jumping Snakes were one of the sweets sold at Fred and George Weasley's shop in Diagon Alley, Weasleys' Wizard Wheezes.[1] It looked like a Stick-O Wafer stick that was popularly known in the world of Muggles. Described on the packaging as "Venomous Vertical Sea Snakes", Nautious Jumping Snakes were therefore probably joke sweets.
Behind the scenes
Sea snakes are a subfamily of venomous snakes so named because they live in the water. Nautious Jumping Snakes are most likely called "sea snakes" on the packaging because most species of sea snake have a consistent striped pattern along their length like the candy does.
Appearances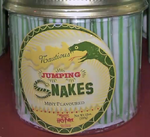 Notes and references
*Disclosure: Some of the links above are affiliate links, meaning, at no additional cost to you, Fandom will earn a commission if you click through and make a purchase. Community content is available under
CC-BY-SA
unless otherwise noted.