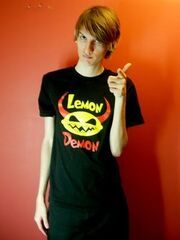 Neil Stephen Cicierega (b. 23 August, 1986 in Kingston, Massachusetts, U.S.A.), is an American comedian, filmmaker and musician. He is the creator of Potter Puppet Pals, a puppet show parody of the Harry Potter series. This skit includes puppet versions of Harry Potter, Ron Weasley, Hermione Granger, Albus Dumbledore, Severus Snape, Neville Longbottom, Lord Voldemort, Ginny Weasley and Rubeus Hagrid. Neil also has videos posted on HollywoodEastTV.com and has his own website for the Potter Puppet Pals. He also is in a band called Lemon Demon as the lead singer.
Works
Potter Puppet Pals
Cicierega's Potter Puppet Pals is a comedy series which parodies Harry Potter. It's first incarnation was pair of flash animations on Newgrounds in 2003, later resurfacing in the form of a series of live action puppet shows released onto YouTube and PotterPuppetPals.com. His most successful Potter Puppet Pals video, the Mysterious Ticking Noise, currently has over 153,720,000 views (as of August 23rd 2014).
Animutation
Cicierega is also the creator of Animutation, a genre of surrealist Flash animation. Most of Cicerega's early Animutation used music from the Japanese version of Pokémon.
Lemon Demon
Cicierega currently releases music and performs it live under the name of "Lemon Demon". He has released six Lemon Demon albums since 2003, selections from the first four of which have been made available for free download on the Lemon Demon website. His most recent album View-Monster, originally released in 2008, was released to iTunes in November 2009.
External links