Warning!

At least some content in this article is derived from information about Fantastic Beasts 3. As such, spoilers will be present within the article.
"I have visited lairs, burrows and nests across five continents, observed the curious habits of magical beasts in a hundred countries, witnessed their powers, gained their trust and, on occasion, beaten them off with my travelling kettle."
— Newton Scamander's foreword in Fantastic Beasts and Where to Find Them
Newton Artemis Fido "Newt" Scamander,[2] O.M. (Second Class), (b. 24 February,[1] 1897)[2] was an English wizard, famed Magizoologist and the author of Fantastic Beasts and Where to Find Them. Early in life, Scamander developed an interest in magical creatures, influenced by his mother's breeding of hippogriffs. He attended Hogwarts School of Witchcraft and Wizardry, where he was sorted into Hufflepuff House. While at Hogwarts, he was sentenced to expulsion though Albus Dumbledore, who had been his Defence Against the Dark Arts instructor, recognised his innocence, and objected strongly.
Scamander joined the Ministry of Magic, spending two years in the Office for House-Elf Relocation before joining the Beast Division. In 1918 he was commissioned by Augustus Worme of Obscurus Books to write Fantastic Beasts and Where to Find Them. The book became a best-seller, making Scamander a respected expert in the field of Magizoology. He became heavily involved in the Global wizarding war, where he bonded with Porpentina Goldstein and defied Gellert Grindelwald on three different occasions. He married Goldstein and they had at least one child.[8] By the beginning of the 1990s, he was retired and living in Dorset.
Biography
Early life

(1897–1908)
Newton Artemis Fido "Newt" Scamander was born on 24 February[1] 1897[2] somewhere in England.[3] He had at least one sibling, an older brother, Theseus Scamander.[7] He developed an interest in magical creatures at an early age, as his mother was a breeder of hippogriffs. Scamander would regularly dismember Horklumps in his bedroom at age seven.[2]
Hogwarts years

(1908–1913?)
Before beginning education at Hogwarts School of Witchcraft and Wizardry, Newt purchased his first wand, likely from Ollivanders, and was sorted into Hufflepuff on 1 September 1908.[14] During his time at Hogwarts, he enjoyed studying magical creatures.[15] He developed a friendship with Leta Lestrange, a fellow student who shared both his interest in magical beasts, as well as his feelings of being an outsider.[15][16]
Their close friendship began in 1910 when, at age 13, Leta ran away from bullies and Professor McGonagall and hid in a cupboard. Newt was also in the cupboard nursing a raven chick. He said he was staying over the school holidays to look after the raven, and Leta (who already knew him, being in the same year as Newt), saw him plainly for the first time.[17]
Newt attended Professor Albus Dumbledore's teaching of Boggarts. Newt's Boggart took the form of an office desk, as Newt feared the idea of being forced to work in an office job for his future career. By casting the Boggart-Banishing Spell, he changed the desk into a mechanical dragon, for which Professor Dumbledore praised him.
He later comforted Leta when she was upset by her own Boggart, which was of her dead half-brother Corvus Lestrange. By then, he had befriended the Bowtruckles on the school grounds at Bowtruckle Island and gained their trust. He was the only one they would not hide from, and he studied their social lives.
Newt was once given a month's detention for telling a Hogwarts employee by the name of Prendergast that "there are no strange creatures, only blinkered people", when the latter critically questioned his interest in magical creatures. Leta then let off a Dungbomb under the desk of the teacher to join him.
In 1913, one of Leta's experiments involving a Jarvey went too far, endangering the life of another student.[15][18] It also violated laws prohibiting the possession of this creature.[18] Rather than seeing his good friend expelled, Newt took the blame for Leta's actions, and was thus sentenced to be expelled from Hogwarts in her place.[15][19][20][21] This left Newt bitter, but still very much in love with Leta.[22] However, Albus Dumbledore, Newt's teacher at the time, argued strongly on his behalf.[18][23] It is unclear whether the expulsion was enforced or not, or if it was temporary or permanent.[24] However, he was allowed to keep his wand.[19]
Ministry employee

(1914–1918)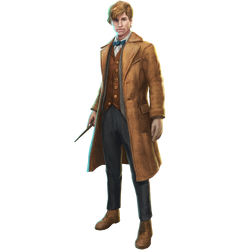 Sometime during the First World War from 1914 to 1918, Scamander served on the Eastern Front in a confidential Ministry of Magic programme to wrangle Ukrainian Ironbellys. The programme was ultimately cancelled as the dragons only responded to Scamander and tried to eat everyone else.[25][26][27]
Scamander joined the Ministry of Magic's Department for the Regulation and Control of Magical Creatures. He spent two years in the Office for House-Elf Relocation before transferring to the Beast Division, where his extensive knowledge of magical creatures led to a rapid series of promotions,[2] propelling him forward as a Magizoologist, a career choice with which the Scamander family were not very impressed.[3]
Global Wizarding War

(1918–1945)
Fantastic Beasts and Where to Find Them
"It would take months to contradict every other wild assertion in Ms Skeeter's book... it is true that I was the first person ever to capture Gellert Grindelwald, and also true that Albus Dumbledore was something more than a schoolteacher to me. More than this, I cannot say, without fear of breaching the Official Magical Secrets Act or, more importantly, the confidences that Dumbledore, most private of men, placed in me."
— Newt Scamander describing his trip to America
In 1918, Augustus Worme of Obscurus Books commissioned Scamander to write the first edition of Fantastic Beasts and Where to Find Them. As a lowly Ministry employee earning only two Sickles a week at the time, Scamander jumped at the chance for extra money and the opportunity to spend his summers travelling the world.[2]
Scamander travelled to a hundred countries across five continents while researching his book, observing many magical creatures. He learned about their abilities, gained their trust, and occasionally beat them with his travelling kettle if they got too dangerous.[2] Newt began a year-long trip to document magical creatures and their natural habitats in 1925.[28] At one point, he met a young Obscurial witch in Sudan, and although the host died, he managed to contain her Obscurus within his magically-expanded suitcase. He also visited Egypt, where, thanks to a tip-off from Albus Dumbledore, he saved an illegally imprisoned Thunderbird which he later named Frank. His last stop before travelling to the United States was Equatorial Guinea.
Visit to New York
"They're currently in alien terrain surrounded by millions of the most vicious creatures on the planet, humans."
— Newt Scamander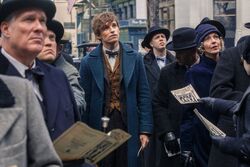 Newt Scamander was sent to New York by Albus Dumbledore aboard the HMS Temeresi on 6 December, 1926, for what was supposed to be a brief stopover, to send a trafficked thunderbird back to its home.[29] After being searched by a customs officer and leaving the port, Newt head towards the Steen National Bank, where Mary Lou Barebone, along with her children, was preaching to the public in a rally supporting the New Salem Philanthropic Society. Intrigued, Newton pushed his way closer to the woman, accidentally brushing against an ex-Auror named Tina Goldstein as he did so. Moments later Jacob Kowalski, a No-Maj with a case full of confectionery, bumped into him, falling over Scamander's magical suitcase. Newt helped him up, and Jacob went to the bank. The confusion around Scamander caught Mary Lou's attention. Unaware that Newt was a wizard, Mary Lou spoke directly to him, asking if he was a seeker of truth, to which Newt replied that he was a more of a chaser. When she asked him if he was ready to follow her and her organisation, Newt noticed that a Niffler escaped from his suitcase, so he moved to the bank, with Tina following him out of curiosity.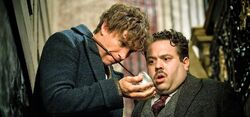 While searching the creature, Scamander exchanged a few sentences with Kowalski, learning about his aim to get a loan so he could start a bakery. When he noticed the Niffler robbing people and moved toward it, he unintentionally left behind an occamy egg. Kowalski picked it up, intending to give it back to the wizard. However before he could do this, he was called to talk about a loan with Gilbert Bingley. While Jacob discussed his loan, Newt was still chasing the Niffler, which jumped onto the cart to the elevator. When Jacob left the office, showing Newt the cracking egg, Scamander attracted Kowalski to himself using the Summoning Charm, after which he disapparated with him to the entrance of the bank's vault. Newt then put the newly-hatched Occamy into a suitcase, calming down the other animals as he did so. When Newt used the Unlocking Charm to get to the vault in which his Niffler had hidden, both men were discovered by Mr Bingley, who inferred that they were going to rob the bank, and activated the alarm. In response, Newt quickly immobilised him with the Full Body-Bind Curse and shook the Niffler, emptying it of the stolen money and gold. Before the armed guards entered the room, Newt Disapparated himself with the shocked Jacob to the street near the bank.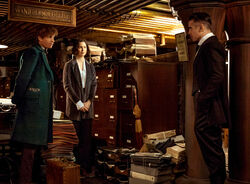 After throwing the Niffler into the suitcase, Newt apologised to Jacob for his antics, and took out his wand with the intention of removing his unwanted memories. However, before he could do this, Kowalski knocked the wizard to the ground with his case and fled. Newt tried to follow Jacob, but Tina came round the corner at the same time and, grabbing his elbow, she disapparated them to a narrow street in front of the bank. Unnerved by what she had witnessed, Tina showed Newt her old MACUSA ID card, letting him think she was "some kind of investigator", and after questioning him on why he let the creature run free, and why he did not obliviate the No-Maj, she grabbed Newt again and apparated with him near the Woolworth Building. When they entered, the building magically transformed into the headquarters of MACUSA. Newt told Tina that the reason for his visit to the United States was the purchase of an Appaloosa Puffskein, and Tina explained in response that there was a Ban on Experimental Breeding in New York and they had shut down the Appaloosa Puffskein breeder some time before. When they took the elevator to the Major Investigation Department, Goldstein tried to present Newt as a suspicious character in the middle of a meeting about the attack of an unidentified beast in the city, but Seraphina Picquery, President of MACUSA, firmly dismissed the two. Later in the Wand Permit Office where Tina was working, she asked Newt whether he has permission for a wand, but he only said that he applied for it by letter. When Percival Graves, the Head of the Department of Magical Law Enforcement, entered the cabinet, Tina told him about the events in the bank, then opened the suitcase, which supposedly belonged to Scamander - but after seeing that it contained cakes belonging to Kowalski, it became clear that Newt had accidentally taken Jacob's case instead of his own. MACUSA no longer took them seriously, but Newt and Tina realised that in the ensuing chaos of trying catch a Niffler, Kowalski must have taken the case containing the creature. Newt immediately decided to find Kowalski.
While looking for Kowalski, Newt and Tina saw a Billywig flying over their heads and a crowd of people in front of the destroyed building. Newt realised that Jacob had accidentally opened the suitcase and several creatures must have escaped, turning a small mix-up into an incident of major proportions (as magical and non-magical relations in the United States were already frail, due in part to the presence of a Muggle fanatical extremist group, containing the incident would require the intervention of MACUSA). When a drunken tramp said to a police officer that the reason of the disaster was not gas, but the huge hippopotamus-like animal, Scamander obliviated him. While the tramp joined the people insisting there had been a gas explosion, Newt ran into the damaged building. In one of the rooms, he saw the effects of his beasts: there were traces of paws, broken furniture, broken glass, a hole in the wall, an opened suitcase and Kowalski himself having been bitten by one of the creatures. Newt quickly repaired Jacob's apartment. When Tina entered the room, Newt found a Murtlap and put him into the suitcase, and tried again to erase Jacob's memory. Tina did not let this happen, explaining that they now needed him as a witness, but as Jacob showed signs of injury, Tina grabbed both men and disapparated, unaware that a Niffler was still there.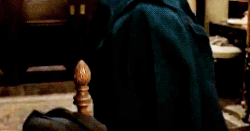 Newt with Jacob were brought by Tina to her apartment and introduced them to her sister, Queenie Goldstein, who eagerly cooked a meal for them. After dinner, when Tina showed them to a room they could sleep in and left them alone, Newt went inside his suitcase and took Jacob with him, where he prepared him an antidote for the Murtlap's bite and showed him rest of his creatures. Due too Newt's need to retrieve all the escaped creatures, they left the suitcase and decided to head to Central Park and find Newt's missing Erumpent.
However, after leaving the Goldsteins' apartment, Newt spotted his Niffler behind a window of the jewellery store. He used the Finestra spell to shatter the glass and get inside. Newt furiously attempted to capture the Niffler, falling through the other window in the process. Subsequently, they were confronted by a squad of policemen, who were puzzled by the sight of the Niffler. Jacob then directed their attention to a lion wandering right by them, giving him and Newt the opportunity to disapparate from the street.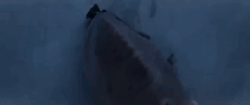 While in Central Park they passed an ostrich. After Scamander's predictions of Erumpent current location, they headed to the Central Park Zoo. When Newt saw a hippopotamus backed up into a corner by the Erumpent, he provided Jacob with a helmet and vest to protect himself from the Erumpent and left him to hold a vial of Erumpent musk while he performed a mating dance to lure the creature back into his suitcase. Unfortunately, Jacob accidentally spilled musk on himself when he was hit by a fish thrown by an escaped seal, prompting the Erumpent to chase him out of the zoo and onto the frozen park pond before Newt managed to force it back into the suitcase.
Evading MACUSA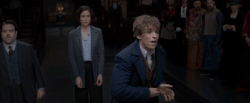 However, when they climbed back into the suitcase under a bridge in the park, Tina, who had followed them, locked them in and took them to the MACUSA headquarters. Before she interrupted a delegation of the International Confederation of Wizards to inform them about the creatures and the wizard who smuggled them into the country, Senator Henry Shaw Jnr has been killed. Newt was immediately blamed for allowing one of his creatures to murder a No-Maj. Newt, observing the scars and markings on Shaw's body projection, stated that only an Obscurus could have left the distinct markings upon his body, which caused unrest in the room, during which President Picquery denied the existence of any Obscurial in America. Newt, Tina and Jacob were soon taken under arrest by Percival Graves and Newt's case was impounded. In the jail cell, Newt and Tina explained to Jacob the meaning of an Obscurus and how no record existed at the time of an Obscurial having existed past the age of ten.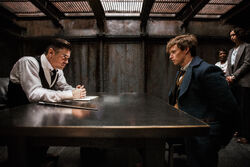 After discovering by Graves the harmless Obscurus that Newt brought to New York in the suitcase, during an interrogation, Newt was blamed by him for the actions of an particularly powerful Obscurus which killed Senator. Scamander was also accused by him for letting the animals For the Greater Good, in an attempt to begin a war. Newt's protests have done nothing and he was sentenced to death, as well as Tina. When they were brought to the Death cell and Tina was strapped into a chair with her memories extracted and casted into death potion under the chair, Newt freed himself with the help of his Bowtruckle, Pickett, which picked the lock on his handcuffs. Newt released then a Swooping Evil to attack executioners and rescue Tina. During their escape from MACUSA they were pursued by several Aurors defeated by Newt's Swooping Evil. They bumped into Jacob and Queenie, who managed to free the No-Maj from Obliviator and get Newt's suitcase from Graves' office. Newt and others climbed into it, and Queenie walked out of MACUSA headquarters with it.
Having two more beasts to catch, Newt had a problem with locating one, which most of the time was invisible. Tina came up with an idea to took everyone to the Blind Pig to meet Gnarlak, the Goblin who secretly traded magical creatures. Newton offered him some galleons, lunascope and freeze Ashwinder egg, but Pickett caught goblin's attention. Newt was reluctant to the exchange, but agreed, as a result he received the information that he was looking for, that he should look around Macy's department store. After Gnarlak's betrayal and MACUSA Aurors apparition Jacob punched the goblin. This allowed Newt to take Pickett and disapparate with Jacob and Goldstein sisters away from the pub.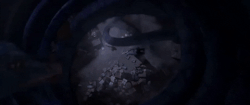 Heading to the selected destination, Scamander and others found at Ginzberg Delaunay Newt's Demiguise, Dougal stealing things for an immensely sized Occamy. After some complications, like accidentally kicking a Christmas ornament by Queenie, Newt entrapped the Occamy with the help of Tina holding a teapot held and Jacob throwing a cockroach inside the dish.
Obscurial attack on New York City
Finally packing Demiguise and Occamy to the suitcase and bringing an end to the search for creatures, Newt and friends headed to the rooftop of the building, where they saw an Obscurus flying across Manhattan. Newt gave Tina his suitcase and Disapparated to save the Obscurial, but Tina handed the suitcase to Queenie and Jacob so she could join Newt.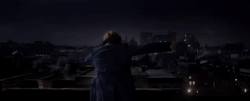 When Newt saw Graves hunting Obscurus on the destroyed street, he deduced that the Obscurial was actually Credence Barebone. Even though Newt was not to blame Credence, Newt's hunt for magical beasts led him on a course to collide with Graves and Credence, and MACUSA was not far behind. Apparating from time to time on one of the rooftops and running in a line with flying Credence, Newt tried to protect him from the Aurors on the roofs trying to kill the Obscurial.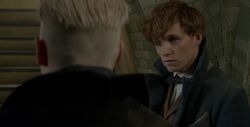 After going by Credence to a subway station, Scamander followed him. After being told the story of the Sudanese girl, Credence let Newt approach him. However, the sudden arrival of Graves failed the whole attempt of calming down Credence. Graves tried to kill Newton with lightning bolts, which provoked Credence to resume his Obscurus form. After Tina appeared in the subway and she tried to call him down again, the arrival of President Picquery and the MACUSA Aurors agitated him. They attacked him with many spells, only stopping when they believed he was killed. When shreds of Credence's Obscurus form fled the scene, Graves went on a rant in which Newt deduced who he really was. With the help of the Swooping Evil and Tina, Newt captured Graves and revealed that he was none other than famous Dark Wizard and international criminal, Gellert Grindelwald, using Human Transfiguration to assume the identity of MACUSA's employee.[30] While being apprehended by Aurors, Grindelwald met Newt's gaze and mysteriously asked him: "Will we die, just a little?".
After taking Grindelwald to MACUSA prison, Scamander helped prevent a wide-scale exposure of the wizarding world by employing the help of Frank from his case to create a rain laced with Swooping Evil venom, whose obliviating properties erased the bad memories of the Muggle citizens of New York, including his friend Jacob Kowalski.[31]
Returning to Europe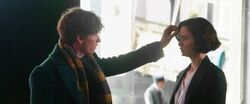 One week later, on 15 December, Scamander bumped into Kowalski while he was on his way to his job at the Moreton Dale Canning Factory and switched suitcases with him, leaving him a collection of silver Occamy eggshells and a letter instructing him to use the shells as collateral for a bank loan to start his bakery.[32]
The next day, on 16 December 1926, Tina thanked Newt for saying good things about her to Madam Picquery, which resulted in being restored as an Auror. Scamander, in turn, promised to deliver a copy of his book to Tina in person, said goodbye to her and boarded a ship.[33]
Choosing a side
Following his return to London, Newt was reprimanded by the Ministry for his role in the Obscurus incident and his right to travel internationally was revoked, meaning he couldn't deliver Tina the book as he had promised her. Newt had corresponded with her by letter, but he had soured the relationship by his missteps.
Shortly after the events in New York, between January and March 1927, Fantastic Beasts and Where to Find Them was published and became a bestseller. It became an approved textbook at Hogwarts School of Witchcraft and Wizardry, and, by the mid-1990s, was in its fifty-second edition.[2] This made Newt famous throughout the wizarding world.[34] A launch party was held on 19 March at Flourish and Blotts on Diagon Alley, in which magizoologist was accompanied by his childhood friend Leta Lestrange, his older brother Theseus Scamander and his assistant, Bunty.[35] After the party, Spellbound wrongly declared that Leta was Newt's fiancée, when in fact she and Theseus were getting married on 6 June 1928; Newt was supposed to be their best man.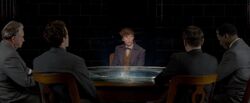 On 30 May 1927, Gellert Grindelwald escaped while he was being transferred from America to face trial in Europe by Head of Incarceration, Rudolph Spielman and Aurors. Three months later, Newt head to the Ministry to appeal to have his travel ban revoked for the fifth time. While waiting for his turn he started play with Pickett, until he met Leta, who was there because Theseus had found her a job working as assistant to the Head of the Department of Magical Law Enforcement, Torquil Travers. She went to Newt to take him to a meeting with commission, and they spoke about their friendship. Leta revealed that she and Theseus were always inviting Newt to dinner, but Newt always declined. When Theseus came along, he told his brother that he would be more open this time. During commission including, Theseus, Travers, Spielman and Arnold Guzman, US Emissary, they revealed to Newt that Credence Barebone survived and had been sighted in Europe. They offered to restore Newt's travel rights if he will join the Ministry as an Auror and will kill the Obscurial. Newt refused and walked out of the meeting, his task was assigned to Gunnar Grimmson. Approached by Theseus as he was leaving the meeting, his brother told him that eventually he would be forced to choose a side, something Newt refused to do. As Theseus embraced him to say goodbye, he whispered that the Ministry were watching him.[34]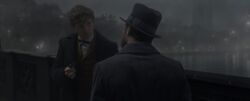 After leaving the Ministry and fending off Stebbins, one of the Ministry's agents in Whitehall with the Windy Spell, Newt was accosted by a levitating gloved hand which points to a figure standing atop a high building nearby. Seizing the glove, Newt apparated besides the figure, who turned out to be his old Hogwarts teacher, Albus Dumbledore. Albus, after creating a fog around the city with his wand and using the deluminator on the lamps to avoid being tracked by the Ministry, apparated them near the bus stop. Albus mentioned the rumour that has been circling in pure-blood circles, that Credence may be the long-lost last member of the Lestrange family, a rumour, which Newt knew was connected to the half-brother of his childhood friend, Leta. Dumbledore, fearless that he can not face Grindelwald himself, asked Newt to go to Paris to find Credence, giving him the card with address of a safe-house where he can go if he needs to hide for a time. Newt was reluctant to go because of the Ministry's travel ban, the breaking of which would lead him to imprisonment in Azkaban, but still accepted the address, ever ready to do the right thing if the need arose.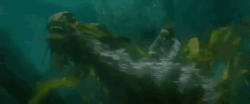 When Newt back to his town house, he found out that baby Nifflers run away from cage. He went downstairs to enlarged basement, where he set up his creatures, to help his assistant Bunty catch them and fed the large kelpie living in a large pool based on the appearance of a Scottish loch.[34] When they heard the noise Newt ordered Bunty to go home and he went upstairs.
To his surprise he got a visit from Queenie Goldstein and Jacob Kowalski, whose memory has not been completely erased, because the venom of the Swooping Evil removes only bad memories. Queenie informed Newt that Tina was heartbroken, because she read the wrong account in Spellbound of the upcoming marriage between Theseus and Leta, becoming convinced that Newt had patched up his relation with Leta and was ready to marry her, so she had started seeing a fellow Auror named Achilles Tolliver. When Queenie announced that she and Jacob were engaged and planned to be married, Newt noticed Jacob's odd behaviour and realised he had been enchanted by her, using a powerful love enchantment. After a brief argument Queenie agreed, and Newt lifted the spell. In cause Jacob, fearing that she would be punished for marrying a no-Maj, refused to marry her, so Queenie, feeling betrayed, disapparated to find Tina. Newt fixed the postcard Queenie lost and discovered that Tina was in Paris looking for Credence. It was only after learning where Tina was that Newt made the decision to go after Credence himself.
Visit to Paris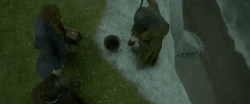 After preparation for the journey, Newt, alongside with Jacob, headed to Dartmoor, where Newt gave fifty galleons to a Portkey tout, and then he illegally left England for France via a Portkey, hoping to patch up their respective relationships with the Goldstein sisters.
On one of the Paris streets Newt confunded a guard to allow himself and Jacob to sneak under a Magical Statue and move to the Place Cachée. Newt cast a Tracking Spell to locate Tina and then used a Summoning Charm on his magical suitcase to take out his Niffler, which looked for some traces. Using the Revelio Charm, Newt detected the presence of a Japanese Kappa and a Chinese Zouwu which had managed to escape from Circus Arcanus. He also detected Tina with a mysterious man, with whom she went to an unknown location. When the Niffler found a feather from the man's hat, Newt took the creature inside the suitcase, and charmed the feather allowing him and Jacob to track the man.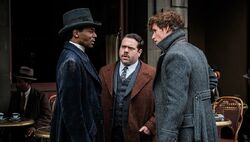 Following the feather, the two ended up in a café. There, the French wizard introduced himself to both men as Yusuf Kama. Newt questioned him about Tina, so Yusuf took them to his hideout in one of the Parisian sewers, where he had in fact imprisoned Tina. Kama did the same with Newt and Jacob and said to Newt that he will not release them until he hunts down Credence Barebone. However, Kama then unexpectedly fainted, so Newt released Pickett to unlock the lock in the gate freeing himself, Tina, and Jacob. They then approached the unconscious Yusuf Kama and heard a powerful roar coming from above.
After pulling Kama out from the sewer they headed to the Alexander III Bridge, where Newt confronted the Zouwu. Conjuring up a toy, he caught the beast and returned him into his suitcase. Newt then seized Tina, Jacob and sick Yusuf and apparated them to Rue de Montmorency, where they went to Nicolas Flamel's house, the "safe house" address which Dumbledore had given Newt. At the alchemist's home, Newt used tweezers to pull out a water dragon parasite from Yusuf's eye which had been weakening him. Newt and Tina then both deduced that traces on Kama's hands showed that he made an Unbreakable Vow.
Infiltration of the French Ministry of Magic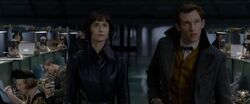 When Grindelwald began rallying his supporters, Newt came to the conclusion that he should go with Tina to the French Ministry of Magic to find a box, which would tell them who really Credence was. To get there without being recognised, he drank polyjuice potion containing Theseus's hair, allowing him to temporarily take his brother's form. When the potion ceased to work and Newt was reverted to his true form, they were discovered by Theseus, who happened to actually be in Paris in a delegation, including Leta and Travers, due to the rumours of Newt's potential trip to Paris. He chased them, but Tina stunned him and tied him up to a chair - to Newt's joy, who said that might have been the best moment of his life.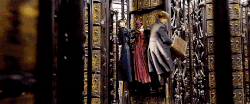 Later, Newt and Tina introduced themselves to Melusine, the Ministry of Magic employee, as Theseus and Leta. Newt then revealed that his engagement was false and an error on the newspaper. He then tried to profess how he feels to Tina but stuttered as he tried to describe the fire in her eyes. Tina realised what he was trying to say about her eyes and expressed that she really loved that description of her eyes. When they went to the Records Room to find the Lestrange family box, they were covered by Leta searching for the box too. They found out that the box was taken to the Lestrange Mausoleum, but Melusine knew Newt and Tina had lied about their identity and sent the Matagots, creatures responsible for defending the French ministry, after them and Leta. Newt told them that if they did not fight the Matagots they wouldn't hurt them, but Leta had already attempted to stun one, which caused it to multiply. When a hoard of angry Matagots began to chase them, Newt sent Leta and Tina into the suitcase and with the help of the Zouwu, that he had saved earlier he fled to the Pere Lachaise Cemetery.
When Tina and Leta came out and Newt packed Zouwu inside the suitcase, they all head to the Lestrange tomb and Leta found the Lestrange box which was taken, but they were not alone. They crossed paths with Jacob, Yusuf, Credence and Nagini. Leta stopped Yusuf, her half-brother, from killing Credence, who thought he was her other half-brother, Corvus Lestrange. Showing a box with her family tree she finally confessed to accidentally causing the death of Corvus, proving he and Credence were not the same person and that she had no idea who Credence actually was. Newt told her that it was not her fault that Corvus died, to which she responded that he had "never met a monster [he] couldn't love".
Grindelwald's Paris rally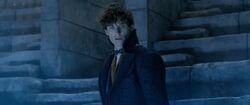 When the door to next chamber opened, Newt and others joined Grindelwald's rally. He figured out that the departure of Queenie and moving the box were a bait to drag them to the mausoleum. During dark wizard's speech, a Niffler escaped from magizoologist suitcase. When the Aurors under Theseus' leadership infiltrated the rally and a witch was killed by one of the them, a very angry Grindelwald knelt to her dead body, not knowing that Newt's Niffler lurked near him. Grindelwald sent his followers away to spread the word and he began the fight, creating a circle of black flame to divide followers from enemies. Newt and Nagini unsuccessfully tried to pull Credence away from flames, same as Jacob want to do with Queenie, which was also at the rally. When they crossed unharmed and disapparated, Grindelwald then commanded his flames to kill Newt and Theseus, asking Newt did he think that Dumbledore will mourn after him, who both only managed to hold them back with the Shield Charm. Leta in response attacked Grindelwald and blasted his skull-hookah into pieces, sacrificing herself in an effort to give Newt, Theseus and the others time to get away. Before being killed by the dark wizard's flames she said to Newt and Theseus that she loved one of them, leaving Scamander brothers devastated. Newt seized Theseus and apparated with him outside the mausoleum, same as Tina did with Jacob and Yusuf with Nagini.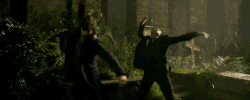 Furious Grindelwald unleashed the fire in order to kill them and destroy the whole city before Disapparating. Fortunately, Nicolas Flamel had arrived at the cemetery. He instructed Newt, Theseus, Tina and Yusuf to form a ring around the cemetery, planting their wands in the ground and using the general counter-spell. The effect was the creation of a counter-spell so great that it forced the fire back into the mausoleum where it ended its effects. After hugging a tearful Theseus and saying that he had chosen his side, Newt found his Niffler with stolen pendant protecting Grindelwald from Dumbledore's direct interference and realised that his teacher made a Blood Pact with the dark wizard.
Despite managing to reconcile with Tina, Newt was powerless to stop Grindelwald from delivering a rousing speech, sharing a vision, threatening Paris with cursed fire and collecting Queenie, Credence and his followers to strike against Hogwarts (thus ridding himself of Albus Dumbledore) and the whole Wizarding and Muggle Worlds. During the battle that took place between Newt and Grindelwald, Scamander tragically lost his beloved Leta Lestrange, which finally compelled him to openly join the fight against the most dangerous dark wizard of his age.
After the events in the mausoleum, Newt, along with the group from Paris, picked up Travers and Spielman and travelled to Hogwarts to meet with Dumbledore at Hogwarts. Newt delivered him the pendant, so Dumbledore could destroy it, henceforth allowing himself to finally participate in the war and defeat Grindelwald.[34]
After Paris
A few years later, sometime in the 1930s, Newton Scamander traveled to China and swam on a mountainside.[36]
Possibly after, Newton Scamander and Gellert Grindelwald meet and duel each other.[37][38].
Later life

(1945–2017)
"Regarded as the world authority on magical creatures, Newt Scamander is the author of Fantastic Beasts and Where to Find Them, which has been an approved textbook at Hogwarts since its publication in 1927 and can be found in most wizarding households."
— Scamander's Chocolate Frog Card
Scamander married Tina Goldstein, and together they had at least one child[8] who produced at least one grandson named Rolf.[9]
In 1947, Scamander was responsible for the inception of the Werewolf Register, and, in 1965, created the Ban on Experimental Breeding, which he considered his proudest moment. Scamander also worked extensively with the Dragon Research and Restraint Bureau, which led him on expeditions all over the world, allowing him to collect information for new editions of Fantastic Beasts and Where to Find Them.[2]
In 1979, he was awarded the Order of Merlin, Second Class, for his services to Magizoology. He was also honoured with a Chocolate Frog Card named after him.
By the beginning of the 1990s, he was retired and living in Dorset with Tina and their three pet Kneazles, Hoppy, Milly, and Mauler,[2] but was known to study Fire Slugs in the Brazilian rainforest.[39] At some point during the 1993–1994 school year, he visited Hogwarts,[40] possibly to discuss the printing of a version of Fantastic Beasts for Muggle audiences.[2] Following his grandson's marriage to Luna Lovegood, Scamander became the great-grandfather of twin boys, Lorcan and Lysander.[10]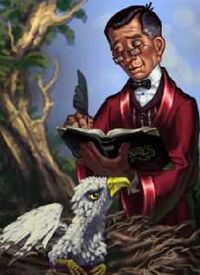 At some point before 1992, Scamander authored A Children's Anthology of Monsters, for younger readers.[41]
In 2017, Scamander denied the rumours that he was sent to New York by his former teacher Professor Dumbledore to spy on the government there and find out any new information about Grindelwald's whereabouts. Scamander said he thought it was absurd he would pose as a magizoologist to achieve that, but admitted it was a bad idea to take a suitcase of creatures to New York.[42]
That year, Newt was also writing a foreword for a new edition of his book, in which he confirmed the public belief that he was indeed the first wizard ever to capture Gellert Grindelwald during his trip to New York in 1926. He played an active part in defeating Grindelwald over the next two decades. Newt was prevented from sharing any information between then and now, but the declassified documents were now beginning to be released, and he would be free to talk about them when they were.
However, Newt added he would in fact become involved in the hunt for Grindelwald later, and that he played an actual part in that hunt over the next two decades.[42]
Physical description
Newton Scamander was a tall wizard (6'1"), with brown hair and hazel eyes.[5] At age 29, even though he gave off the appearance of a slight, awkward man, he was actually rather muscular.[43] As a result of his Magizoological pursuits, he was left with several scars across his torso.[43]
His usual attire included a blue coat, brown vest, white shirt, bow tie, dark brown trousers with a wand holster, and brown boots. He also owned a Hufflepuff scarf that he occasionally wore.
During his travels in Paris, in 1927, he was shown with a grey woollen coat, and his usually unkempt looks became scruffier and more haggard, as his international travel ban and the attempts of the Minister for Magic to recruit him against Credence Barebone and Gellert Grindelwald were weighing on him heavily.
Personality and traits
"There are no strange creatures, only blinkered people."
— Newt Scamander
Newton Scamander was a dedicated individual who tirelessly researched new information for his book Fantastic Beasts and Where to Find Them,[2] even when he was supposedly retired.[39] Considered an authority in the field of Magizoology, his works were respected throughout the wizarding community.[2] Newton was described as eccentric and felt more comfortable around creatures than he did around humans.[44] Eye contact and being close to another person usually made him very uncomfortable. He admitted that most people found him annoying.[45] Newton was particularly shy around women he had feelings for, as he deeply struggled to openly admit his feelings for his future wife, Tina Goldstein.[34] However, despite this, Newt understood that love must never be forced upon others and must instead be earned through effort, as shown by how he disapproved of Queenie's enchantment of Jacob and lifted it.
"If you'd ever taught him, you'd know that Newt is not a great follower of orders."
— Albus Dumbledore
When communicating with other people, Newt was often an extremely awkward man, uncompromising and eccentric in the opinions of his peers. He preferred the company of his magical beasts, whom he expressed terror at the thought of them coming to harm. Unlike his confident older brother who was respected by his superiors, those in the Ministry (except for his brother and Leta Lestrange) didn't hold him in that high a regard. Newt was also uncomfortable with affection between himself and another human, struggling to come up with an explanation for Tina about his "engagement" to Leta, and disliking being hugged by his older brother.
That being said, Newt was a deeply compassionate man, speaking reasonably with Credence Barebone despite him being in a volatile and dangerous Obscurus form, and embracing Theseus after a battle with Grindelwald lost them Leta Lestrange, even though Newt was uncomfortable doing so in the past. It must be noted that despite clearly being bitter towards Theseus and Leta's engagement, Newt was still willing to not only act cordial, but even be the best man at the wedding, although he clearly showed his bitterness by refusing to interact with them both at once by declining any offers to see them. He even defended Leta when she showed her self-hatred for her part in Corvus V's death, when she lamented that Newt "had never met a monster he couldn't love". This shows that Newt's capacity for empathy outweighs his social difficulties. Furthermore, Newt developed a strong and consistent friendship with the No-Maj Jacob Kowalski, whom he admitted to really like and to really appreciate for his qualities and his helpfulness during their adventures, and to whom he even went out of his way to anonymously give Occamy eggs so that Jacob could open his own bakery. This cements Newt's lack of typical prejudice against Muggles that was common amongst most wizards when he first went to New York.
A man of principle, Newt was not the sort of man to discriminate against people based on their heritage or beliefs. He was also seen to be courteous with non-magical individuals like Mary Lou Barebone and Jacob Kowalski, the latter of which with whom he formed a close friendship. He expressed disgust at the idea of being one of Gellert Grindelwald's fanatics, going as far as to angrily told off the Dark Wizard, who was disguised as Percival Graves, and questioning him for even suggesting it, and did not remotely believe in wizard supremacy. He was also morally astute, expressing shock and discontent at morbidness and cruelty, such as the idea of using the Obscurus that killed a child for personal gain. Despite this Newt himself admitted that he showed poor judgement in his youth; he was also outspoken in his opinion of Aurors, despite Tina Goldstein herself being an Auror. Another example is when he brought his Thunderbird to the United States to set him free, let alone an entire suitcase full of magical creatures, given MACUSA's curse-to-kill policy at the time on such creatures.[42]
Another possible explanation of his behaviour is that it came from Albus Dumbledore himself, who was a staunch believer in the theory that Newt was actually acutely aware of the price of his actions, yet morally bound to always do the right thing, without any regard for safety, personal gain or even his own well being, with Dumbledore going as far as claiming that he admired Newt for not seeking power for himself. Dumbledore respected and admired Newt enough to speak out fervently against his expulsion from Hogwarts.[34] Indeed, Newt showed that he cared more for what was right than what would benefit himself, as he was not swayed by Gellert Grindelwald on either of their encounters, and strove to defeat the Dark wizard at all costs.
Magical abilities and skills
Possessions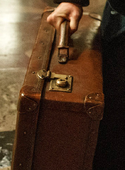 Relationships
Family
Theseus Scamander
"The time is coming when you're gonna have to pick a side."
— Theseus to Newt in the British Ministry of Magic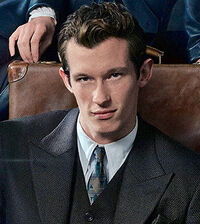 Newt's confident, successful and worldly older brother was, in so many ways, the polar opposite to Newt himself, and the two of them have a very complex relationship. The relationship between the two of them as children is unknown, but the fact that they chose woefully different career paths is a hint that their differences went back as far as childhood. Newt resented Theseus for earning the love of his life, Leta Lestrange, but at the same time is not openly hostile towards him.
It is hinted that Newt has always held some resentment against Theseus, as when Tina Goldstein overpowers Theseus in Paris, Newt remarks that witnessing it may be the greatest moment of his life. Despite this, Theseus is extremely civil and even affectionate towards Newt, hugging him on several occasions, though Newt is fiercely uncomfortable with this. The two of them appear capable of putting aside their differences when push comes to shove, as the two of them fight side-by-side very effectively in Paris when battling against Grindelwald. The relationship finally got mended after the battle, as Newt actually comforts Theseus after Leta's death (as Leta was someone they both cared immensely about) and reveals that he has finally chosen a side to fight on. Later, Theseus persuades the other Aurors to allow Newt and Dumbledore to speak alone.
Porpentina Goldstein
"What I'm trying to say is, I want you to be happy, but don't be happy that I'm happy, because I'm not... happy."
— Newt to Tina in the Records Room in the French Ministry of Magic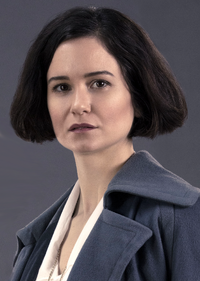 Porpentina Goldstein was arguably the love of Newt's life. The two got off to a bad start after she followed Newt around while he caused trouble in a bank, and she kept having to demand that he take action since he clearly didn't want to. Eventually, not knowing his suitcase had been accidentally swapped with Jacob's, she turned him in to MACUSA for the threat he was unintentionally posing to New York. When Percival Graves saw confectionery instead of magical beasts while checking the suitcase, they left the MACUSA building together to find New's suitcase. When they did it, Tina offered Newt accommodation in her and her sister's apartment, but it didn't improve their relationship much, especially since Goldstein did it only because of the sick Jacob Kowalski, who had been bitten by one of the beasts which escaped from the suitcase, and also to be able to keep an eye on Newt.
However, after they were both arrested and Newt saved her life, their relationship began to improve, as Tina began to understand why a man could depend on magical beasts. With time, Newt became more and more conscious of Tina's virtues, seeing that she was a good-hearted person and that her previous desire to report his misdeeds to the superiors might have resulted from ignorance and willingness to prove that she could return to an Auror position. Quests to search for the lost magical beasts, as well as their joint efforts while trying to defeat the Obscurus and even the capture of Gellert Grindelwald (while disguised Percival Graves), brought the two closer together. After the capture of Grindelwald, Newt told Seraphina Picquery about Tina's actions, which resulted in her being restored as an Auror, for which Tina was extremely grateful to him. At the time of his departure, Newt said he was going to publish a book and Tina briefly asked him if Leta Lestrange, the girl he once loved, liked to read. Newt only answered that he didn't really know what Leta liked these days, because people changed - and he had probably changed too. Tina promised to buy his book, and joyfully accepted when Newt asked if he could come back and give her a copy in person.
Due to his subsequent travel ban, Newt couldn't return to visit Tina and give her the book, so he had corresponded with her by letter, but a series of missteps on Newt's part, namely his accidental denunciation of Aurors as "career-driven hypocrites", had soured the relationship. Their relationship got even colder when Tina read an article in Spellbound, which had reported on the launch party of Fantastic Beasts and Where to Find Them and falsely stated that Newt was engaged to Leta Lestrange. The belief that Newt had rekindled his relationship with Leta was too much for Tina, and she broke off contact with Newt and started seeing a fellow Auror named Achilles Tolliver. When he learned that Credence had survived and Grindelwald escaped from MACUSA's prison in order to find him, Newt was ordered by Albus Dumbledore to go to Paris, where Credence was believed to be hiding. Newt refused, but when he learned from Queenie that Tina was also there to find Credence, he travelled to France without hesitation. Newt was determined to have Tina learn the truth, although she remained cold with him, insisting on calling him "Mr Scamander". Nevertheless, Newt eventually managed to subtly confess his feelings for her, awkwardly stating that she had "eyes like a salamander". The two worked together once again when Grindelwald was summoning his followers.
Newt and Tina got married at some point after the 1920s, and had at least one child, likely a son.[47] In the 1990s, Newt and Tina were living together in Dorset with their three pet Kneazles, Hoppy, Milly and Mauler, and had at least one grandson, Rolf Scamander.
Newt and Tina became great-grandparents after Rolf's wife, Luna Lovegood, gave birth to twin boys named Lorcan and Lysander. In 2017, Newt was still living with Tina in Dorset at the age of 118.
Albus Dumbledore
"I can't move against Grindelwald. It has to be you."
— Albus to Newt during they meeting in London
Newt's relationship with Albus Dumbledore was very close. During Newt's time at Hogwarts, Dumbledore was his Defence Against the Dark Arts Professor and among the very few who didn't look down on him, which started Newt's respect for the great professor. When one of Leta Lestrange's experiments involving a magical beast went too far, endangering the life of another student. Newt did not want to see a friend thrown out of school, so he took the blame for Leta's actions, and was thus sentenced to be expelled from Hogwarts in her place. Newt developed unending trust and loyalty to Dumbledore after he argued strongly against his expulsion. It is unclear whether the expulsion was enforced or not, or if it was temporary or permanent. However, Newt was allowed to keep his wand.
After school Newt probably was in a regular contact with his teacher. Newt respected his mentor enough to do tasks for him. Dumbledore told him where to find one ill-bred Thunderbird and later sent his former student to New York to release this beast, whose natural environment was Arizona. At this time Newt helped capture Gellert Grindelwald, who was trying to convince Obscurial Credence Barebone to join his ranks. Newt was extremely loyal to Dumbledore, because when he appealed to his travel ban, he lied to the committee members that he had gone to the United States on his orders. When Grindelwald managed to escape, Albus felt that he would not be able to fight the dark wizard, so he asked Scamander for help. Dumbledore admired him, because he didn't care about power or popularity, something that Newt did not understand as he was not aware of Dumbledore's past that made him realise his initial views was a foolish man's dream and that Dumbledore meant Newt could have become a leader even greater than himself. He sent Newt to Paris to rescue Credence, who survived battle in New York, but Newt was reluctant, nevertheless he was willing to accept the address of a safe-house. The rumours of Newton's potential travel to France reached the British Ministry of Magic, and a delegation, including Newt's brother Theseus Scamander, Leta Lestrange and Torquil Travers, was sent to Hogwarts Castle to question Dumbledore. Albus only pretended that he did not know anything about it and said that Newt is not a great follower of orders. During the Battle in Lestrange family Mausoleum, vial of Dumbledore's and Grindelwald's blood pact was stolen from Grindelwald, however, without his knowledge by a Niffler belonging to Newt Scamander. Shortly thereafter Scamander brought it to Dumbledore at Hogwarts. Dumbledore expressed regret at Leta's death in mausoleum. Newt in turn did not ask Dumbledore why he would form a blood pact with Grindelwald but simply asked him to destroy it, showing respect for his privacy. Although it apparently took years, Dumbledore clearly managed to abolish the blood pact, allowing him to finally defeat Grindelwald in a legendary duel.
Jacob Kowalski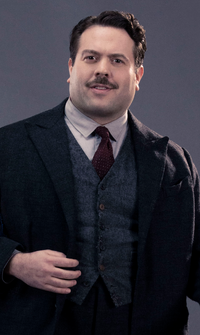 "Hey! Mr English guy! I think your egg is hatching!"
— Jacob to Newt in the bank when Newt lost Occamy's eggshell
The friendship between Newt and Jacob was the result of a pure luck encounter, as they both found themselves in the same bank, albeit for different reasons. Jacob was associated with Newt's quest for his lost creatures from the beginning, as he inadvertently took Newt's magical case full of creatures instead of his own, causing the escape of some magical beasts. Newt finally found Jacob, who had been bitten by a Murtlap, and agreed to remain with the No-Maj until he was healed. Over the dinner they had with Tina and Queenie Goldstein, Newt remarked how easy it was for Jacob to be appreciated by people, something Newt had trouble with since most people found him annoying. Newt and Jacob progressively bonded with each other, and once they successfully recaptured an Erumpent, Newt was told by Jacob to call him by his first name instead of "Mr Kowalski". In the aftermath of the arrest of Gellert Grindelwald in New York, while Jacob was on the verge of being obliviated, he asked Newt why he had kept him around for so long, to which Newt simply replied that he liked Jacob and considered him a friend.
Newt and Jacob reconnected months later, and Newt immediately sensed that something was wrong with Jacob, who was under the influence of a spell by Queenie. Newt demanded that Jacob was released from the spell in order to freely make his own choices. Newt and Jacob teamed up once again in the former's quest for Credence Barebone, the two of them mentioning how difficult their relationships with the women they loved (Tina and Queenie) could be. Jacob also gave Newt advice on how he should compliment Tina once they would have found her.
Queenie Goldstein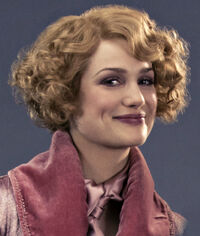 "People are easiest to read when they're hurting."
— Queenie to Newt in Newt's suitcase.
Queenie met Newt when he, along with Jacob Kowalski, were brought to her apartment by her sister Tina. The man at first a bit reluctantly accepted Queenie's hospitality, but he did not refuse her and put up at their home. Their relationship quickly warmed and the woman joined in helping to catch the beasts that escaped from his suitcase. Queenie helped to transport Newt, Tina and Jacob from MACUSA, and she volunteered to stop the Obscurus threatening the city. When Queenie found out that he missed Leta Lestrange, she consoled him that she could only take, and he deserved someone better. Scamander couldn't fully open himself to Queenie, and the awareness of her magical reading skills in the mind drank him. Nevertheless, they had good relationships and could rely on each other.
Months later, Queenie with Jacob visited Newt in London. Newt was sad seeing that Tina didn't come with them and Queenie informed him that Tina was in Paris to look for Credence Barebone. She stated that her sister is heartbroken and showed him a copy of Spellbound magazine which ran a mistaken cover story on Newt's supposed engagement to Leta Lestrange. Queenie stated that she doesn't talk with her sister and tell magizoologist that she and Jacob were engaged and planned to be married. Newt realised that No-Maj was under a powerful love charm. Newt started arguing with Queenie that if Jacob loves her, no spells are needed, so Newt lifted the spell. Jacob refused to marry her, in fear of Queenie would be punished for marriage with him. As a result of this, Queenie felt betrayed by Newt and Jacob, so she left London and headed to Paris to find Tina, leaving two men in quest to find both sisters in France. During Grindelwald's rally in Lestrange family Mausoleum, Queenie joined the dark wizard's side, which saddened Newt.
Gellert Grindelwald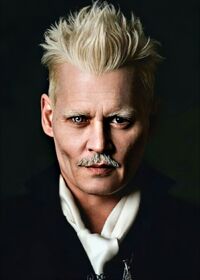 "What makes Albus Dumbledore so fond of you?"
— Grindelwald (as Percival Graves) to Newt during his interrogation
Being the reigning Dark Wizard of Newt's time, Newt had heard a lot about Grindelwald and already strongly disapproved, of his views but he did not support the Ministry's act against him. Unbeknownst to him at first, he would meet Grindelwald while he was disguised as Percival Graves in New York. Grindelwald, not impressed by Newt's love for creatures or his magical skills, questioned him on why Dumbledore would be fond of him despite his unique traits, having known of Dumbledore's strong argument on Newt's expulsion, although Newt did not know why himself. Grindelwald seemed to have wanted to continue to talk about Dumbledore. Newt quickly began to dislike Grindelwald's reminder of his expulsion at Hogwarts and this increased even further when Grindelwald indicated Newt was working for the Greater Good, causing him to outrageously say that he wasn't one of Grindelwald's fanatics, which surprisingly not only didn't offend the Dark Wizard but even caused him to be amused, when he did not know Grindelwald was impersonating Graves. When Grindelwald slipped up by saying the hostless Obscurus was useless, Newt expressed disgust at what Graves could possibly use it for. It remains unknown what Grindelwald would have done to Newt had the conversation continued. Newt knew that he intended to use him and his friends (Tina, Jacob, and Queenie) as scapegoats for the Obscurus attacks. When Newt intervened in Grindelwald's plan to acquire Credence Barebone, Grindelwald dropped all pretence and ferociously attacked Newt, duelling and even torturing him with lightning spells in a fit of rage. Newt managed to capture Grindelwald by use of Swooping Evil and revealed his true identity to MACUSA, but before being carried off Grindelwald turned to Newt and said mysteriously "Will we die, just a little?", possibly as a message for Dumbledore due to his knowing Newt's closeness to Dumbledore.
Newt did not initially want to oppose Grindelwald, as he did not take sides. Grindelwald encountered Newt once more in Paris, during which Grindelwald's only exchange was asking Newt whether Dumbledore would mourn for him. Newt, however, did survive the battle but Grindelwald's murder of Leta left Newt with a strong hatred for him and he chose to side against him during the Global Wizarding War at last.
Grindelwald's hatred of Newt appears to come, in part, from his jealousy of Dumbledore's care and admiration of the gifted young man. The Dark Wizard's mocking of Dumbledore's affection for him in the Lestrange Mausoleum Is a hint at this, indicating the idea of Dumbledore having someone else other than Grindelwald to love infuriates him. Although the two former lovers now operate on two completely different ideologies, Grindelwald still feels that Dumbledore's attention should be on himself alone.
Leta Lestrange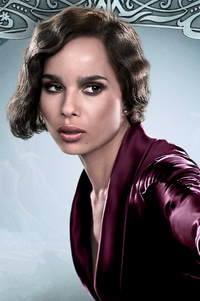 "Newt. You never met a monster you couldn't love."
— Leta to Newt in Lestrange Family Mausoleum
Due to both of them being outcasts and both of them loving magical creatures, Newt quickly befriended Leta and later fell in love with her, to the extent that he took the blame when Leta's experiments endangered a student and he was expelled. Although this left Newt bitter, he still loved Leta, keeping a picture of her in his suitcase, but was clearly resentful of how Leta never tried to contact him again, to the point of briefly lashing out at Queenie for reading his mind. This bitterness only increased when Leta and Theseus became engaged and he refused to interact with both of them at once. However, it cannot be denied that Newt still loved her deep down despite his growing feelings for Tina, as he still agreed to be the best man at the wedding and defended her from her self-hatred when she revealed her part in Corvus's death, looking solemn when she stated that he had "never met a monster he couldn't love", referring to herself. Her sacrifice devastated Newt and he was inspired to join the Global Wizarding War in her honour.
Etymology
Newton is derived from the Old English place name meaning "new town" and was originally a surname. The most eminent historical figure with this surname is Sir Isaac Newton, who, while known largely for his contributions to the fields of mathematics and physics, also wrote many works on alchemy. Some of his writings suggest he was attempting to create a Philosopher's Stone[48], inspired by the real Nicolas Flamel.
Artemis (Ἄρτεμις) was a goddess in Greek mythology, the daughter of Zeus and Leto, and the twin sister of Apollo. She is the goddess of the moon, hunting, the wilderness, and the gift of taming wild animals. In myth, Artemis spends most of her time hunting, which she has in common with Newt, although he seeks wild animals for conservation rather than sport.
Fido is of Latin origin, meaning "I trust" or "faithful". The name Fido is most commonly associated with being a common name for pet dogs in many countries.
Scamander is very similar to the word salamander, which is a type of real-world amphibian. In the wizarding world, salamanders are small lizards which feed on flames. Newts are also a type of salamander.
Scamander (Σκάμανδρος) is a river god in Greek mythology. The Scamander River (now known as the Karamenderes) flows over where the Trojan War was fought, according to Homer's Iliad.
Each of his four names are most likely referencing animals, due to his love for them.
Behind the scenes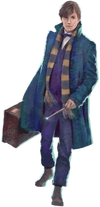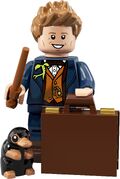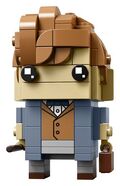 Newt is portrayed by Eddie Redmayne in the Fantastic Beasts film series.
Newt Scamander is a playable character in the LEGO Dimensions video game and appears as part of the Fantastic Beasts and Where to Find Them themed LEGO Dimensions Story set with Eddie Redmayne reprising his role as the character's voice.[50]
In the Harry Potter films, a portrait of Scamander is present in the Headmaster's office, thus implying that he was a past Headmaster of Hogwarts and that he had died at some point in the more ambiguous present day timeline of the films.
Interestingly, the portrait of Newt Scamander mentioned above bears the monogram of Albrecht Dürer (1471–1528). Dürer's dates do not match those of Scamander the slightest. The portrait itself seems to have been based on a 17th-century portrait of Archibald Campbell, 1st Marquess of Argyll, by David Scougall.
A wanted poster from the Fantastic Beasts and Where to Find Them states that Newt was 6'2", 159 lbs, of red-brown hair and blue eyes,[6] however, his official Ministry of Magic Identification card from Fantastic Beasts: The Crimes of Grindelwald states that Newt was instead 6'1", 161 lbs, of brown hair and hazel eyes.[5]
In 2001, J. K. Rowling published a real version of Fantastic Beasts and Where to Find Them for Comic Relief, a UK based charity event. The book was written from an in-universe perspective, and Scamander was credited as the "author" of the book. The original book was updated in 2017 after the character appeared as the star character in the film named directly after it.
Newt was the first known Hufflepuff introduced in the series, although this information was not revealed until Pottermore clarified his house.
When Harry Potter and the Philosopher's Stone was originally translated into German, Newt's name was translated as "Lurch" Scamander. Lurch is a German word for amphibians, a family of animals the newt is also part of. When Fantastic Beasts was translated, his original first name was untranslated instead and Lurch was one of his middle names. This makes his full name in the German version "Newton Artemis Fido Lurch Scamander".

Similarly, in the French version of the Harry Potter books, he is named "Norbert Dragonneau" (Dragonneau meaning baby dragon), a possible foreshadowing to Norberta. In the translation of Fantastic Beasts, however, it is said that this is actually a pen name, and the book uses his original name the rest of the time. Even though it's a pen name, the name "Norbert Dragonneau" is used in the French and French Canadian versions of the first film of Fantastic Beasts and Where to Find Them.

While never specifically confirmed to play Quidditch, when Mary Lou Barebone asks him if he is a "seeker of truth," he replies "I'm more of a chaser, really."
While using the swooping evil to catch Grindelwald in the film version, the screenplay for the films states that he uses his wand.
Originally the visual artists crafted expansive environments for all the creatures in Newt's case; however, J.K. Rowling informed that he wasn't that great of a wizard and they scaled them down to be backdrops creating a sufficient semblance of the creatures' natural habitats.[51]
Strangely, despite Newt being shown to be a loyal ally of Dumbledore as well as having played several key roles against Grindelwald, there is no mention of Newt having participated in either the First or Second Wizarding Wars against Lord Voldemort. He does not appear in the photograph of the original Order of the Phoenix and is not mentioned by Alastor Moody when showing the photograph to Harry. There is a chance however that he merely wasn't present for that particular photo and that he simply never encountered Harry.
It's possible that Newt attended Dumbledore's funeral in The Half Blood Prince and was unnamed, as it is stated that Harry did not recognise the majority of wizards who attended.
When asked by a fan about why Dumbledore would send Newt to take down Grindelwald when experienced aurors couldn't do it J.K. Rowling said that she could write an essay but that it would give away the whole plot of the Fantastic Beasts franchise.[52]

Newt has four distinctive scars on his left hand resembling a Murtlap bite. This would explain how Newt knew what a "bad reaction" entailed, since no wizards before Newt dared to go near a Murtlap.
Eddie Redmayne has stated that he thinks that Newt is autistic.[55] This would be consistent with Newt's disregard for many social norms, aversion to physical or eye contact, and firm sense of who he is, not to mention his own single-minded focus on his topics of perseverance and penchant for unorthodox solutions to daunting tasks.
Although having had been suggested in the novels that if a student is expelled from Hogwarts, their wand would be broken,[13][56] Newt owned and used a wand in his adult years.

Anyway, both Hagrid and Harry Potter, whose expulsion was reconsidered by the Ministry, were expelled after Newt. It might be possible that the Ministry introduced this particular law between 1914 circa (date of Newt's expulsion) and 1942/43, as Newt was allowed to keep his wand.[19]

When J. K. Rowling was asked about the form of Newt Scamander's Patronus, she said that it would be a spoiler to future films of the Fantastic Beasts film series.[57]
Newt was very much like Harry Potter, as they both didn't seek power nor popularity and also was liked by the same person, Albus Dumbledore. They are also both the main character and protagonist of their respective series in the Wizarding World franchise.
Appearances
Notes and references
↑ 1.0 1.1 1.2 Tweet from the official Fantastic Beasts Twitter account (see this image)
↑ 2.00 2.01 2.02 2.03 2.04 2.05 2.06 2.07 2.08 2.09 2.10 2.11 2.12 2.13 2.14 2.15 2.16 2.17 2.18 2.19 2.20 2.21 2.22 Fantastic Beasts and Where to Find Them
↑ 3.0 3.1 3.2 3.3 Inside the Magic: The Making of Fantastic Beasts and Where to Find Them - "Hailing from England" in the Newt Scamander section.
↑ Fantastic Beasts and Where to Find Them only identifies Newt's mother as a witch, so his father's blood status is unknown. Also, The Sacred Twenty Eight directory, published in the 1930s, does not list the Scamander family as Pure-blood; however, other pure-blood families such as the Potters are not listed either so the directory is not definitive.
↑ 8.0 8.1 8.2

Since Rolf Scamander kept Newt's family name, it can be presumed that he is the son of a son of Newt's. If he were the son of a daughter of Newt's, he would likely bear whichever his father's surname was, and not Scamander. However, Newt could have had a daughter who kept his family name.

↑ 13.0 13.1 Harry Potter and the Philosopher's Stone, Chapter 5 (Diagon Alley)
↑ 14.0 14.1 Pottermore introduction for Hufflepuffs (archived here)
↑ 15.0 15.1 15.2 15.3 Fantastic Beasts and Where to Find Them: Magical Movie Handbook (see this image)
↑ 18.0 18.1 18.2 The Case of Beasts: Explore the Film Wizardry of Fantastic Beasts and Where to Find Them (see this image)
↑ 19.0 19.1 19.2 "EXCLUSIVE: J.K. Rowling tells SnitchSeeker about Newt's expulsion from Hogwarts, more"
↑ Fantastic Beasts and Where to Find Them: The Original Screenplay, Scene 65 - "GRAVES: You were thrown out of Hogwarts for endangering human life-"
↑ "Fantastic Beasts and J.K Rowling's Wizarding World" on Youtube - "Newt is this oddball who managed to get himself expelled from Hogwarts"
↑ "Who is Leda Lestrange? 'Fantastic Beasts' Is Only The Start For The New Character, Says Director David Yates" from Bustle
↑ J. K. Rowling has stated on two occasions that Newt was expelled from Hogwarts, once in a documentary about the making of Fantastic Beasts and Where to Find Them, and another time in a video interview with SnitchSeeker. However, on a prop document featured in the first Fantastic Beasts film and reproduced in The Case of Beasts: Explore the Film Wizardry of Fantastic Beasts and Where to Find Them, it is stated that "the expulsion was never enforced" because Albus Dumbledore's intervention "result[ed] in his name being cleared." Miraphora Mina, one of the graphic artists who worked on the film, revealed in an interview that Rowling was consulted during the creation of the props to ensure the accuracy of text on them. Thus, it cannot be conclusively determined whether Newt was actually expelled at this point, as it is not known which canon supersedes the other. It is possible that J. K. Rowling's statements that Newt was expelled were a deliberate attempt at withholding information to prevent spoilers.
↑ Fantastic Beasts and Where to Find Them: The Original Screenplay, Scene 121 is a week after Jacob was obliviated on the dawn of 8 December.
↑ Fantastic Beasts and Where to Find Them: The Original Screenplay, Scene 122 is the next day after Newt leaves Jacob the occamy shells, which is said in Scene 121 to be a week after Jacob was obliviated on the dawn of 8 December.
↑ Harry Potter Limited Edition - A Guide to the Graphic Arts Department: Posters, Prints, and Publications from the Harry Potter Films
↑ 42.0 42.1 42.2 Fantastic Beasts and Where to Find Them

(2017 edition)

↑ 43.0 43.1 Flaa, Kjersti (2016-11-14). EDDIE REDMAYNE'S cut SHIRTLESS Scene + Why His Oscar's got UNDERPANTS, interview with Eddie Redmayne and Katherine Waterston on YouTube. Retrieved on 2020-05-18.
↑

Though it is possible that the Scamander name was passed down through a daughter, family names in both the United Kingdom and the United States are usually passed down through the male line.

↑ "Newton's Dark Secrets" documentary by PBS
↑ https://www.pottermore.com/news/open-casting-call-for-young-people-announced-for-fantastic-beasts-and-where-to-find-them-sequel
↑ "Watch the new LEGO Dimensions E3 trailer featuring Harry Potter and Fantastic Beasts" at Pottermore
↑ http://www.digitalspy.com/movies/fantastic-beasts/news/a870584/fantastic-beasts-newt-scamander-autism-eddie-redmayne-crimes-of-grindelwald/
↑ Harry Potter and the Order of the Phoenix, Chapter 2 (A Peck of Owls)