"...over the preceding weeks we'd seen Niko beat himself over the head with his broom and set fire to his own feet in frustration. I'd personally stopped him strangling two referees. However, I had no suspicion about what he was planning to do if the final didn't go our way. I mean, who'd suspect that? You'd have to be as mental as he was."
— Ivan Popa
Niko Nenad (d. 1809)[1] was a Romanian wizard who played as a Beater for the Romanian National Quidditch team in the early 19th century.[1] He was described as an extremely volatile and unstable man, with a habit of injuring himself.[1]
Biography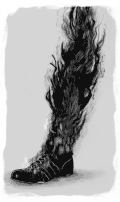 Nenad was an extremely volatile and unstable man. During the quarter- and semi-finals of the 1809 Quidditch World Cup, the other players on the Romanian team witnessed him knock himself over the head with his own broom, and set his feet on fire out of frustration. Ivan Popa had to intervene twice when he tried to strangle two different referees. His teammates became so concerned with his behaviour that they tried to convince the team's manager to replace him with another player for the final — which was to be played between Romania and New Spain on the West Siberian Plain — but he chose not to listen.[1]
Prior to the final, Nenad jinxed the whole of the forest adjacent to the pitch, handsomely paying local Siberian Dark Wizards to help him carry out the job, and possibly also calling upon less-principled fans. Two hours into the game, when New Spain were ahead on points and Romania were exhausted, Nenad deliberately sent a Bludger flying into the forest. The trees instantly sprang to life and proceeded to attack the stadium, resulting in several injuries and deaths. Nenad was killed early in the carnage by a "particularly violent" spruce.[1]
Magical abilities and skills
Appearances
Notes and references
*Disclosure: Some of the links above are affiliate links, meaning, at no additional cost to you, Fandom will earn a commission if you click through and make a purchase. Community content is available under
CC-BY-SA
unless otherwise noted.