The Octagon Tower[1] is one of the many towers of Hogwarts Castle. It is located to the left of the Viaduct Entrance and is connected to the Stone Bridge.[2]. The Potions Classroom is located at the bottom of the tower[3] and a hall on the first floor leads to the Stone Bridge.[4]. It is one of the four towers surrounding the Viaduct Entrance, along with the Second-floor girls' lavatory tower and the right Viaduct tower.
Content
Potions Classroom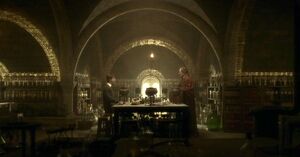 The Potions Classroom is where Potion classes are taught. The classroom used to be squared-sized, very large, with large tables and windows[5]. From 1995-onwards, the classroom was of an oval shape and relatively smaller, with small work tables[6]. In 1996, the classroom was extended, adding space for more work tables[7].
First floor Corridor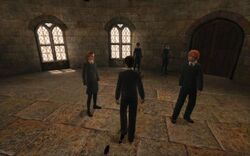 The First Floor corridor passes through this tower before the Stone Bridge.
Behind the scenes
Appearances
Notes and references

This article about a location is a stub. You can help by expanding it.
Community content is available under
CC-BY-SA
unless otherwise noted.