Wiki Targeted (Entertainment)
Play Sound
One Thousand Magical Herbs and Fungi was written by the Herbologist and Hogwarts Headmistress Phyllida Spore, and, as its name implies, covers a thousand different varieties of magical herbs and fungi found in the wizarding world.[1]
A copy of this book costs two Galleons at Flourish and Blotts.[2]
History
During the 1980s, Nymphadora Tonks had to study this book in order to pass a special test from Professor Pomona Sprout in order to get out of the infinite detention she earned from stealing Sprout's largest Venomous Tentacula and mistakenly tossing it on Professor Severus Snape.[4]
During the 1991–1992 school year, this book was one of the required texts for first year students.[1] It is a textbook used in Potions and Herbology classes at Hogwarts School of Witchcraft and Wizardry. Copies of this book can be found at Flourish and Blotts and the Hogwarts Library.
In the summer of 1994, Ginny Weasley used some Spellotape to mend her copy of this book.[3]
Known contents
Dittany is a powerful healing herb and restorative and may be eaten raw to cure shallow wounds.
Flobberworm Mucus is a popular potion thickener.
Aconite is sometimes called monkshood or wolfsbane.
Moly is a powerful plant that can be eaten to counteract enchantments. It is a black-stemmed plant with white flowers.
The cry of the Mandrake is fatal to anyone who hears it.
The Wiggentree is a magical rowan that will protect anyone touching its trunk from the attack of Dark creatures.
Never eat the leaves of the Alihotsy tree (also known as the Hyena tree). These leaves cause uncontrollable laughter.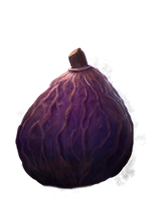 Behind the scenes
In Harry Potter and the Philosopher's Stone, when Harry Potter buys the book, it is titled One Thousand Magical Herbs and Fungi, but later in the same book, Harry is mentioned looking up 'dittany' in One Hundred Magical Herbs and Fungi. This error, not found in the U.S. text, is corrected in later editions.[5]
In the film adaptation of Harry Potter and the Half-Blood Prince, this book has a blueish cover, but in Pottermore the cover is green.
Strangely enough, according Pottermore, this book provides information on Flobberworm Mucus, despite this substance being a creature product, as Flobberworms are magical beasts, not plants or fungi.
Appearances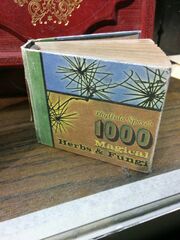 Notes and references