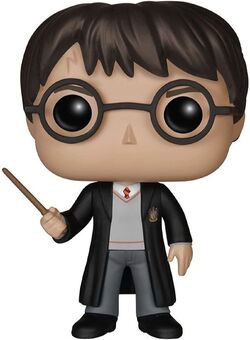 POP! Vinyl is a series of stylized collectible figures made by Funko. They are uniform in shape and generally three-and-three-quarter inches tall, although six-inch figures exist where appropriate, such as for half-giant Rubeus Hagrid. They are characterised by small bodies and disproportionately big rectangular heads with large black dot eyes, small triangular noses, and no mouthes.
Many characters from the Harry Potter films and Fantastic Beasts have been turned into POP! Vinyl figures.
"Engorgio!"

It is requested that this article, or a section of this article, should be expanded. Please help the Harry Potter Wiki by expanding this article to give more complete coverage of its subject.
List of POP! Vinyl figures
Rubeus Hagrid 6''
Cornish Pixie (part of 3)
Mandrake (part of 3)
Grindylow (part of 3)
Harry Potter ''H'' Sweater
Ron Weasley ''R'' Sweater
Bellatrix Lestrange Azkaban Prisoner
Lucius Malfoy Death Eater Mask
Lucius Malfoy Holding Prophecy
Luna Lovegood with Glasses
Ginny Weasley Quidditch Broom
Ron Weasley Quidditch Broom
Gilderoy Lockhart Tan (available in blue as well)[1]
Dobby 10''
Basilisk 6''
Sirius Black Prisoner of Azkaban
Hedwig 10''
Ron Weasley with Howler
Sirius Black as Dog
Dobby snap
Rubeus Hagrid 6''
Harry Potter w/ brokem arm
Harry Potter Entering Platform 9 3/4
Ron Weasley Riding Chess Piece
Fawkes Flocked
Niffler w/ Coin Purse
Occamy 6''
Matagot GITD
Chupacabra (with open Mouth)
Niffler 10'' Super-Sized
Newt Scamander in briefcase
Newt Scamander w/ postcard
External links
Notes and references
*Disclosure: Some of the links above are affiliate links, meaning, at no additional cost to you, Fandom will earn a commission if you click through and make a purchase. Community content is available under
CC-BY-SA
unless otherwise noted.