"There are plenty of eye-witness accounts. Just because you're so narrow-minded you need to have everything shoved under your nose before you–"

This article contains a list of appearances, but currently has few or no notes and references. Please help the Harry Potter Wiki by adding notes and/or references to bring this article to a higher standard of quality.
Partis Temporus is a charm that temporarily parts the target where the caster points their wand, creating a gap in it. This spell was effective in producing a magical partition in the Firestorm Charm.
Etymology
"Partis" most likely comes from the Latin term "partio", meaning "to divide". "Temporus" may come from the Latin "temporarius", meaning "temporary". All together, the spell translates as "to temporarily divide or part".
Behind the scenes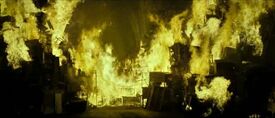 Appearances