Spider-Man: No Way Home Trailer Dropped - The Loop
Play Sound
Warning!

At least some content in this article is derived from information featured in Harry Potter: Hogwarts Mystery. Spoilers will be present within the article.
"I'm a man of few words — I rarely speak. Find someone else if discourse you seek."
— Percival Pratt's portrait
Percival Pratt was a wizard poet.[2]
Biography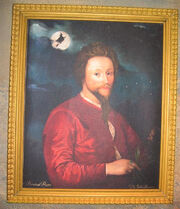 He has a portrait hung in Hogwarts Castle's Grand Staircase. He is portrayed as a man in a red robe, writing on his desk, with a starry sky and a full moon behind him. He is often heard saying rhymes and riddles to students who walk by. He often encourages students to "take time every day to rhyme what [they] say." Up until 1996, Mr Pratt's portrait guarded a shortcut between the Grand Staircase and the Boathouse. The password of this shortcut was "This password is absurd".[2]
Etymology
The name "Percival" was created by the 12th-century French poet Chrétien de Troyes for his poem Perceval, the Story of the Grail. In the poem, Perceval was one of King Arthur's knights of the Round Table who was given a glimpse of the Holy Grail. The character (and probably the name) of Perceval was based on that of the Welsh hero Peredur. The spelling was perhaps altered under the influence of Old French percer val "to pierce the valley".
E. J. Pratt (1882–1964) was a celebrated Canadian poet who has won the country's Governor General's Award for poetry three times, and who has been called "the foremost Canadian poet of the first half of the century."
Behind the scenes
The Weasley family, students at Hogwarts during the time when Percival's photo hung there, often described their brother Percy as 'a prat'. It is an amusing coincidence that "Percy's a prat" sounds so similar to this wizard's name.
Pratt may have died sometime prior to 1991, as many portraits hung at Hogwarts Castle depict deceased individuals. Some art historians have assigned it to the latter half of the sixteenth century or the first decade of the seventeenth century on stylistic grounds.
Percival's portrait seems to have been based on a circa 1620 portrait of English playwright John Fletcher (1579–1625), by an unknown artist.[4]
Appearances
Notes and references