m

(linkfix)

 

(11 intermediate revisions by one other user not shown)
Line 1:
Line 1:
−

[[File:Peter Breitmayer.jpg|thumb|200 px|Peter Breitmayer.]]'''Peter Bernard Breitmayer''' (born [[May 29]], [[1965]]) is an [[United States of America|American]] actor who will portray [[Gilbert Bingley]] in the upcoming [[Fantastic Beasts and Where to Find Them (film trilogy)|film adaptation]] of ''[[Fantastic Beasts and Where to Find Them (real)|Fantastic Beasts and Where to Find Them]]''.

+

[[File:Peter Breitmayer.jpg|thumb|200 px|Peter Breitmayer.]]'''Peter Bernard Breitmayer''' (born [[29]], [[1965]]) is an [[United States of America|American]] actor who [[Gilbert Bingley]] in ''[[Fantastic Beasts and Where to Find Them ()|Fantastic Beasts and Where to Find Them]]''.

 
 
 

==External links==

 

==External links==

 

*{{IMDb name|0106998|Peter Breitmayer}}

 

*{{IMDb name|0106998|Peter Breitmayer}}

 
+
 
+

{{Actor-stub}}

 
 
 

{{DEFAULTSORT:Breitmayer, Peter}}

 

{{DEFAULTSORT:Breitmayer, Peter}}

 
+
 
+

[[de:Peter Breitmayer]]

 

[[fr:Peter Breitmayer]]

 

[[fr:Peter Breitmayer]]

 

[[pl:Peter Breitmayer]]

 

[[pl:Peter Breitmayer]]

 
+

[[ru:Питер Брейтмайер]]

−

[[Category:Actors (real-world)]]

 
 
+

[[de2:Peter Breitmayer]]

 
+
 

[[Category:American actors (real-world)]]

 

[[Category:American actors (real-world)]]

 

[[Category:Fantastic Beasts and Where to Find Them actors]]

 

[[Category:Fantastic Beasts and Where to Find Them actors]]
---
Latest revision as of 22:36, 6 March 2019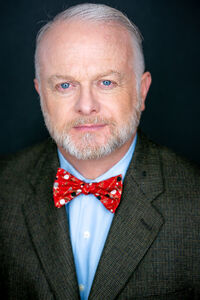 Peter Bernard Breitmayer (born 29 May, 1965) is an American actor who portrayed Gilbert Bingley in Fantastic Beasts and Where to Find Them.
External links
This article about an actor or actress is a stub. You can help by expanding it.
*Disclosure: Some of the links above are affiliate links, meaning, at no additional cost to you, Fandom will earn a commission if you click through and make a purchase. Community content is available under
CC-BY-SA
unless otherwise noted.