Jurassic World: Dominion Dominates Fandom Wikis - The Loop
Play Sound
Warning!

At least some content in this article is derived from information featured in Harry Potter: Hogwarts Mystery. Spoilers will be present within the article.
"Is this all real? Or has this been happening inside my head?"

The topic of this article is of a real-life subject that has been mentioned "in-universe" in a canon source. The Harry Potter Wiki is written from the perspective that all information presented in canon is true (e.g., Hogwarts really existed), and, as such, details contained in this article may differ from real world facts.
Phillipus Aureolus Theophrastus Bombastus von Hohenheim[2] (1493—1541), more commonly known as Paracelsus, was a wizard and alchemist about whom very little is known. In addition to his work on alchemy, he made significant contributions to the field of medicine, having been a notable physician.[1] Paracelsus's bold theories challenged medieval thought. Paracelsus was credited with the discovery of Parseltongue.[3]
Biography
In his lifetime, Paracelsus contributed heavily to the field of medicine, with his bold theories challenging medieval thought.[1] Paracelsus was credited with the discovery of Parseltongue.[3]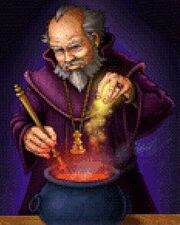 For his contributions to multiple magical fields, he was featured on a Chocolate Frog Card. Harry Potter received this card from a Chocolate Frog on his first ride aboard the Hogwarts Express in 1991.[4]
There was a bust of Paracelsus in a corridor at Hogwarts. In 1995, while on his way to the Owlery, Harry Potter ran into Nearly Headless Nick, who warned him that Peeves was planning to drop the bust on the head of the next person who walked down the corridor. Harry thus chose to take an alternate route to the Owlery.[5]
Behind the scenes
The real life Paracelsus was born Phillip Von Hohenheim, in 1493 in Switzerland. He later changed his name to Philippus Theophrastus Aureolus Bombastus von Hohenheim, then to Paracelsus. He has made many contributions to medicine. He believed every human needed a balance of minerals and metals in their body and he was the first to use minerals and metals as medicine. Paracelsus also studied psychotherapy, and was the first to understand the subconscious.
Although he made several important contributions to the sciences of medicine and chemistry, he also wrote several treatises in Astrology and Divination, which has led to him being portrayed as a magician, or a "pseudo-scientist" in later popular culture, in several works besides the Harry Potter universe.
Appearances
Notes and references