Jurassic World: Dominion Dominates Fandom Wikis - The Loop
Play Sound
"Piers was a scrawny boy with a face like a rat. He was usually the one who held people's arms behind their backs while Dudley hit them."
— A description of Piers
Piers Polkiss was a Muggle and Dudley Dursley's best friend, when they were young.[1] Despite being scrawny with a face like a rat, he was a member of Dudley Dursley's gang and was usually the one who held people's arms behind their backs so Dudley could hit them. Piers did not like Harry Potter, because Dudley did not, and he always followed Dudley's lead.[1] Piers would also join Dudley at Smeltings Academy.[2]
Biography
"Harry was talking to it, weren't you, Harry?"
— Piers' shock after witnessing Harry Potter talk to a snake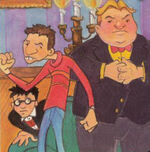 On 23 June 1991, Dudley's eleventh birthday, Piers accompanied him, the Dursleys and Harry to the zoo. During the trip, Piers saw Harry talking to a snake in the reptile house. When Harry was pushed out of the way, and then unintentionally made the glass disappear, Piers and Dudley jumped back in surprise. When Piers told the Dursleys that Harry had been talking to the snake, they gave Harry his longest ever punishment.[1]
"Nice right hook, Big D."
— Piers congratulating Dudley
During the summer of 1995, Dudley lied to his parents saying that he was at the Polkisses' having tea, although Piers was with Dudley's gang as they roamed the neighbourhood, bullying younger children.[3]
Etymology
Piers is of Anglo-Saxon heritage and means "rock". It is a variant of Peter, from the Greek for "rock". Polkiss may be a variation of Polk, which itself is a variation of the Scottish names Pogue, Pollack, or Pollock, meaning "from the pool or pit".
Behind the scenes
Appearances
Notes and references

This article about a specific character is a stub. You can help by expanding it.