This office is a large room adjacent to the Hospital Wing at Hogwarts Castle belonging to Poppy Pomfrey, the matron.
Description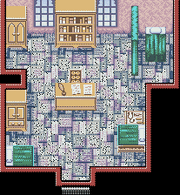 It contains a bookcase, a desk, two closets, two beds for patients, and another bed closed off from the room by a curtain.[1]
History
During the 1996–1997 school year, after the Gryffindor-Hufflepuff Quidditch match, Harry Potter cast the the Muffliato Charm on Pomfrey's office so that she would not hear Kreacher and Dobby fighting.[2]
Appearances
Notes and references