Doctor Strange in The Multiverse o Madness - The Loop
Play Sound
"You are here to learn the subtle science and exact art of potion-making. As there is little foolish wand-waving here, many of you will hardly believe this is magic. I don't expect you will really understand the beauty of the softly simmering cauldron with its shimmering fumes, the delicate power of liquids that creep through the human veins, bewitching the minds, ensnaring the senses... I can teach you how to bottle fame, brew glory, and even stopper death — if you aren't as big a bunch of dunderheads as I usually have to teach."
— Professor Snape's introduction of the subject
Potions was a core class and subject taught at Hogwarts School of Witchcraft and Wizardry[4][11] and Ilvermorny School of Witchcraft and Wizardry.[12] In this class, students learnt the correct way to brew potions.[4] They followed specific recipes and used various magical ingredients to create potions, starting with simple ones and moving to more advanced ones as they progressed in knowledge.[4]
A standard potions kit included plant ingredients such as Belladonna,[8] and supplies such as glass phials and weighing scales, along with a standard cauldron that all students were expected to bring with them to lessons.[4]
The Professor of this subject was referred to as a Potions Master.[4] The Potions Master at Hogwarts for many years was Horace Slughorn[5] and later Severus Snape.[4] By 2016, Professor Slughorn had retired for a second time, and an unidentified teacher had taken over.[13]
Class information
"When they arrived in the corridor they saw that there were only a dozen people progressing to N.E.W.T. level."
— Harry Potter on the very few people who were able to advance to sixth-year Potions
At Hogwarts School of Witchcraft and Wizardry, Potions was a required subject for students, from the first year to the fifth year.[4][14][11] Potion recipes could be found in many books, including the books the students at Hogwarts used in their classes, but the intricacies of timing, ageing, stirring techniques, and bottling which are much more difficult to learn without the mentoring of the experienced masters.[4] Certain ingredients could be found in the cupboard in the classroom,[15] but others had to be bought before the start of the year at the apothecary.[4][8] Around 1981, Severus Snape became the professor of Potions at Hogwarts.[4] Snape served as the school's potions professor through 1996, until he became the Defence Against the Dark Arts professor and was replaced by Horace Slughorn.[16]
Ordinary Wizarding Level examinations were taken at the end of a student's fifth year;[14] as such students spent time learning Ordinary Wizarding Level potions and possibly revisiting the past four years of lessons. As part of their Potions O.W.L., students had to sit a written exam; one of the questions was to describe Polyjuice Potion and its purpose, and after students must complete a practical exam.[17] Professor Snape mentioned that achieving a high mark at Ordinary Wizarding Level was difficult,[14] which was later demonstrated in 1996, when only twelve students reached the required level to advance to N.E.W.T.[7]
When Severus Snape was the professor, students had to achieve an 'Outstanding' on their O.W.L. in order to take his advanced class.[18] As Head of House, Professor Snape tended to favour students from Slytherin House more than other students, so Slytherins tended to do better than others at the subject.[4] On the other hand however, Horace Slughorn was more lenient; Harry and Ron were both allowed to continue to the N.E.W.T. class with an 'Exceeds Expectations' O.W.L. He also did not grant Slytherins special treatments, thus having them lose their advantage in good classwork.[7]
Location and time
Potions lessons took place in the Dungeons.[4]
Classroom layout
The classroom used to be squared-sized, very large, with large tables and windows. In the corner resideed a stone basin used to wash students' hands and ladles.[4] From 1992-onwards, the classroom was of an oval shape and relatively smaller, with small work tables. In 1996, the classroom was extended, adding space for more work tables.[7]
Lesson times
Year
Day
Period
First
Monday
first
Wednesday
Friday
first/second
Second
Monday
third
Wednesday
Friday
Third
Monday
Tuesday
afternoon
Thursday
third
Friday
first
Fourth
Tuesday
third
Friday
fourth/fifth
Fifth
Monday
second (last half)
Sixth
afternoon
Seventh
unknown
unknown
Curriculum
First year
"Snape made them all nervous, breathing down their necks while they tried to remember how to make a Forgetfulness Potion."
— First year exam in 1992
Besides potions and their ingredients, other information was covered in the first year as well. Students were informed of the basic details on preparation of the Draught of Living Death, along with the nature of various ingredients, such as Infusion of Wormwood, Powdered Root of Asphodel and Aconite.[4] The class also covered the twelve uses of dragon blood,[19] the types of cauldrons, and the types of phials used in potion-making. Bezoars[4] were briefly mentioned and the Standard Ingredient was also used in most beginner potions.[20]
Second year
"Thursday afternoon's lesson proceeded in the usual way. Twenty cauldrons stood steaming between the wooden desks, on which stood brass scales and jars of ingredients."
— A second year Potions lesson
Second-year students were set an essay on Flobberworm Mucus and its uses in potions.[29] Also homework included something that involves Hair-Raising Potions.[30] This year appeared to focus more on actual potion brewing then the previous one.[15]
Third year
"They were making a new potion today, a Shrinking Solution."
— A third year Potions lesson
Third-year students learnt about Undetectable Poisons[33] and were instructed to write an essay on Shrinking Solutions.[34]
Fourth year
"Professor Snape was forcing them to research antidotes. They took this one seriously, as he had hinted that he might be poisoning one of them before Christmas to see if their antidote worked."
— Snape setting fourth year Potions homework
Fourth-year lessons included information on Poison Antidotes.[41][42] It was unknown what type of poison these potions referred to, common or uncommon. Also, this lesson was most likely a theoretical one. Mixing antidotes is complex and advanced, which were also covered in the sixth year[10] as well as this one.
Fifth year
"I think it appropriate to remind you that next June you will be sitting a important examination, during which you will prove how much you have learned about the composition and use of magical potions."
— Professor Snape regarding the Potions O.W.L.
Fifth-year homework included writing an essay on the properties of Moonstone and its uses in Potion making[14] and to write an essay on how to properly brew the Strengthening Solution.[53] Also potions and other classwork this year was O.W.L.-level in preparation for the upcoming exam.[14]
Sixth year
"I've prepared a few potions for you to have a look at, just out of interest, you know. These are the kind of things you ought to be able to make after after completing your N.E.W.T.s. You ought to have heard of 'em, even if you haven't made 'em yet."
— Professor Slughorn referring to the potions that would be covered in the sixth and seventh years
In the sixth year, Golpalott's Third Law was covered in class. The Law appeared to say that the antidote for a blended poison could not simply be created by finding the antidotes to each separate poison in the blended whole and mixing them together.[10] Students had to write an essay on Everlasting Elixirs, using their textbooks Advanced Potion-Making as a source of information.[65]
Seventh year
Known professors
Required textbooks
Grades
Known O.W.L.s
Media
Behind the scenes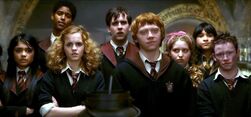 In the film adaptation of Harry Potter and the Half-Blood Prince, many more students are shown to be in Harry's N.E.W.T. level Potions class than are mentioned in the book. The book specifically names Harry, Ron, and Hermione to be the only Gryffindors to have moved on to N.E.W.T. level, but the film shows Neville Longbottom, Dean Thomas, Seamus Finnigan, and Lavender Brown to be in the class as well. Katie Bell and Romilda Vane are also in the class in the film, although they are actually a seventh year and a fourth year student respectively, along with Leanne, whose year is unknown. Gregory Goyle and Vincent Crabbe are Slytherins depicted as attending sixth year Potions class in the film, which also contradicts the novel.
In the film adaptation of Harry Potter and the Philosopher's Stone, Severus Snape claims that there will be no "wand waving" in his class, though potion-making spells are always needed to complete the brewing process.
In Hogwarts Mystery, if players take Jacob's sibling to the O.W.L. through an optional side quest, they will definitely gain at least an A, even if they fail to answer every question and make every potion.
Author's comments
Chemistry was my least favourite subject at school, and I gave it up as soon as I could. Naturally, when I was trying to decide which subject Harry's arch-enemy, Severus Snape, should teach, it had to be the wizarding equivalent. This makes it all the stranger that I found Snape's introduction to his subject quite compelling ('I can teach you to bottle fame, brew glory, even stopper death...'), apparently part of me found Potions quite as interesting as Snape did; and indeed I always enjoyed creating potions in the books, and researching ingredients for them. Many of the components of the various draughts and libations that Harry creates for Snape exist (or were once believed to exist) and have (or were believed to have) the properties I gave them. Dittany, for instance, really does have healing properties (it is an anti-inflammatory, although I would not advise Splinching yourself to test it); a bezoar really is a mass taken from the intestines of an animal, and it really was once believed that drinking water in which a bezoar was placed could cure you of poisoning.[20]
Appearances
Notes and references
↑ 2.0 2.1 Harry Potter: Hogwarts Mystery, Year 3, Side Quest "Nearly Headless Nick"
↑ 4.00 4.01 4.02 4.03 4.04 4.05 4.06 4.07 4.08 4.09 4.10 4.11 4.12 4.13 4.14 4.15 4.16 4.17 4.18 4.19 4.20 4.21 4.22 4.23 4.24 4.25 4.26 4.27 4.28 Harry Potter and the Philosopher's Stone, Chapter 8 (The Potions Master)
↑ 5.0 5.1 5.2 Harry Potter and the Half-Blood Prince, Chapter 4 (Horace Slughorn)
↑ 6.0 6.1 6.2 6.3 Harry Potter and the Philosopher's Stone, Chapter 5 (Diagon Alley)
↑ 7.00 7.01 7.02 7.03 7.04 7.05 7.06 7.07 7.08 7.09 7.10 7.11 7.12 7.13 7.14 7.15 7.16 7.17 7.18 7.19 Harry Potter and the Half-Blood Prince, Chapter 9 (The Half-Blood Prince)
↑ Wands are needed to perform Potion-making spells and spells to analyse the ingredients of potions, like Specialis Revelio and the Potion-making spell.
↑ 10.0 10.1 10.2 10.3 10.4 10.5 Harry Potter and the Half-Blood Prince, Chapter 18 (Birthday Surprises)
↑ 13.0 13.1 Harry Potter and the Cursed Child, Act Four, Scene Fourteen
↑ 14.0 14.1 14.2 14.3 14.4 14.5 14.6 14.7 Harry Potter and the Order of the Phoenix, Chapter 12 (Professor Umbridge)
↑ Harry Potter and the Half-Blood Prince, Chapter 8 (Snape Victorious)
↑ Harry Potter and the Order of the Phoenix, Chapter 31 (O.W.L.s)
↑ 18.0 18.1 18.2 Harry Potter and the Order of the Phoenix, Chapter 29 (Careers Advice)
↑ 19.0 19.1 Harry Potter and the Philosopher's Stone, Chapter 14 (Norbert the Norwegian Ridgeback)
↑ Harry Potter: Hogwarts Mystery, Year 1, Chapter 2 (Welcome to Hogwarts) - Potions Lesson "Cure for Boils Potion"
↑ Harry Potter and the Philosopher's Stone, Chapter 16 (Through the Trapdoor)
↑ Harry Potter: Hogwarts Mystery, Year 1, Chapter 7 (Class Matters) - Potions Lesson "Herbicide Potion"
↑ Harry Potter: Hogwarts Mystery, Year 1, Chapter 8 (Preparing for the Room) - Potions Lesson "Sleeping Draught"
↑ 26.0 26.1 26.2 26.3 Harry Potter: Hogwarts Mystery, Year 1, Chapter 4 (Revenge is Best Served Magical) - Potions Lesson "Wiggenweld Potion"
↑ 30.0 30.1 30.2 Harry Potter and the Chamber of Secrets, Chapter 13 (The Very Secret Diary)
↑ Harry Potter: Hogwarts Mystery, Year 2, Chapter 7 (Facing the Door) - Potions Lesson "Fire Protection Potion"
↑ 32.0 32.1 32.2 Harry Potter: Hogwarts Mystery, Year 2, Chapter 5 (Rowan's Recovery) - Potions Lesson "Strengthening Solution"
↑ 33.0 33.1 Harry Potter and the Prisoner of Azkaban, Chapter 12 (The Patronus)
↑ Harry Potter and the Prisoner of Azkaban, Chapter 1 (Owl Post)
↑ 35.00 35.01 35.02 35.03 35.04 35.05 35.06 35.07 35.08 35.09 35.10 Harry Potter and the Prisoner of Azkaban (video game)
↑ Harry Potter and the Prisoner of Azkaban, Chapter 16 (Professor Trelawney's Prediction)
↑ 37.0 37.1 37.2 37.3 Harry Potter: Hogwarts Mystery, Year 3, Chapter 5 (Tulip Karasu) - Potions Lesson "Antidote to Common Poisons"
↑ 38.0 38.1 38.2 38.3 38.4 Harry Potter and the Prisoner of Azkaban, Chapter 7 (The Boggart in the Wardrobe)
↑ 39.0 39.1 39.2 Harry Potter: Hogwarts Mystery, Year 3, Chapter 2 (Boggarts and Butterbeer) - Potions Lesson "Wideye Potion"
↑ 40.0 40.1 40.2 40.3 Harry Potter: Hogwarts Mystery, Year 3, Chapter 8 (Barnaby Lee) - Potions Lesson "Doxycide"
↑ 41.0 41.1 Harry Potter and the Goblet of Fire, Chapter 15 (Beauxbatons and Durmstrang)
↑ 42.0 42.1 Harry Potter and the Goblet of Fire, Chapter 18 (The Weighing of the Wands)
↑ 43.0 43.1 43.2 43.3 Harry Potter and the Goblet of Fire, Chapter 27 (Padfoot Returns)
↑ Harry Potter: Hogwarts Mystery, Year 4, Chapter 2 (The Mysterious Madam Rakepick) - Potions Lesson "Calming Draught"
↑ 45.0 45.1 Harry Potter: Hogwarts Mystery, Year 4, Chapter 5 (Time to Fly) - Potions Lesson "Shrinking Solution"
↑ 46.0 46.1 Harry Potter: Hogwarts Mystery, Year 4, Chapter 9 (Glittery Secrets) - Potions Lesson "Pepperup Potion"
↑ 47.0 47.1 Harry Potter: Hogwarts Mystery, Year 4, Chapter 14 (The Spider's Lair) - Potions Lesson "Ageing Potion"
↑ Harry Potter: Hogwarts Mystery, Year 4, Chapter 6 (Explore the Forbidden Forest) - Potions Lesson "Weedosoros"
↑ Harry Potter: Hogwarts Mystery, Year 4, Chapter 16 (The Forest Vault) - Potions Lesson "Skele-Gro"
↑ Harry Potter: Hogwarts Mystery, Year 4, "First Date" Achievement - Part 1, Side Quest "Crushing It!"
↑ Harry Potter and the Goblet of Fire, Chapter 22 (The Unexpected Task)
↑ 53.0 53.1 53.2 53.3 Harry Potter and the Order of the Phoenix, Chapter 17 (Educational Decree Number Twenty-Four)
↑ Harry Potter and the Order of the Phoenix, Chapter 15 (The Hogwarts High Inquisitor)
↑ Harry Potter: Hogwarts Mystery, Year 5, Chapter 22 (Agent of Chaos) - Potions Lesson "Wit-Sharpening Potion"
↑ 56.0 56.1 56.2 Harry Potter: Hogwarts Mystery, Year 5, Chapter 2 (Grave Danger) - Potions Lesson "Hair-Raising Potion"
↑ Harry Potter: Hogwarts Mystery, Year 5, Chapter 32 (The Trouble With Ben) - Potions Lesson "Everlasting Elixirs"
↑ Harry Potter: Hogwarts Mystery, Year 5, Chapter 9 (Dangerous Friends) - Potions Lesson "Deflating Draught"
↑ 59.0 59.1 Harry Potter: Hogwarts Mystery, Year 5, Chapter 14 (Mischief Managed) - Potions Lesson "Befuddlement Draught"
↑ Harry Potter: Hogwarts Mystery, Year 5, Chapter 25 (Creature of Chaos) - Potions Lesson "Erumpent Potion"
↑ Harry Potter and the Order of the Phoenix, Chapter 13 (Detention with Dolores)
↑ Harry Potter and the Order of the Phoenix, Chapter 16 (In The Hog's Head)
↑ 63.0 63.1 63.2 Harry Potter and the Order of the Phoenix, Chapter 18 (Dumbledore's Army)
↑ 65.0 65.1 Harry Potter and the Half-Blood Prince, Chapter 15 (The Unbreakable Vow)
↑ 66.0 66.1 66.2 Harry Potter and the Half-Blood Prince, Chapter 22 (After the Burial)
↑ 67.00 67.01 67.02 67.03 67.04 67.05 67.06 67.07 67.08 67.09 67.10 67.11 67.12 67.13 Harry Potter and the Half-Blood Prince (video game)
↑ 68.0 68.1 68.2 68.3 68.4 Harry Potter: Hogwarts Mystery, Year 6, Chapter 3 (Mixed Message) - Potions Lesson "Wound Cleaning Potion"
↑ 69.0 69.1 Harry Potter: Hogwarts Mystery, Year 6, Chapter 8 (Owl Prowl) - Potions Lesson "Cheese-Based Potions"
↑ 70.0 70.1 70.2 Harry Potter: Hogwarts Mystery, Year 6, Chapter 12 (Now You See Me) - Potions Lesson "Laughing Potion"
↑ Harry Potter: Hogwarts Mystery, Year 6, Chapter 16 (The Wizard In White) - Potions Lesson "Cough Potion"
↑ Harry Potter: Hogwarts Mystery, Year 6, Chapter 20 (A Circle of Friends) - Potions Lesson "Potion for Dreamless Sleep"
↑ Harry Potter: Hogwarts Mystery, Year 6, Chapter 26 (Unfinished Business) - Potions Lesson "Regerminating Potion"
↑ Harry Potter: Hogwarts Mystery, Year 6, Chapter 30 (Journey to the Whomping Willow) - Potions Lesson "Memory Potion"
↑ Harry Potter: Hogwarts Mystery, Year 6, Chapter 35 (Infiltrating 'R') - Potions Lesson "Scintillation Solution"
↑ Harry Potter: Hogwarts Mystery, Year 6, Chapter 39 (Gather the Merqueen's Tribute) - Potions Lesson "Essence of Insanity"
↑ Harry Potter: Hogwarts Mystery, Year 6, Chapter 45 (The Messenger) - Potions Lesson "Garrotting Gas"
↑ Harry Potter: Hogwarts Mystery, Year 7, Chapter 2 (More Questions Than Answers) - Potions Lesson "Veritaserum"
↑ 79.0 79.1 Harry Potter: Hogwarts Mystery, Year 7, Chapter 9 (A Beast of a Division) - Assignment "Track the Werewolf"
↑ Harry Potter: Hogwarts Mystery, Year 7, Chapter 14 (The Search for Zenith Xeep) - Potions Lesson "Rat Tonic"
↑ Harry Potter: Hogwarts Mystery, Year 7, Chapter 25 (Swan Dive) - Potions Lesson "Antidote to Veritaserum"
↑ 83.0 83.1 Harry Potter and the Half-Blood Prince (film) - Chapter 8 (The Half-Blood Prince)
↑ 84.0 84.1 84.2 Harry Potter and the Half-Blood Prince, Chapter 5 (An Excess of Phlegm)
↑ 85.0 85.1 Harry Potter and the Chamber of Secrets, Chapter 4 (At Flourish and Blotts) - It is said that both Percy and Bill Weasley earned twelve Ordinary Wizarding Levels, meaning they must have earned an O.W.L. in this subject.
↑ Harry Potter: Hogwarts Mystery, Year 7, Chapter 37 (Lockdown)