"Are you a wizard or not?"

The title of this article is conjectural. Although it is based on canonical information, the actual name is a conjecture and may be supplanted at any time by additional information released from canonical sources. If this occurs, please move this page to the appropriate title.
"'It is the only way, Nagini,' he whispered, and he looked round, and there was the great, thick snake, now suspended in mid-air, twisting gracefully within the enchanted, protected space he had made for her, a starry, transparent sphere somewhere between glittering cage and tank."
—Lord Voldemort creating the orb for Nagini's protection.
The unnamed protection orb was a protective spell that a wizard or witch cast around a certain target to protect them from exterior attacks. It conjured a sphere around the target in question, which could levitate in the air, and was starry, transparent, making it look somewhat between a glittering cage and tank. However, at the user's will, it was allowed to be phased through by certain objects.[1]
History of usage

Lord Voldemort used this spell in 1998, during the Battle of Hogwarts, around his snake, Nagini. This was to protect the snake, who was also his final Horcrux, from Harry Potter, who was aiming to kill her to rob Voldemort of his immortality. Voldemort claimed it was for her good, though he was equally worried about the soul fragment that resides within her as much as her personal safety. Voldemort had Severus Snape to be partially encased by the orb in order to allow Nagini to kill him for the ownership of the Elder Wand, in which it trapped Snape's upper body with the great serpent. Snape's attempt to throw the barrier off of himself proved fruitless as Nagini bit him in the neck, sealing the man's fate as Voldemort then levitated the orb off of him and left the room with Nagini.[1]
When Voldemort thought he killed Harry, he deactivated the orb around Nagini, thinking there would be no more threat for her, a mistake that led to the snake's demise at the hands of Neville Longbottom.[2]
Behind the scenes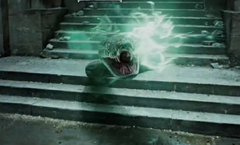 This spell may be the Ebublio Jinx.
In the second film adaption of Harry Potter and the Deathly Hallows, Voldemort did not use this spell on Nagini, but instead placed some kind of invisible force field on her that deflects most incoming attacks, and did not dispel it even after Harry's assumed death. It notably caused the Blasting Curse fired by Harry Potter to bounce off her harmlessly and fly into a group of Death Eaters, knocking them to the ground. Later on, the green spell fired by Ron dispersed on contact with her body and did nothing to her. Only when Neville used the Sword of Gryffindor to strike her did it managed to breach this defence, killing her.
A similar bubble-like orb was used by Newt Scamander to contain the salvaged Obscurus of a deceased Sudanese girl, which he kept inside his suitcase. Jacob Kowalski came close to touching the orb until Newt told him not to, and Percival Graves, later revealed to be Gellert Grindelwald, summoned the orb to his side with a hand gesture while interrogating Newt.
Appearances
Notes and references
*Disclosure: Some of the links above are affiliate links, meaning, at no additional cost to you, Fandom will earn a commission if you click through and make a purchase. Community content is available under
CC-BY-SA
unless otherwise noted.