Wiki Targeted (Entertainment)
Play Sound
""If we're staying, we should put some protective enchantments around the place," she replied, and raising her wand, she began to walk in a wide circle around Harry and Ron, murmuring incantations as she went."
— Hermione Granger casting protective enchantments in 1997
Protective enchantments were charms used to protect an area for an extended period of time. The spells shielded specific areas, and could have a wide variety of applications, with many different types of protective enchantments existing.
History
There are many different types of protective enchantment with many different effects. It is unknown how old some of the spells are and who exactly invented them. The enchantments were used regularly during the Second Wizarding War in order for the wizarding community to protect themselves from Death Eaters and by Death Eaters themselves, it can be assumed that they were used during the First Wizarding War as well.
The Vanishing Cabinets are able to bypass most protective enchantments, as a pair was used to penetrate Hogwarts Castle, which was heavily armed with magical protections, ancient and recently added.[1]
During the 1988–1989 school year at Hogwarts School of Witchcraft and Wizardry, Professor Patricia Rakepick would often have her fifth year Defence Against the Dark Arts students demonstrate the correct casting of protective enchantments at the start of each of her lessons.[2]
Casting
In order to protect a certain place, the caster has to repeat incantations of charms over and over in the area they wish to protect. The spells circle the area and create a light effect similar to a heat wave around the protected area.
Known spells
Known uses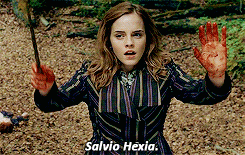 Enchantments were put over many places such as Gringotts, Hogwarts, The Burrow etc.
The Dome Effect that happens when people cast Priori Incantatem, as Voldemort and Harry Potter did in 1995, whilst duelling in the Little Hangleton graveyard.[20]
The Fidelius Charm that was cast over houses owned by members of the Order of the Phoenix.
The lot of enchantments cast over The Burrow, including the Fidelius Charm, in order to hold William Weasley and Fleur Delacour's wedding.[21]
Hermione Granger cast Protego totalum, Salvio Hexia, the Muggle-Repelling Charm, the Muffliato Charm, Cave inimicum, and the Disillusionment Charm in 1997 over her tent site (along with Ronald Weasley and Harry Potter).[5]
Harry Potter would occasionally cast the protective enchantments that Hermione would use during the Horcrux Hunt.[5]
At the start of the Battle of Hogwarts, Filius Flitwick, Molly Weasley, and Horace Slughorn cast Protego Maxima, Fianto Duri, and Repello Inimicum; only to be broken by the Shield penetration spell performed by Tom Riddle shortly after.[8]
At the start of the Battle of Hogwarts, Filius Flitwick cast Protego horribilis.[15]
Behind the scenes
Appearances
Notes and references
↑ Harry Potter and the Half-Blood Prince, Chapter 27 (The Lightning-Struck Tower)
↑ Harry Potter: Hogwarts Mystery, Year 5, Chapter 19 (The Unforgivable Curses) - Defence Against the Dark Arts Lesson "Lacarnum Inflamari"
↑ Harry Potter and the Goblet of Fire, Chapter 16 (The Goblet of Fire)
↑ Harry Potter and the Deathly Hallows, Chapter 28 (The Missing Mirror)
↑ Harry Potter: Hogwarts Mystery, Year 6, Chapter 21 (Moving Forward) - Defence Against the Dark Arts Lesson "Cave Inimicum"
↑ Harry Potter and the Order of the Phoenix, Chapter 3 (The Advance Guard)
↑ Harry Potter and the Prisoner of Azkaban, Chapter 10 (The Marauder's Map)
↑ Harry Potter and the Order of the Phoenix, Chapter 4 (Number Twelve Grimmauld Place)
↑ Harry Potter and the Half-Blood Prince, Chapter 4 (Horace Slughorn)
↑ Harry Potter and the Half-Blood Prince, Chapter 12 (Silver and Opals)
↑ 15.0 15.1 Harry Potter and the Deathly Hallows, Chapter 30 (The Sacking of Severus Snape)
↑ Harry Potter and the Deathly Hallows, Chapter 27 (The Final Hiding Place)
↑ Harry Potter and the Goblet of Fire, Chapter B , page 25
↑ Harry Potter and the Goblet of Fire, Chapter 31 (The Third Task)
↑ Harry Potter and the Goblet of Fire, Chapter 34 (Priori Incantatem)
↑ Harry Potter and the Deathly Hallows, Chapter 8 (The Wedding)