Warning!

At least some content in this article is derived from information featured in Harry Potter: Hogwarts Mystery. Spoilers will be present within the article.
"Hey, here's some Puffapods. They're great fun to throw about. I hear they make trolls sneeze, too."
— Ron Weasley on Puffapods
A Puffapod was a magical plant that produced large pink seedpods full of shining beans, which instantly flowered when they came into contact with any solid object.[1][3][2]
Description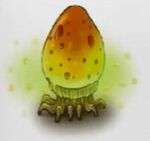 The spores of a Puffapod could cause dizziness,[3] and could also be used in potion-making.[4] Trolls appeared to be allergic to Puffapods, sneezing whenever they bloomed.[5]
History
Puffapods could be found growing in Rubeus Hagrid's garden.[4] The Puffapod patch in the Forgotten Grounds at Hogwarts also contained growing Puffapods.[5]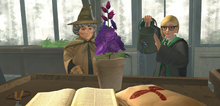 During the 1988–1989 school year at Hogwarts School of Witchcraft and Wizardry, Professor Pomona Sprout taught fifth-year students how to handle Puffapods in Herbology class.[2]
In October of 1993 at Hogwarts, Ronald Weasley accidentally dropped some of these beans onto the floor of the greenhouse they were working in for a third year Herbology class and they instantly bloomed, earning him Professor Sprout's disapproval.[1]
Behind the scenes
Appearances
Notes and references