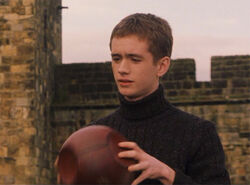 A Quaffle is a ball used in the wizarding game of Quidditch. It is twelve inches in diameter, red, leather-covered ball used as the main object of play. The three Chasers carry and pass the Quaffle to their opponent's goal hoops, where they try to score points by throwing it through one of the three rings. Each time it passes through the hoops, the scoring team scores ten points.
History of the Quaffle
According to the entries in Gertie Keddle's diary, the Quaffle was the first ball used in the early form of Quidditch played at Queerditch Marsh. Originally, the ball was not enchanted, and made of patched leather with a strap attached to it to allow players to throw and catch it one handed. Some Quaffles had finger holes instead of the strap.
In 1711, the Quaffle was changed to its current scarlet colour, after a match played in heavy rain made it indistinguishable from the muddy ground. Shortly after, the witch Daisy Pennifold came up with the idea of enchanting the Quaffle so that it dropped to the ground slower than normal. Chasers were complaining of having to dive to the ground to retrieve a dropped ball, and the new enchantment gave the Chasers time to retrieve the ball while still in the air. The ball became known as the Pennifold Quaffle, a term that is still used today.
In 1875, Gripping Charms were discovered, allowing the players to hold onto the Quaffle without needed either a strap or finger holes.
Appearances