Doctor Strange in The Multiverse o Madness - The Loop
Play Sound
"Oh, the thrill of the chase as I soar through the air
With the Snitch up ahead and the wind in my hair
As I draw ever closer, the crowd gives a shout
But then comes a Bludger and I am knocked out."
— Ingolfr the Iambic, 1400s Norway
Quidditch Through the Ages is a book written, hand-lettered and illustrated by J. K. Rowling for the Comic Relief U.K. charity in 2001. Written under the pseudonym Kennilworthy Whisp, it is meant to be a copy of the in-universe book Quidditch Through the Ages. On 15 March 2018, an audiobook was released, narrated by Andrew Lincoln.[2]
The premise is that the book has been released to the Muggle world to help raise money for needy causes. It features a blurb and a foreword by Albus Dumbledore, in which he stresses the only way he was able to take it from Irma Pince—Librarian of the Hogwarts Library—was to "prise her fingers individually from the spine."
The first page is meant to look like a library borrowing log, which features the names of many Hogwarts Quidditch players. The name H. Granger appears near the bottom, as she took it out in Harry Potter and the Philosopher's Stone, before the first broom riding lesson. The other names are O. Wood, B. Dunstan, M. Flint, C. Diggory, A. Johnson, E. Macmillan, T. Boot, S. Fawcett, K. Bundy, K. Bell, C. Warrington, J. Dorny, T. Nott, S. Capper, M. Bulstrode, F. Weasley, and H. Potter. The list of dates is problematic, since they seem to indicate that students check out the book during the summer. However, in the 2009 UK edition, these dates are changed and names are listed in the library borrowing log, in this order: R. Weasley, N. Longbottom, S. Bones, H. Granger, Padma Patil, E. Macmillan, M. Bulstrode, H. Granger (again), and Draco Malfoy.[3]
The copyright page features Praise for Quidditch Through the Ages, with commentary by wizarding celebrities Bathilda Bagshot, Brutus Scrimgeour, Gilderoy Lockhart, Ludo Bagman, Rita Skeeter, and the Editor of Which Broomstick.
Chapters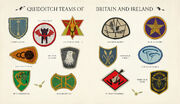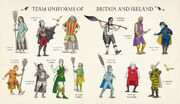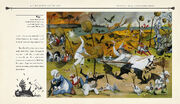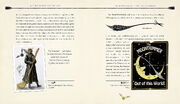 The Evolution of the Flying Broomstick
Ancient Broom Games
The Game from Queerditch Marsh
The Arrival of the Golden Snitch
Anti-Muggle Precautions
Changes in Quidditch since the Fourteenth Century

Balls

The Quaffle
The Bludger
The Golden Snitch

Players

Rules
Fouls

The Spread of Quidditch Worldwide
The Development of the Racing Broom
Quidditch Today
Editions
Behind the scenes
Notes and references